Newsletter: Essential California: Why immigrants fear the doctor's office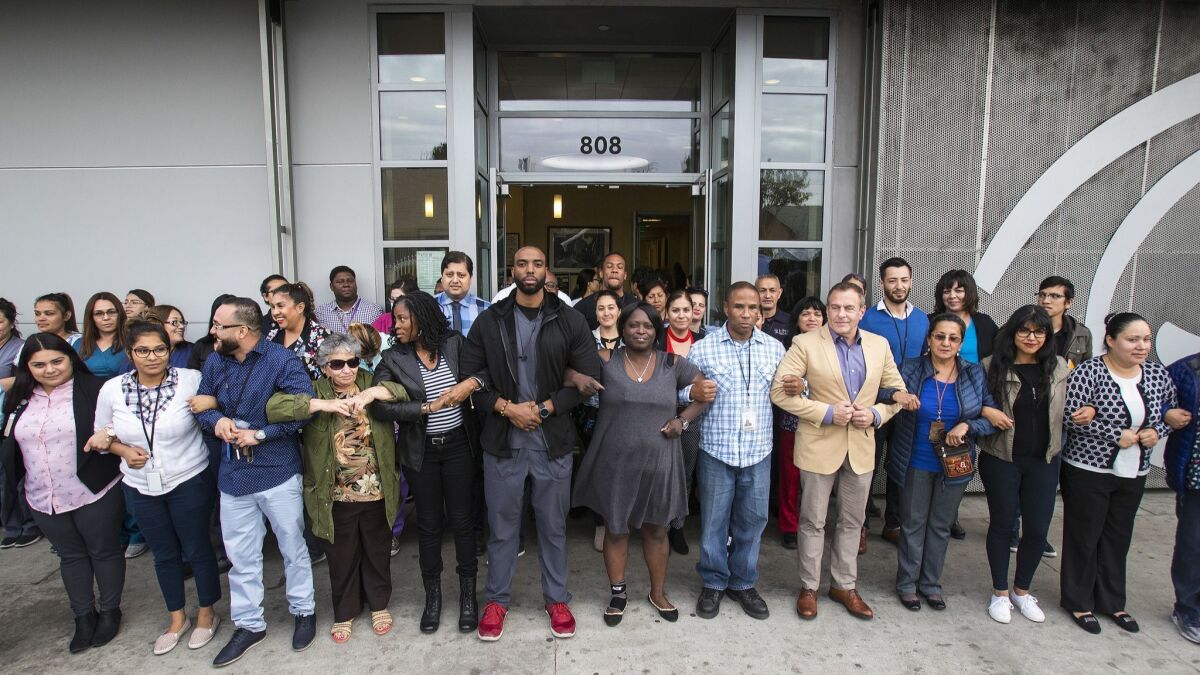 Good morning, and welcome to the Essential California newsletter. It's Friday, April 6, and here's what's happening across California:
TOP STORIES
Healthcare providers across the state say immigrant patients are canceling appointments or waiting until the last minute to seek care for their child's toothache. Others are asking to leave public programs because they're worried their personal information will end up with the federal government. Los Angeles Times
New rules in the pipeline?
Over and over in their decades-long war on smog, Southern California regulators have failed to use a powerful tool against ports, warehouses and other freight and logistics hubs that are magnets for air pollution. Now, the South Coast Air Quality Management District is considering a proposal to regulate warehouses, rail yards and large development projects as indirect sources of pollution due to the droves of diesel trucks, locomotives and construction equipment they attract. But will it act? Los Angeles Times
Trump and immigration
Many Democratic strategists believe that President Trump's actions on immigration give their candidates an advantage by reminding voters of his unpopular attacks on immigrants and members of minority communities. Paradoxically, both Trump and the left may be right — at least in part — a chief reason why solving the nation's immigration problems has proven such an intractable issue in Congress. Los Angeles Times
Get the Essential California newsletter »
L.A. STORIES
All that shaking: A magnitude 5.3 earthquake struck near the Channel Islands on Thursday afternoon, the U.S. Geological Survey said. The quake was the strongest in Southern California in several years. Los Angeles Times
Plus: Officials said Thursday's earthquake proved to be another successful test of the state's nascent earthquake early-warning system. Los Angeles Times
Must-see: A live webcam captured the reaction of a bald eagle and three chicks at their nest in Channel Islands National Park. Los Angeles Times
That face lift! Wells Fargo Center is getting a $60-million upgrade as Bunker Hill skyscrapers grapple with competition. Los Angeles Times
History lesson: How California car culture killed the promise of a 20-minute commute. KPCC
IMMIGRATION AND THE BORDER
Add another one to the list: Huntington Beach filed suit Wednesday in Orange County Superior Court against the state, governor and attorney general, challenging California's "sanctuary" laws that provide expanded protection for immigrants in the U.S. illegally. Los Angeles Times
Plus: "Following a contentious, three-hour meeting filled with name-calling and impassioned pleas, the Escondido City Council voted 4-1 Wednesday to file a legal brief in support of the U.S. government's lawsuit challenging the state's sanctuary laws" San Diego Union-Tribune
POLITICS AND GOVERNMENT
Impact: The card millions of Californians use to register to vote is receiving its first makeover in more than a decade, inspired in part by confusion over how to become an "independent" unaffiliated voter — a problem highlighted by a Los Angeles Times investigation in 2016. Los Angeles Times
Midterms: In an already tough election year, Dana Rohrabacher is struggling with his own party. Los Angeles Times
Corporate credo: "We all knew the legendary outerwear company Patagonia lived and breathed the adventurous life. We knew they cared about the environment. But it wasn't till Trump came along that we realized they were ready to fight." GQ
Being tested: "Under intense pressure not to raise tuition for the second consecutive year, California's public university systems have delayed votes to increase student fees and turned their attention back to the Capitol to lobby the state for more money." Sacramento Bee
CRIME AND COURTS
Legislation is moving: In a legislative hearing packed with criminal justice experts and former youth offenders, California lawmakers pushed forward a bill this week to keep minors who commit crimes out of adult courts. Los Angeles Times
Shooting settlement: The city of Long Beach has reached a $2-million settlement with the family of a mentally disabled man who was shot and killed by police in a 2015 encounter at an arcade. Los Angeles Times
The big picture: "The Trump administration and California are fighting a furious multifront legal war, and every week seems to bring a new courtroom battle." New York Times
Scary: A man detonated small explosive devices at a Sam's Club in Ontario on Thursday afternoon, triggering an evacuation, authorities said. No employees or customers were injured. Los Angeles Times
THE ENVIRONMENT
Storm's a-coming: Yosemite Valley lodgings, campgrounds and roads will close 5 p.m. Friday ahead of a heavy storm forecast for the area that could cause flooding. Los Angeles Times
Sonoma County: Six months after the wildfires. San Francisco Chronicle
Fun fact: "Now, when you think of oil drilling in California, you probably think of Southern California and the Inland Empire. But did you know there are oil fields in the Bay Area?" KQED
CALIFORNIA CULTURE
Huh?! In L.A. today, fitness can mean IV drips, vitamin shots and a daily freeze at minus-292 degrees. Los Angeles Times
The trouble with scooters: "With millions in funding and an impending regulatory showdown, electric scooters are taking over the Bay Area — to mixed reviews." Vanity Fair
Totally: "Long the suburban stepsister of luxury Los Angeles neighborhoods, the San Fernando Valley is becoming more fashionable — and more competitive." Wall Street Journal
What to watch for: Los Ángeles Azules and Cardi B are among Latino acts you won't want to miss at Coachella festival this year. Desert Sun
CALIFORNIA ALMANAC
Los Angeles area: partly cloudy, 70, Friday; partly cloudy, 69, Saturday. San Diego: partly cloudy, 66, Friday; partly cloudy, 69, Saturday. San Francisco area: showers, 61, Friday; showers, 60, Saturday. Sacramento: showers, 59, Friday; rainy, 67, Saturday. More weather is here.
AND FINALLY
Today's California memory comes from Robert MacDonald:
"I remember the day I moved from Massachusetts after graduating high school in 1973 to Ojai to live with my father after my parents had divorced. I fell in love with the valley and the mountains from the first day. I remember the beautiful hikes on Nordhoff Ridge in the Los Padres National Forest. We use to hike up to an old fire lookout tower and look out over the Pacific and the Channel Islands as the sun was setting. It was like something I've never seen before. Most beautiful views I've ever seen. I spent 41 years in Ventura County before retiring in 2010 and moving back to New England in 2015. California will always be my second home in which I visit every year."
If you have a memory or story about the Golden State, share it with us. Send us an email to let us know what you love or fondly remember about our state. (Please keep your story to 100 words.)
Please let us know what we can do to make this newsletter more useful to you. Send comments, complaints and ideas to Benjamin Oreskes and Shelby Grad. Also follow them on Twitter @boreskes and @shelbygrad.
Must-read stories from the L.A. Times
Get the day's top news with our Today's Headlines newsletter, sent every weekday morning.
You may occasionally receive promotional content from the Los Angeles Times.