Newsletter: Essential California: Racism at Cal Poly San Luis Obispo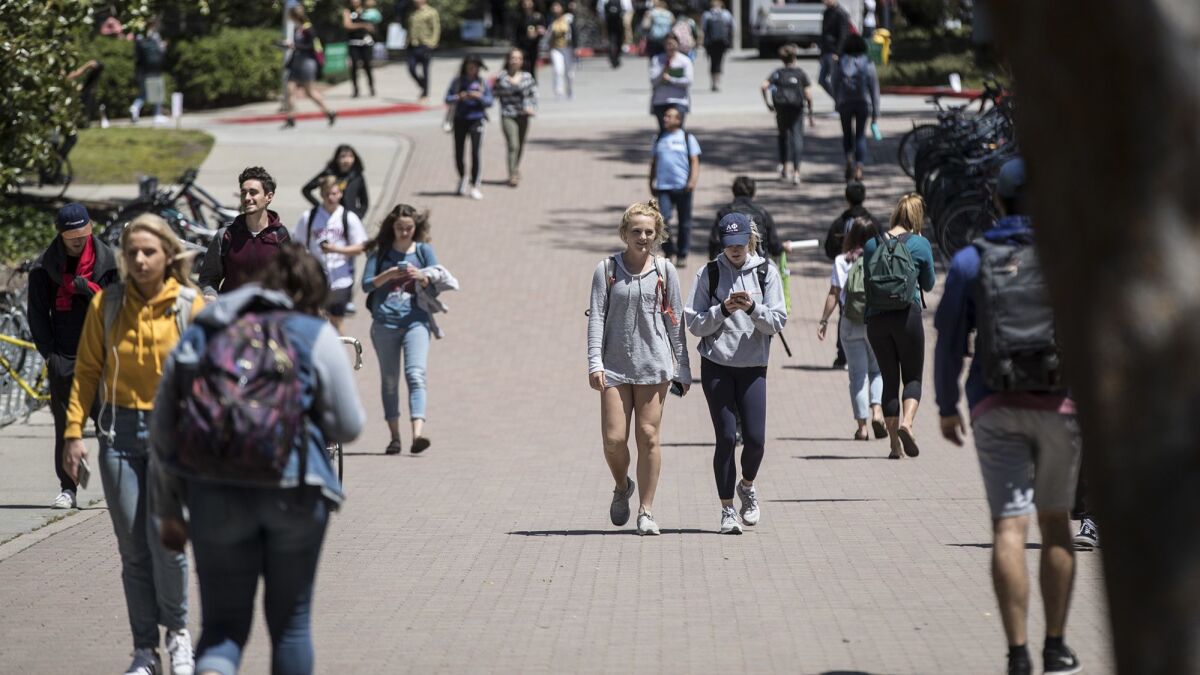 Good morning, and welcome to the Essential California newsletter. It's Wednesday, April 25, and here's what's happening across California:
TOP STORIES
Being a black student was already a lonely affair at Cal Poly San Luis Obispo. The university has the smallest percentage of minority students in the entire 23-campus Cal State system. That was before a spate of incidents, including photos that circulated on social media showing a male student wearing blackface and fraternity members dressed as gang members. Los Angeles Times
Breaking up California?
Silicon Valley venture capitalist and bitcoin evangelist Tim Draper has revived his proposal to carve our state into smaller parts. His current proposal, Cal 3, is a bit different from his 2014 scheme, which was to break the state into six parts. Columnist Robin Abcarian says this latest effort is just as misguided as the first go-around. Los Angeles Times
Plus: "The California secession movement has been given the go-ahead to gather signatures for its effort after the ballot proposal was approved" earlier this week. The Hill
Median makeover, Part 3
A traffic median at Vermont Avenue and Hollywood Boulevard in Los Feliz may get a makeover, and it might include planters to thwart homeless encampments. Community members who support another redesign are frustrated that the it has taken up so much time and money. Los Angeles Times
L.A. STORIES
Marking a milestone: Thousands of demonstrators marched Tuesday along Hollywood Boulevard and through the Fairfax neighborhood to mark the 103rd anniversary of the Armenian genocide. Los Angeles Times
More money, same problems: A measure to spend $2 billion on housing homeless Californians could be on the November statewide ballot. Los Angeles Times
Wow! Decoding your baby's DNA: It can be done. But should it be? Los Angeles Times
It's hot: "About three dozen development projects, valued around $3.5 billion, are underway or in the pipeline in Long Beach." New York Times
IMMIGRATION AND THE BORDER
Tragic killing: Three Mexican film students whose disappearance last month sparked large-scale protests in the city of Guadalajara were beaten, killed and their bodies dissolved in acid. Los Angeles Times
Get the Essential California newsletter »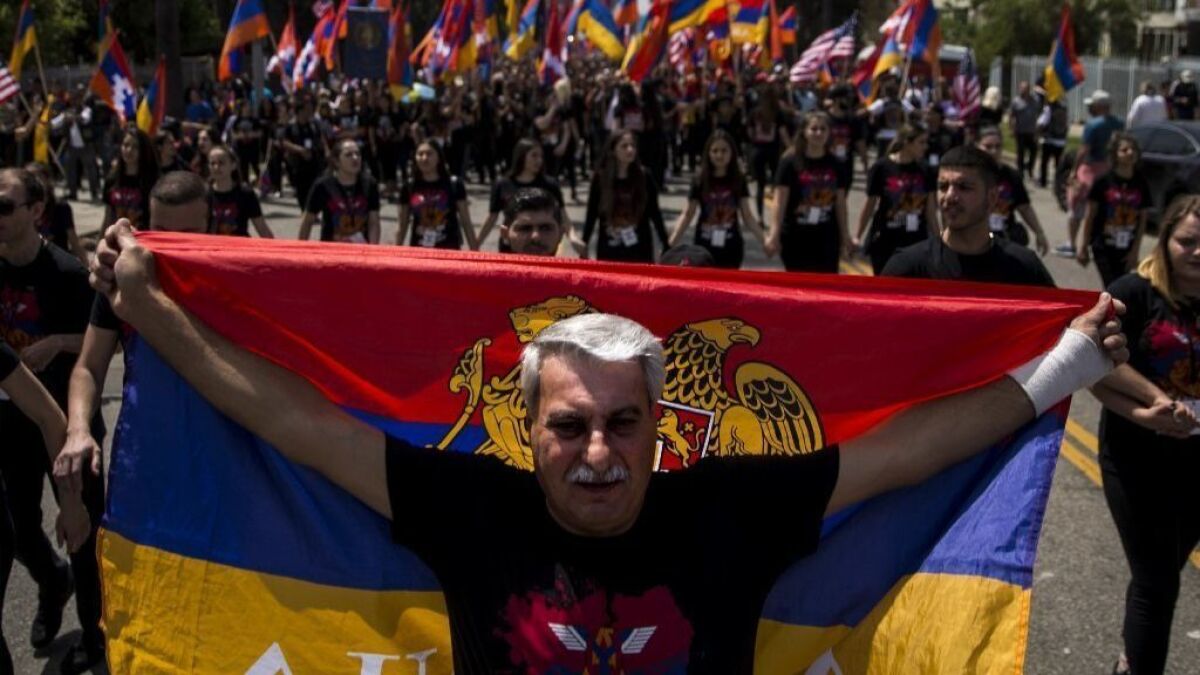 POLITICS AND GOVERNMENT
Still in trouble: Rep. Duncan Hunter is attempting to set up a fund to raise money to pay for lawyers and other costs related to an ongoing FBI criminal investigation into allegations of misused campaign cash. Los Angeles Times
Stockton in the spotlight: "Michael Tubbs is the 27-year-old leader of one of California's biggest cities. And he's using that position to try out some truly radical policy ideas." Politico Magazine
Important story: Women in San Francisco say the city is lax in dealing with sexual assaults. San Francisco Chronicle
Getting crowded: California Democrats are dreaming about a White House run in 2020. NBC News
CRIME AND COURTS
Barstow follow -up: An attorney for the family of a black man who was shot to death by Barstow police said that an independent autopsy reveals Diante Yarber was struck by at least 10 rounds before he asphyxiated on his own blood. Los Angeles Times
Reassessing: Stories of abuses by bail agents have prompted lawmakers to take a hard look at an industry of roughly 3,200 registered agents in California who collectively write about 175,000 bail bonds per year. Now efforts at reform have an unlikely ally: bail agents. Los Angeles Times
International investigation: Australian and California law enforcement agencies are reportedly looking into whether the state's still-uncaught Golden State Killer may have moved abroad, becoming the infamous "Mr. Cruel." SF Gate
THE ENVIRONMENT
Big change: President Trump's Environmental Protection Agency chief, Scott Pruitt, has released a plan to block regulators from considering a wide range of scientific studies. Los Angeles Times
Lost in Joshua Tree: Authorities are searching for a legally blind man who went missing after going for a hike in Joshua Tree National Park on Saturday morning. Los Angeles Times
CALIFORNIA CULTURE
Whatta performance! Beyoncé's refusal to shrink her blackness made her Coachella showing revolutionary. Los Angeles Times
Comeback, maybe? Paramount Pictures CEO Jim Gianopulos says the struggling studio is "poised for a renaissance." Los Angeles Times
New accusations: A massage therapist says Stan Lee of Marvel Comics fondled himself and inappropriately grabbed her during arranged massages at a Chicago hotel in 2017, according to a lawsuit. Lee has denied the accusations through his lawyer. Chicago Tribune
Early preview: Quentin Tarantino and Leonardo DiCaprio talked about their upcoming movie with Brad Pitt set in the 1960s when the Manson murders shook Hollywood. The Hollywood Reporter
Where's my coin? Check out this gold coin that was produced at the height of the California Gold Rush and that everyone thought was fake. Now it's worth millions. Gizmodo
CALIFORNIA ALMANAC
Los Angeles area: Partly cloudy, 72, Wednesday. Partly cloudy, 70, Thursday. San Diego: Partly cloudy, 67, Wednesday. Partly cloudy, 66, Thursday. San Francisco area: Partly cloudy, 61, Wednesday. Partly cloudy, 59, Thursday. Sacramento: Sunny, 84, Wednesday. Partly cloudy, 78, Thursday. More weather is here.
AND FINALLY
Today's California memory comes from Steve Lombard:
"I was born in Glendale and when I was at the age of 4 in 1970, my parents moved our family to a brand-new home in the suburbs of cozy Placentia in north Orange County. Surrounding our spectacular new neighborhood were acres of orange groves and giant avocado trees. The city's notable Key Ranch bordered on our subdivision, complete with its old farmhouse and secret garden with its famed whalebone on display. For the next seven years, life was equally spectacular. Summers were the highlight, our streets and sidewalks constantly crowded with an array of kids biking, roller skating, riding Big Wheels. Free swimming sessions day and night at El Dorado High School were the ultimate bonus.
"I was an avid sports fan and athlete, playing ball in the streets and driveways while listening to the one and only Vin Scully gush about Dodger Blue and the fabulous foursome -- Garvey, Lopes, Cey and Russell — life could not have been any sweeter. Life was truly simpler then. No one worried about internet predators; you played outside until the streetlights came on, or until my father unleashed his famous whistle from the upstairs bathroom window signaling an end to our constant activities. The 1970s in Southern California had it all: perfect weather, endless days spent outside, radio stations (KHJ, KEZY) that provided a soundtrack to last a lifetime, weekend trips to San Clemente Beach, oranges, avocados and strawberries in abundance. And best of all, no one needed a 'smartphone' or 'social media' to figure out where to go or what to do to truly enjoy life."
If you have a memory or story about the Golden State, share it with us. Send us an email to let us know what you love or fondly remember about our state. (Please keep your story to 100 words.)
Please let us know what we can do to make this newsletter more useful to you. Send comments, complaints and ideas to Benjamin Oreskes and Shelby Grad. Also follow them on Twitter @boreskes and @shelbygrad.
---