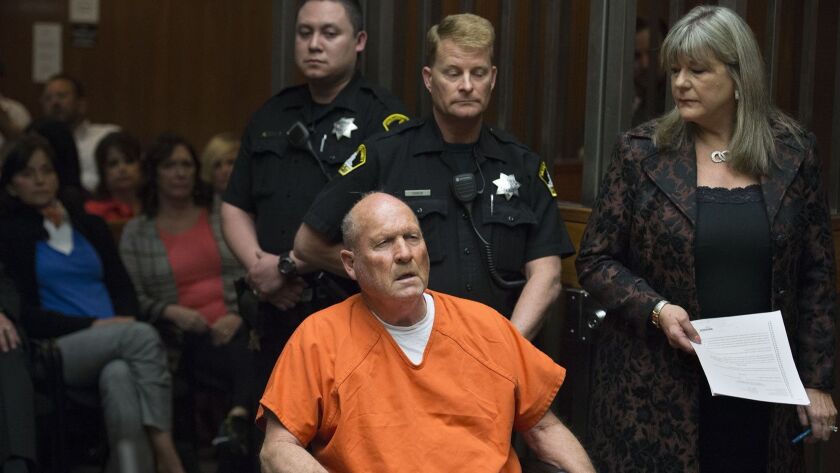 Good morning, and welcome to the Essential California newsletter. It's Friday, May 4, and here's what's happening across California:
TOP STORIES
There were failed leads that came before last week's dramatic capture of Golden State Killer suspect Joseph James DeAngelo Jr. in a Sacramento suburb — an arrest that also hinged on the novel tactic of comparing crime scene DNA with genealogy site data. Though prosecutors are sure they have the killer, their earlier probes illustrate the potential pitfalls of a strategy that relies on a fishing expedition to identify potential suspects in a sea of genetic data. By casting such a wide net, authorities risk compromising the privacy of anyone whose genetic data appears online, along with their relatives, experts say. Los Angeles Times
— A Sacramento County judge on Thursday ruled that the Golden State Killer suspect cannot refuse to provide additional DNA samples, fingerprints and photographs of his body sought by authorities as part of their investigation. Los Angeles Times
— How the Golden State Killer case has some of its roots in another murder mystery in New Hampshire. New York Times
Expelled
The motion picture academy announced Thursday that it has expelled comedian Bill Cosby and director Roman Polanski from the group's ranks as the organization struggles to deal with #MeToo. In response to unfolding sexual misconduct charges against film mogul Harvey Weinstein, the academy had earlier expelled Weinstein and announced it would adopt new standards of ethical conduct that its members would be expected to uphold. How exactly those standards will be enforced has been the subject of some debate. Los Angeles Times
Off to Mars
For decades, earthlings have dispatched spacecraft to Mars to study the planet's dusty surface and its thin atmosphere. Now NASA is sending a lander to the red planet to look deep into its heart. As early as Saturday morning, NASA's InSight will blast off from Vandenberg Air Force Base. After a nearly seven-month journey, it will begin probing the deep interior of a nearby world that once may have looked much more like our own. Los Angeles Times
Get the Essential California newsletter »
L.A. STORIES
Allegations denied: Rep. Tony Cardenas, a San Fernando Valley Democrat, confirmed Thursday that he is the unidentified elected official targeted in a lawsuit filed last week in Los Angeles alleging sexual molestation of a teenage girl in 2007, but he vehemently denied the allegations. "My client is sickened and distraught by these horrific allegations, which are 100%, categorically untrue," Patricia Glaser, an attorney for Cardenas, said Thursday in a statement. Los Angeles Times
Calls for reform: Los Angeles Police Chief Charlie Beck acknowledged a need to reform a controversial deferred retirement program that pays city police officers and firefighters nearly double at the end of their careers while allowing them to take lengthy injury leaves, costing taxpayers hundreds of millions of dollars. Los Angeles Times
Fashion report: How is Meghan Markle's L.A. style playing in England? It's enough to make even the most blue-blooded aristocrat weep into her hat, let alone a born-and-bred California girl with more use for a Panama hat than a pillbox. She has tackled the challenge of royal dressing with aplomb since news broke of her engagement with Prince Harry in November. Los Angeles Times
Finger-lickin' good: How L.A. became a fried chicken hot spot. Los Angeles Times
Bright future: Southern California's economy is expected to keep humming for the next few years. Orange County Register
Rolling: The L.A. River continues to be a magnet for development. Curbed Los Angeles
CRIME AND COURTS
Possible hate crime: A fight over a parking space escalated Tuesday into an exchange of racial slurs and a physical altercation in what officials at Santa Monica College describe as a hate crime. Los Angeles Times
Big Pharma, take note: L.A. city prosecutors and Mayor Eric Garcetti announced a lawsuit against nine opioid drug companies and distributors over allegedly unethical business practices. Los Angeles Times
Fatal stabbing: In quiet Rolling Hills Estates, a woman was found stabbed to death Thursday afternoon in a vehicle parked at a shopping mall. Daily Breeze
POLITICS AND GOVERNMENT
Changing population: California lost lower-income residents to other states over a recent 11-year period, while gaining wealthier households from elsewhere in the U.S. The disparity reflects the state's sky-high rents and home prices. From 2006 to 2016, 1.09 million more people left California for other states than moved here from other places in the U.S., with most decamping for Texas, Arizona, Nevada, Oregon and Washington, where housing costs are lower. Los Angeles Times
Border update: Nearly 160 members of the Central American caravan have entered the United States. Los Angeles Times
Disturbing findings: California health regulators have allowed poor care to proliferate at nursing homes around the state, and the number of incidents that could cause serious injury or death has increased significantly in recent years, according to a stinging state audit released this week. Los Angeles Times
Near catastrophe: New video has surfaced in a close call at San Francisco International Airport in July. SFGate
CALIFORNIA CULTURE
Whose park? For nearly 50 years, the University of California and Berkeley activists have been locked in conflict over one of the state's most contested pieces of land. The standoff dates to 1969, when hundreds of people hauled sod, trees and flowers to a scruffy lot that the university intended to build on and proclaimed it their own People's Park. Now, UC Berkeley officials hope they finally have a plan that will let them use the space without fierce backlash. Los Angeles Times
A play with a message: In the past few years, California has gone through an exhausting and emotional process to make sure that most schoolchildren are vaccinated. A new play takes a look at what happens in a fictional private school in Berkeley when an unexpected letter from the health department arrives. Los Angeles Times
Bad news, good news: Tesla's finances are in an ugly phase at the moment, but the company still builds fun-to-drive, attractive cars. Automobile Magazine recently gave the Model 3 electric sedan its 2018 Design of the Year award, calling the car "simple and straightforward, perfectly proportioned with minimal extraneous detailing. It has all been done with unmistakably good taste." Los Angeles Times
Humble request: Stephen Curry isn't your average superstar. Mercury News
CALIFORNIA ALMANAC
Los Angeles area: sunny, 82, Friday; mostly sunny, 86, Saturday. San Diego: sunny, 76, Friday; sunny, 79, Saturday. San Francisco area: partly cloudy, 65, Friday; partly cloudy, 62, Saturday. Sacramento: mostly sunny, 85, Friday; mostly cloudy, 84, Saturday. More weather is here.
AND FINALLY
Today's California memory comes from Patric Barry:
"In 1973, I was coming through LAX from Australia, and I looked down on approach and saw the brown air hanging over the city. Brown, yuck. I wondered why people chose to live in the place. I then had eight hours to kill, so I took a bus to downtown and saw freeways and discouraging things near the bus terminal. Same back to LAX. A year later I was back in Los Angeles, and I learned to fly, and I flew in the brown air. It smelled like a mix of diesel and cigar smoke at 3,000 feet. Now it's clean. No smell. Life is better. I'm still here. I love L.A."
If you have a memory or story about the Golden State, share it with us. Send us an email to let us know what you love or fondly remember about our state. (Please keep your story to 100 words.)
Please let us know what we can do to make this newsletter more useful to you. Send comments, complaints and ideas to Benjamin Oreskes and Shelby Grad. Also follow them on Twitter @boreskes and @shelbygrad.
---