Four great L.A. fried chicken restaurants to try now
Is Los Angeles a fried chicken town?
The hours-long lines at Howlin' Ray's at the Far East Plaza in Chinatown seem to suggest so. As do the number of non-fried chicken restaurants with some version of a fried chicken sandwich on the menu. Places like Tokyo Fried Chicken in Monterey Park (imagine giant karaage, Japanese-style deep-fried chicken, with ponzu), OB Bear in Koreatown (we dare you to find a better spicy Korean chicken wing) and Honey's Kettle in Culver City (something akin to actual magic happens in those kettles) have made this city a fried chicken town for a while now. Here are four newer restaurants with sandwiches, plates and trays of fried chicken you're probably going to want to track down sooner rather than later.
Chicken Warriors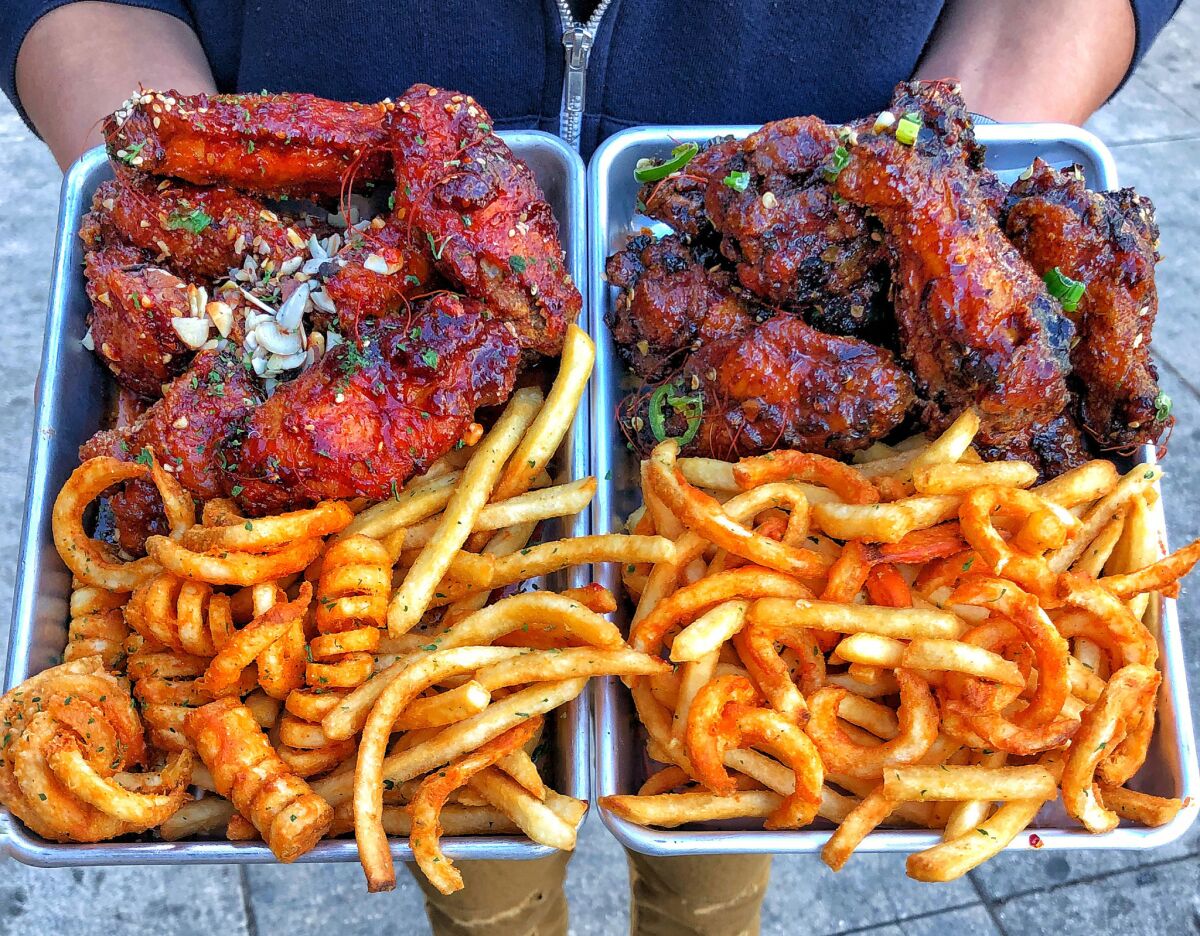 As the name might suggest, Chicken Warriors, located on the same 7th Street block as OB Bear, is a Koreatown restaurant that specializes in fried chicken. And the chicken theme continues on every table, with rubber chickens you can squeeze and squawk to get your server's attention. (Please don't do this. We know they make for fun additions to your Instagram story, but still.) If you've been to Pelicana Chicken in New York City, both the menu and the presentation at Chicken Warriors might look familiar: fried wings and drumettes in your choice of sauce or rub, served alongside radish pickles and a couple of spoonfuls of a corn salad on a metal tray. These are Korean chicken wings at their finest, the kind that crunch like they might be fried twice, the coating a crisp shell that actually crackles. The Soy Garlic and Tangy Citrus Chipotle sauces are equally addictive, as is the Honey Onion seasoning that, interestingly enough, tastes like popcorn. The restaurant is popular with groups, so you'll often see mountains of fried chicken piled onto silver trays worthy of a celebration. 3012 W. 7th St., Los Angeles, (213) 381-9990.
Phat Birds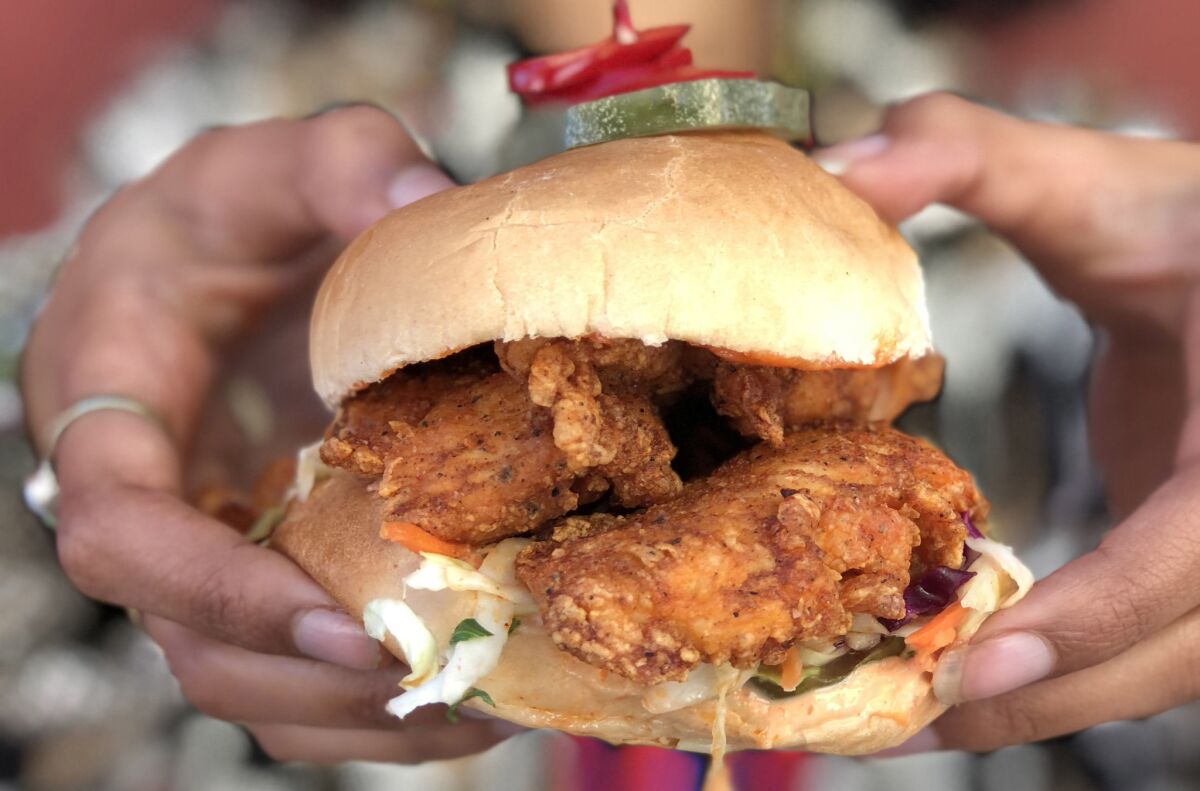 Sticky honey pools and drips from the rugged landscape of a golden drumstick and onto your fingers. That first bite of scorching-hot chicken and honey is why you find your way to a tiny shack in East Los Angeles near where the 710 and 60 freeways meet. The honey-dipped fried chicken is one of three styles at chef Max Henriquez's Phat Birds. The chef, formerly of Horse Thief and Mozza, is making that honey-dipped chicken, along with a Nashville hot chicken and a plain fried version. When you take that first bite, prepare for a dribble of juice down your chin, a result of Henriquez brining his chicken overnight. And his sides are just as compelling. The house-made chicharrones are light, puffy and crunchy; and the cheddar and chive corn fritters are just as difficult to quit. The chicken is served on large metal trays, so there's plenty of room for that second order of chicharrones, and maybe some spicy slaw too. And there's more coming: Henriquez is opening a second location in Inglewood later this year. 4701 E. 3rd St., Los Angeles, (323) 943-9191, phatbirds.com.
South City Fried Chicken
That there is a full food stall at the new Corporation Food Hall in downtown L.A. devoted to the fried chicken sandwich should come as a surprise to no one. The menu at South City Fried Chicken is simple: eight fried chicken sandwiches, each inspired by owner Joshua Kopel and chef Sammy Monsour's favorite Southern cities. The New Orleans is a tower of golden fried chicken, Creole remoulade, Cajun spice, Thai basil, collard green kimchi, ginger-miso BBQ sauce and of course, a fried egg. There's a lot going on in there, but you'll find yourself shoving all the ingredients back into place as you make your way through the sandwich in pursuit of the perfect, complete bite. There's also a sandwich homage to Chapel Hill, N.C. (with pimento cheese and crispy Tar Heel country ham), as well as a sandwich hat tip to Greenville, S.C. (made with chicken bacon, Duke's mayonnaise and Gruyere). All of the sandwiches are served on buns that are a cross between a Portuguese roll and a brioche, toasted with a good amount of European-style butter, sturdy enough to stand up to all those toppings, and made by La Brea Bakery. 724 S. Spring St., Los Angeles, (213) 278-0008, www.southcityfriedchicken.com.
Yardbird Southern Table and Bar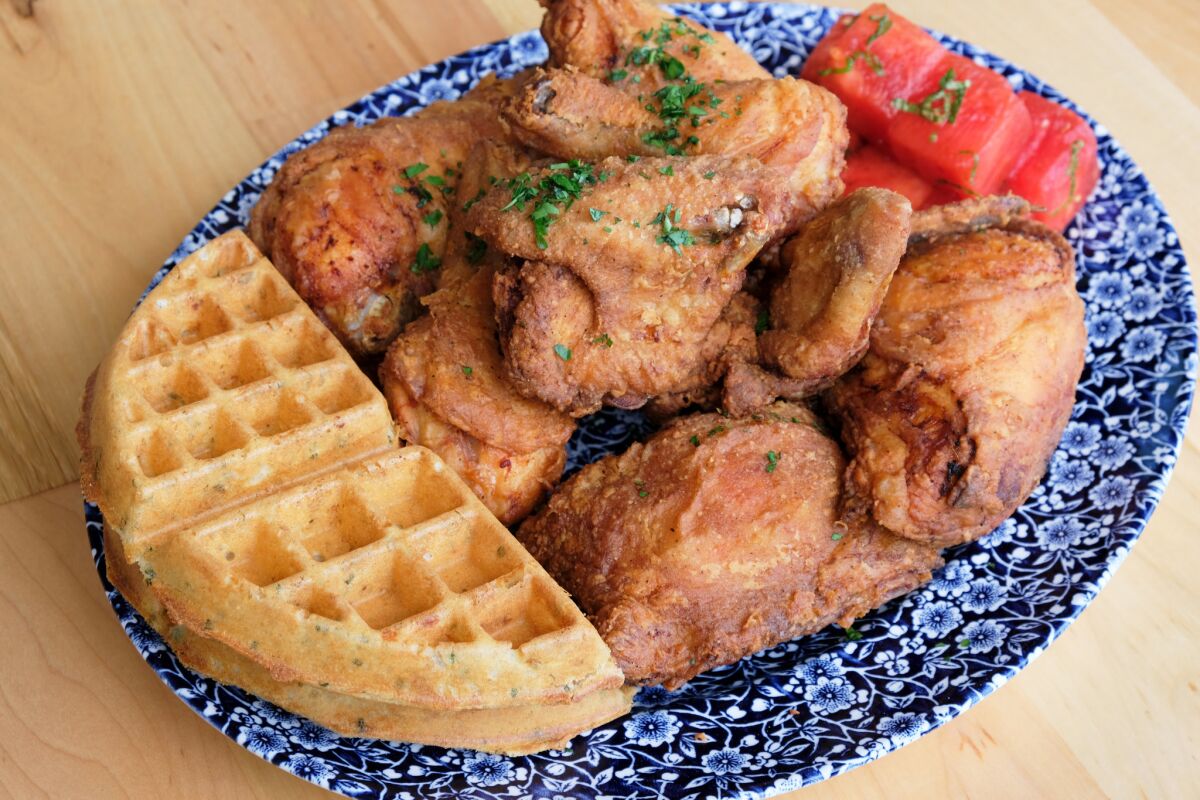 It's hard not to fall fingers-first in love with the fried chicken at Yardbird, the Miami-originated Southern restaurant with a new location at the Beverly Center. Lewellyn's Fine Fried Chicken, as it is written on the menu, is a variation of a 100-year-old family recipe. The full order comes with eight pieces, piled onto a platter fit for a Sunday dinner, served alongside triangles of cheddar waffles and squares of watermelon. It may be the most thoughtful plate of fried chicken in America. The chicken is brined in an ice water bath with plenty of salt, pepper, sugar and granulated garlic and onion. Then it's dredged in seasoned flour and fried in vegetable shortening. Each piece is covered in jagged edges of crisp skin you can rip off and dunk in the restaurant's signature honey hot sauce (a combination of what tastes like Louisiana hot sauce and honey). Or surround the meat with one of the cheddar waffles, alternating bites of waffle-wrapped chicken, with cool watermelon as a palate cleanser. The silence that falls over the table as each person rips, wraps, bites and repeats is oddly comforting, and probably good for the soul. 8500 Beverly Blvd., Los Angeles, (323) 250-8034, runchickenrun.com.
Twitter: @Jenn_Harris_
---
Get our L.A. Goes Out newsletter, with the week's best events, to help you explore and experience our city.
You may occasionally receive promotional content from the Los Angeles Times.