Good morning, and welcome to the Essential California newsletter. It's Wednesday, May 30, and here's what's happening across California:
TOP STORIES
The Los Angeles Police Department said Tuesday it is investigating 52 complaints of misconduct filed by former patients of USC's longtime campus gynecologist as detectives launch a sweeping criminal investigation into the scandal that has rocked the university. LAPD detectives also made an appeal for other patients who feel mistreated to come forward, noting that thousands of students were examined by Dr. George Tyndall during his nearly 30-year career at USC. Tyndall has denied wrongdoing. Los Angeles Times
Plus: Full coverage of the scandal at USC. Los Angeles Times
An emissions drama
President Trump's EPA has tried to justify allowing on the road a class of rebuilt trucks that spew as much as 400 times the choking soot that conventional new big rigs do by citing disavowed private research. This privately funded study claimed the trucks did not cause more pollution, but even the university that conducted the research has now cast doubt on the findings. Los Angeles Times
Roseanne gets the boot
ABC has canceled its successful "Roseanne" revival after a racist tweet written by its star, Roseanne Barr. The backlash against the comedian came fast and furious. On Tuesday, the chairman of the network's parent company, Disney, said the cancellation "was the right thing" to do, and Barr was dropped by ICM Partners, the talent agency that represented her. Los Angeles Times
Get the Essential California newsletter »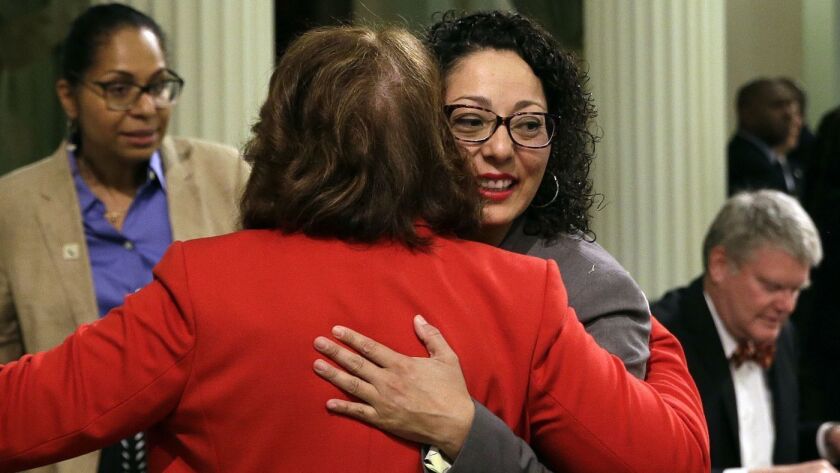 L.A. STORIES
This means war: The fight for control of CBS Corp. took a more personal tone Tuesday: The Redstone family is alleging in a new lawsuit that the struggle stems from CBS Chairman and Chief Executive Leslie Moonves' bristling under the power of Shari Redstone. Los Angeles Times
Horrifying stuff: "For decades, Jimmy A. Williams cultivated the best horses and Olympic champion riders. Now the sport is finally reckoning with his past." New York Times
Hollywood, baby: The strange symbiotic relationship between TMZ and President Trump. Daily Beast
Living homeless in California: "The university of hunger." Capital & Main
On track: Early steps are being taken to construct a rail station in the Arts District. Los Angeles Downtown News
POLITICS AND GOVERNMENT
The big picture: California's free-for-all primaries have left things unsettled, but voters don't want to go back to the old ways. Los Angeles Times
Following up: Assemblywoman Cristina Garcia was a #MeToo leader. After sexual harassment accusations, she is fighting to be reelected. Los Angeles Times
Across the divide: "Although within California it is common to pit north versus south, the sharp cultural divisions between the valley and more coastal regions, between rural and urban locales, are in many ways more significant." New York Times
By the Bay: "Some big Silicon Valley names are throwing money around ahead of next week's mayoral election in San Francisco." ReCode
Missed opportunity? Billionaire California activist Tom Steyer says Democratic leaders who don't take up the call to impeach President Trump are writing off millions of potential voters. Politico Magazine
CRIME AND COURTS
In Aliso Viejo: Federal prosecutors have dropped a criminal charge against a man who whose home was searched after a suspected package bomb killed his former girlfriend and business partner, according to court documents. Los Angeles Times
Another crash: A Tesla sedan in Autopilot mode crashed into a parked Laguna Beach Police Department vehicle Tuesday morning, authorities said. Los Angeles Times
Uber and Lyft, take note: "San Francisco City Atty. Dennis Herrera is subpoenaing the ride-hailing companies for records of driver pay and benefits, as well as their classification as independent contractors, rather than employees." San Francisco Chronicle
THE ENVIRONMENT
Beautiful: The thrill of finding John Steinbeck's magical lily on a botany outing to California's Central Coast. Los Angeles Times
CALIFORNIA CULTURE
Looking back: They married in 1968 as a nation fought for civil rights. Fifty years later, an interracial couple looks back. Los Angeles Times
The Great One: Twenty-five years ago, the greatest game of Wayne Gretzky's career put the Kings in the Stanley Cup Final. Los Angeles Times
The Man in Black: At Folsom prison, Johnny Cash found his cause. Washington Post
Longer form: L.A. digital media firm Attn: expands from bite-sized videos to TV specials. Los Angeles Times
Praise the what? The radical preacher of Palo Alto. The Atlantic
Quick lesson: What to know about "accessory dwelling units" in Los Angeles. Yep, granny flats and back houses. Curbed LA
CALIFORNIA ALMANAC
Los Angeles area: partly cloudy, 72, Wednesday; partly cloudy, 68, Thursday. San Diego: partly cloudy, 67, Wednesday and Thursday. San Francisco area: cloudy, 61, Wednesday; partly cloudy, 61, Thursday. Sacramento: partly cloudy, 77, Wednesday; partly cloudy, 74, Thursday. More weather is here.
AND FINALLY
Today's California memory comes from Andrea Sighinolfi:
"My first memory about the Golden State: It was a warm night when I hit the California ground for the first time in 1985. I'd been waiting for that moment for quite a long time. The streets of San Francisco were quiet that night. I remember I drove the Ford I just rented through Russian Hill and stopped at a Irish-style pub with a red entrance somewhere on Sutter Street. I drank a quite expensive Jägermeister watching a popcorn machine in the middle of the room; I'd never seen one before. They were the first moments of what would be one of the best trips I've ever made."
If you have a memory or story about the Golden State, share it with us. Send us an email to let us know what you love or fondly remember about our state. (Please keep your story to 100 words.)
Please let us know what we can do to make this newsletter more useful to you. Send comments, complaints and ideas to Benjamin Oreskes and Shelby Grad. Also follow them on Twitter @boreskes and @shelbygrad.
---