Newsletter: Essential California: Homelessness numbers dip in L.A.
Good morning, and welcome to the Essential California newsletter. It's Friday, June 1, and here's what's happening across California:
TOP STORIES
After three years of precipitous increases, homelessness dipped slightly this year, the Los Angeles Homeless Services Authority reported Thursday, providing a hopeful sign that new money flowing into housing and services is having an effect. But in releasing results of the 2018 count, officials also warned that the number of people falling into homelessness for the first time increased, holding back the potential gains. Los Angeles Times
Plus: L.A.'s homeless population is growing smaller but also older and more exposed. Los Angeles Times
In the O.C.: "We don't accept homelessness as a way of life, and we don't enable the homeless population. We are dedicated to pulling the homeless out of that existence," writes Orange County Supervisor Todd Spitzer. Los Angeles Times
New leadership at USC
The University of Southern California's board of trustees has elected mall magnate Rick Caruso to be the new chair of the board, giving fresh leadership as the university navigates a widening scandal involving a longtime campus gynecologist. The move marks the latest effort by USC to address the case, which has sparked a criminal investigation by the Los Angeles Police Department and dozens of civil lawsuits. Los Angeles Times
More accusations
A UCLA cardiologist has been temporarily stripped of his medical license after state regulators described him as a "sexual predator" who assaulted three female colleagues when he was working and training at L.A. County-USC Medical Center. Dr. Guillermo Andres Cortes' defense attorney said his client "vehemently denies the allegations and charges presented to the medical board." Los Angeles Times
Not what they said
When ride-hailing services Uber and Lyft arrived in Los Angeles six years ago, they sold Angelenos on the narrative that driving for their companies was little more than a side-hustle — a flexible way to make money while being your own boss. That narrative is no longer true in 2018, according to research released this week from UCLA's Institute for Research on Labor and Employment, which found that more than half of Uber and Lyft drivers in Los Angeles drive full time. Los Angeles Times
Get the Essential California newsletter »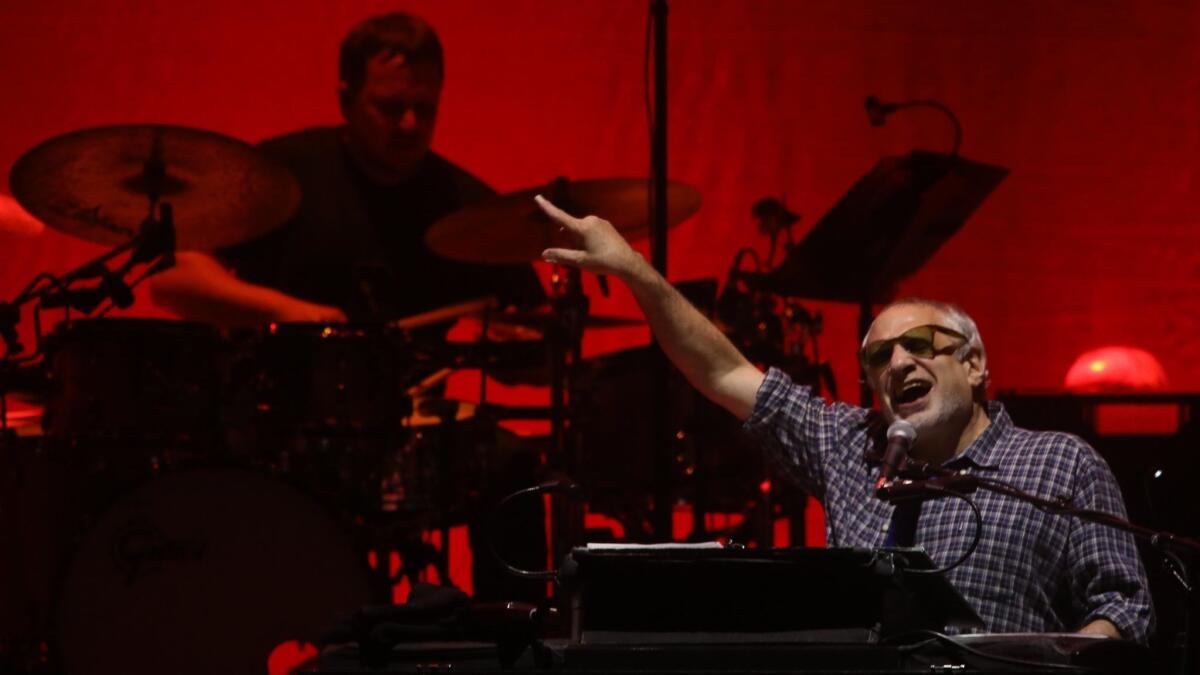 L.A. STORIES
Hollywoodland: After 23 years in his father's company, James Murdoch is contemplating life beyond Fox. Los Angeles Times
This is where we are: California is now paying for people to test their drugs for fentanyl. Los Angeles Times
Inspiring: "What One Woman Learned Trying to Run Across California." National Geographic
IMMIGRATION AND THE BORDER
Borderlands: "Every month, thousands of deportees from the United States and hundreds of asylum-seekers from around the world arrive in Tijuana. Many never leave." California Sunday Magazine
POLITICS AND GOVERNMENT
Governor's race update: Antonio Villaraigosa is struggling to win the second spot in the June primary election and is several points behind Republican businessman John Cox, according to a new poll released Thursday. Los Angeles Times
Plus: Before Cox was Trump's choice for governor, he was on a quixotic mission to remake California's Legislature. Los Angeles Times
Elections everywhere! In the race for California schools chief, candidates are buoyed by big money from charter supporters and unions. Los Angeles Times
Up north: "Long plagued by poverty and desperation, Stockton is testing universal basic income as a means of improving the lives of its residents." New York Times
He said what? "A Republican congressional candidate in California has repeatedly compared Parkland High School shooting survivor David Hogg and participants in the 'March for Our Lives' movement to Adolf Hitler." CNN
CRIME AND COURTS
In Azusa: After deputies found a "large amount of blood" in a home in the unincorporated area of Azusa earlier this week, an investigation led them to a body and four suspects. Los Angeles Times
In Fullerton: A woman who stabbed a therapist with a knife was shot and killed by police officers Thursday morning, according to authorities. Los Angeles Times
Harshing the vibe: "Two kidnappers have been sentenced to prison for holding an associate hostage following a large-scale Newport Coast marijuana deal gone wrong." Orange County Register
THE ENVIRONMENT
It's a big deal: "The Trump administration took a major step toward dramatically weakening an Obama-era rule designed to cut pollution from vehicle tailpipes, setting the stage for a legal clash with California that could potentially split the nation's auto market in two." New York Times
Landfill debate: Filling canyons with debris is a sustainable solution — or an engineering and environmental hazard. It depends on whom you ask. Los Angeles Times
Agua problems: "The drought may be over, but California residents should prepare themselves for new and more permanent restrictions on water use." Sacramento Bee
CALIFORNIA CULTURE
Hanging back: Actor John Goodman would "rather say nothing than to cause more trouble" in the ongoing "Roseanne" saga. Los Angeles Times
Way to go: Ifechukwu Okeke was denied in-state tuition when she transferred to UC Berkeley. But her persistence in advocating for changes to the rules has now paid off in a big way. Los Angeles Times
Steely Dan without Walter Becker? "Imagine my surprise, then, to find that Steely Dan sounded better Wednesday at the Forum than I've heard the group sound in years," writes pop music critic Mikael Wood. Los Angeles Times
Uh-oh: Dodgers pitcher Clayton Kershaw made his first start after missing a month with biceps tendinitis. The bad news is that Kershaw could be sidelined again … with a back injury. Los Angeles Times
This is the end: Here's what "The Americans" creators had to say about that series finale. Los Angeles Times
CALIFORNIA ALMANAC
Los Angeles area: sunny, 73, Friday; sunny, 78, Saturday. San Diego: sunny, 69, Friday; sunny, 72, Saturday. San Francisco area: sunny, 70, Friday; sunny, 69, Saturday. Sacramento: sunny, 88, Friday; sunny, 98, Saturday. More weather is here.
AND FINALLY
Today's California memory comes from Karen Udwari:
"I moved from a small town in central Illinois in 1975 to Culver City. I had never seen such a metropolis in my life! I was petrified driving anywhere, but out of necessity learned to drive to the beach and to work. I will never forget pumping gas at a local station when I saw Brad Elliot from 'The Young and the Restless' pumping gas as well. I was astounded when he hopped back in his car and drove away! He was blind and learning Braille! How could he drive? Looking back, I realized that poor Tom Hallick (the actor portraying Brad) probably encountered the questioning eye of many clueless newcomers who had never before seen an actor in real life!"
If you have a memory or story about the Golden State, share it with us. Send us an email to let us know what you love or fondly remember about our state. (Please keep your story to 100 words.)
Please let us know what we can do to make this newsletter more useful to you. Send comments, complaints and ideas to Benjamin Oreskes and Shelby Grad. Also follow them on Twitter @boreskes and @shelbygrad.
Sign up for Essential California for news, features and recommendations from the L.A. Times and beyond in your inbox six days a week.
You may occasionally receive promotional content from the Los Angeles Times.