Newsletter: Essential California: A new 'zero tolerance' plan
Good morning, and welcome to the Essential California newsletter. It's Friday, June 8, and here's what's happening across California:
TOP STORIES
U.S. border authorities, in a significant escalation of the Trump administration's "zero tolerance" immigration policy, are planning to introduce a fast-track prosecution program to criminally charge more people who cross the border into California illegally, according to attorneys in San Diego. Under the program, called Operation Streamline, migrants will be moved through the criminal justice system in group hearings, with cases handled in a matter of hours, from arraignment to sentencing. Los Angeles Times
Plus: House Republicans emerged from a meeting Thursday morning without clear agreement on immigration legislation, opening the door for a group of moderate lawmakers to move forward with a maneuver to force a vote — over GOP leaders' objections — on the issue. Los Angeles Times
'Nothing short of evil'
Superior Court Judge George G. Lomeli sentenced Pearl Sinthia Fernandez, 34, to life in prison without parole and Isauro Aguirre, 37, to be executed for the 2013 torture killing of Fernandez's 8-year-old son — abuse that the judge characterized as "horrendous, inhumane and nothing short of evil." It was the worst abuse he'd seen in nearly 20 years on the bench, he said, telling the defendants he hoped they woke up in the middle of the night plagued by their actions. Los Angeles Times
Looking back
On the 40th anniversary of the rainbow gay pride flag, one of the women instrumental to the flag's creation says history has largely forgotten some of the artists who made it happen. "It would be nice to get credit," said Lynn Segerblom, a tie-dye artist who concocted the dyeing process for the giant flags and who was then known as Faerie Argyle Rainbow. Los Angeles Times
Get the Essential California newsletter »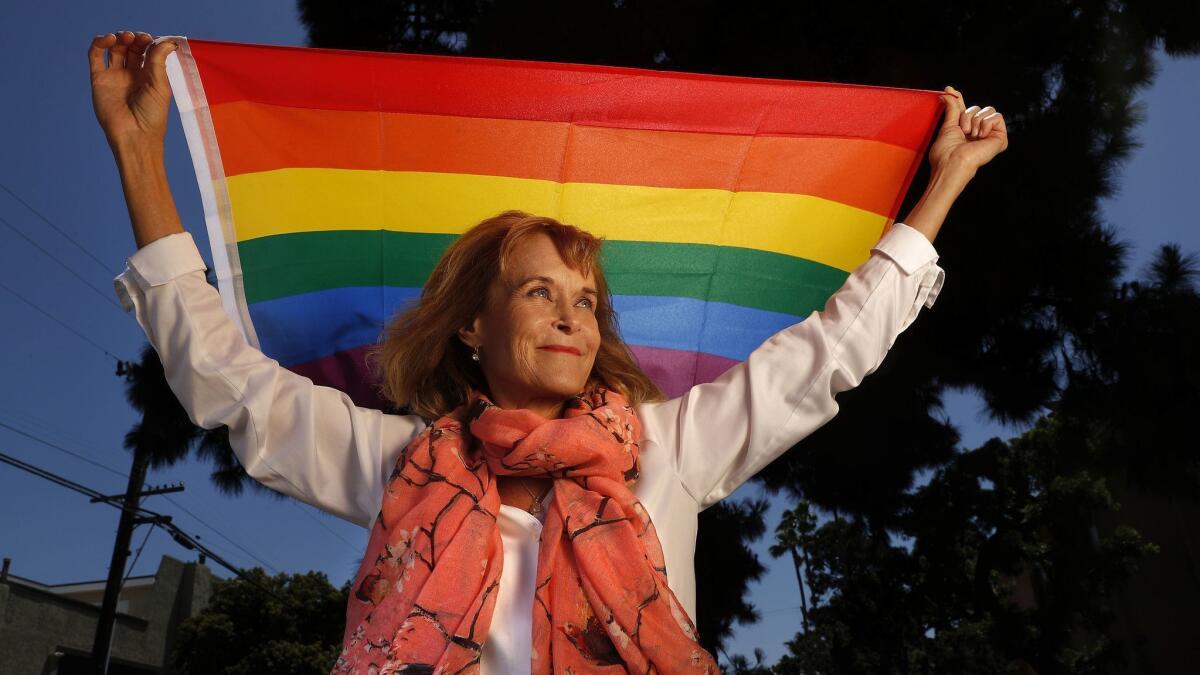 L.A. STORIES
Beautiful: Check out how your neighborhood voted in California's gubernatorial primary earlier this week. Los Angeles Times
Sad but also uplifting story: How Mike Shinoda found life after the death of Linkin Park's Chester Bennington. Los Angeles Times
Ambitious goals: Former Los Angeles schools Supt. Michelle King made "100% graduation" her central goal for the nation's second-largest school district. Now LAUSD Board President Monica Garcia wants to up the ante — and, by 2023, have every student graduate meeting requirements to enroll in one of the state's public four-year universities. Los Angeles Times
Tejon Ranch update: The development of a long-discussed planned community in northern Los Angeles County faced renewed debate Wednesday at a public hearing of the Regional Planning Commission. Los Angeles Times
IMMIGRATION AND THE BORDER
To prison: "U.S. authorities are transferring into federal prisons about 1,600 Immigration and Customs Enforcement (ICE) detainees in the first large-scale use of federal prisons to hold detainees amid a Trump administration crackdown on people entering the country illegally." Reuters
Fighting back: The Trump administration announced Thursday that it will yank visas from several Nicaraguan officials it blames for the country's response to a wave of anti-government demonstrations in which state security forces have killed dozens of people. Los Angeles Times
Separated: "The heartache of a migrant boy taken from his father." New York Times
POLITICS AND GOVERNMENT
Stepping back: "That was quite a tag team: Gavin Newsom and President Trump. They helped elevate obscure Republican John Cox to the runoff for California governor — against Democrat Newsom. It was a bizarre but effective narrow coalition," writes George Skelton. Los Angeles Times
Taking stock: In the heart of the Central Valley, a push to get Latino voters to the polls. Los Angeles Times
Plus: "California Democrats favor mainstream House candidates, despite liberal energy." New York Times
Tracking the money: In the primary, well-heeled winner Newsom had small donations. Guess who didn't? CALmatters
Follow this space: A former campaign worker for Inglewood Mayor James T. Butts lifted her fortunes after following him to City Hall as his assistant in 2011, rebounding from a personal bankruptcy to a position that earned her $312,000 in total compensation last year. Pasadena Star News
CRIME AND COURTS
Hit-and-run suspect: The Los Angeles Police Department on Thursday announced the arrest of a driver suspected of running over and killing a 22-year-old bicyclist in South Los Angeles and leaving the scene two months ago. Los Angeles Times
Boom! California authorities say they broke up one of the biggest illegal firework operations in state history, seizing nearly 50,000 pounds of fireworks and arresting six people. Associated Press
This seems like a problem: "Without interpreters, California's deaf prisoners are getting stuck behind bars." Mother Jones
Ruff stuff: He left his van running when he stopped at In-N-Out, and in minutes it was stolen — with 15 show dogs inside. Los Angeles Times
THE ENVIRONMENT
Surf's up … or not: Hitting the beach should be cleaner this summer, as long as you avoid a few bad stretches. Los Angeles Times
Calling a mulligan: Why Southern California is calling for a do-over on its vote to bankroll the Delta tunnels. Sacramento Bee
CALIFORNIA CULTURE
Uh-oh: Three seconds before a Tesla Model X on Autopilot slammed into a concrete barrier in March in Silicon Valley, killing the driver, the car sped up, the brakes were not applied, and there was no evasive action. Los Angeles Times
Sordid stuff: "Hollywood Madam" Heidi Fleiss made millions a week running a high-class escort service to the stars; now the former sex-work mogul runs a bird sanctuary in the Nevada desert as she talks about Harvey Weinstein and Tom Sizemore. The Hollywood Reporter
Exciting: A proposed new ballpark for the Oakland A's would have an easier path to construction through new legislation introduced this week. Los Angeles Times
History lesson: How movie stars decades ago conquered the "gig economy." Politico
CALIFORNIA ALMANAC
Los Angeles area: sunny, 79, Friday and Saturday. San Diego: sunny, 74, Friday; sunny, 76, Saturday. San Francisco area: cloudy, 66, Friday; cloudy, 64, Saturday. Sacramento: sunny, 88, Friday; partly cloudy, 80, Saturday. More weather is here.
AND FINALLY
Today's California memory comes from Barbara Berner:
"From 1950 to 1957 my family lived in San Bernardino. Occasionally, in the summer, a friend of my father would pick us up on a Sunday in his white Oldsmobile convertible with big winged tails and drive us up to the Arrowhead Springs Hotel. This was a great big white hotel with a long pool and cabanas on one side. It was a beautiful setting against the mountain filled with fir trees, spotted with cabins in the hillside and clear skies. Famous actors and glamorous actresses used to go there. Judy Garland, Esther Williams, the Marx Brothers, Elizabeth Taylor, Conrad Hilton, Tallulah Bankhead. But all I wanted to do was to go in the pool and dive for pennies!"
If you have a memory or story about the Golden State, share it with us. Send us an email to let us know what you love or fondly remember about our state. (Please keep your story to 100 words.)
Please let us know what we can do to make this newsletter more useful to you. Send comments, complaints and ideas to Benjamin Oreskes and Shelby Grad. Also follow them on Twitter @boreskes and @shelbygrad.