Newsletter: Essential California: Splitsville? Not in November
Good morning, and welcome to the Essential California newsletter. It's Thursday, July 19, here's what's happening across California:
TOP STORIES
Splitting up California? Not so fast. The California Supreme Court decided unanimously Wednesday to remove from the November ballot a measure aimed at dividing California into three states. The decision was a defeat for Tim Draper, a Silicon Valley venture capitalist considered an eccentric entrepreneur who spent $1.2 million on the measure. The court said it acted "because significant questions have been raised regarding the proposition's validity and because we conclude that the potential harm in permitting the measure to remain on the ballot outweighs the potential harm in delaying the proposition to a future election." Los Angeles Times
Older and on the street
While L.A.'s overall homeless population dipped slightly, older homeless people, ages 62 and up, shot up 22%, to nearly 5,000 people. The city and county have been slow to respond to the graying of the homeless population, advocates said. While some homeless people are aging in place, L.A.'s spiraling housing costs increasingly are driving people into homelessness for the first time at advanced ages. Los Angeles Times
Get the Essential California newsletter »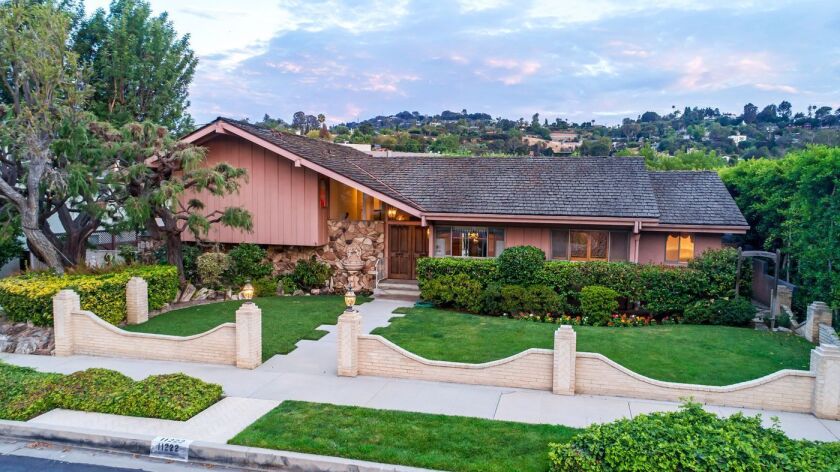 L.A. STORIES
Batter up! The Dodgers' greatest need is pitching. But, with a scarcity of top-flight pitching available in trade, the Dodgers decided to improve their team with the best player they could get. Every run scored helps just as much as every run saved, after all. The Dodgers already lead the National League in home runs, and they just added a player who has hit more home runs than anyone they already had. That player is Manny Machado. Los Angeles Times
Plus: The tale of the tape. Los Angeles Times
It's the story… : The Brady Bunch house, a Traditional-style residence near the Colfax Meadows neighborhood in Studio City, was used for outdoor representations of the beloved television family's abode. Now it's for sale. And nostalgia could push the price toward $2 million. Los Angeles Times
Fascinating: In a group of more than 2,500 Los Angeles-area high school students who showed no evidence of attention challenges at the outset, investigators from USC, UCLA and UC San Diego found that those who engaged in more digital media activities over a two-year period reported a rising number of symptoms linked to attention-deficit/hyperactivity disorder. Los Angeles Times
Big doings: Little Saigon is about to enter the big development boom, with the massive Bolsa Row project. Orange County Register
Words matter: "Porch poetry" to fight evictions. L.A. Taco
CRIME AND COURTS
A "bargain"? Harvey Weinstein's lawyers have asked a federal judge to dismiss a defamation lawsuit brought by actress Ashley Judd that charges the producer ruined her career after she rejected his sexual advances. Weinstein's legal counsel claims the movie mogul and the actress had a "bargain" that allowed him to touch her if she "won an Academy Award in one of his films," records show. The allegation met with outrage and disgust from Judd's attorney. Los Angeles Times
Must be steamed: A serial lobster poacher will spend more than a month in jail after he admitted to removing more than a dozen of the crustaceans from the South La Jolla State Marine Reserve this month. Los Angeles Times
Watch: The dancing cops of Tulare are going viral. Fresno Bee
POLITICS AND GOVERNMENT
In Sacramento: Gov. Jerry Brown vetoed a measure Wednesday to require incoming student orientations at California colleges and universities to include information on intimate partner and dating violence. Los Angeles Times
Next year: Voters in Rancho Palos Verdes could decide whether to provide panic buttons for hospitality workers, but residents won't vote on the initiative until 2019. The city is home to the ritzy Terranea Resort and the Trump National Golf Club. Los Angeles Times
No big deal, or a "bloodbath": San Diego's tough stance on short-term rentals is causing much angst in beach communities where many rent out their houses to tourists. San Diego Union-Tribune
"Fake news"? Rep. Devin Nunes has a new enemy: the Fresno Bee. And he's doing ad buys! Politico
On the rise: It might not be the "year of the woman" in politics nationally, but it might be in San Francisco. San Francisco Chronicle
Reelection time: How much does Rep. Dana Rohrabacher have to worry about new Russian-influence allegations? New York Times
Buh-bye? Is it time for Sen. Dianne Feinstein to go? Sacramento Bee
THE ENVIRONMENT
Dangerous: A wildfire near Yosemite National Park that has claimed one life continued to grow, burning through steep, rugged forest where patches of dead trees and brush have been gathering for decades. Los Angeles Times
Open again! Caltrans reopened Highway 1 at Mud Creek — the first time in more than a year the coastal route was fully open after it was covered by massive landslide. Los Angeles Times
Uh, closed again: A wildfire shut down more than 15 miles of Highway 1 near Lompoc on Wednesday, according to Santa Barbara County officials. Los Angeles Times
CALIFORNIA CULTURE
Whatever happened to … ? A former child actor has found his calling as an adult — helping the homeless. Los Angeles Daily News
Half-century mark: Intel was one of Silicon Valley's true pioneers. A look back at its storied history at 50, plus where the computer giant is going. Mercury News
Jobs! Jobs! Jobs! Forget Silicon Valley or even San Francisco itself. The hottest job market in the Bay Area is the Tri-Valley area. SF Gate
Across the pond: The battle between Disney and Comcast over Fox shifts now to Europe and the future of Sky. Wall Street Journal
Breathe it in: Can some of California's most scenic visits help you de-stress? Meditation on the go. New York Times
Surviving the Con: Your guide to to Comic-Con 2018. Bring your costume. Los Angeles Times
In the works: And, yes, San Diego loves Comic-Con so much they are building a museum. Los Angeles Times
CALIFORNIA ALMANAC
Los Angeles area: sunny, 83, Thursday and Friday. San Diego: sunny, 78, Thursday; partly cloudy, 77, Friday. San Francisco area: partly cloudy, 67, Thursday; sunny, 70, Friday. Sacramento: mostly sunny, 97, Thursday; sunny, 94, Friday. More weather is here.
AND FINALLY
Today's California memory comes from Sara Strickland:
"I lived in California for nearly 22 years (1980-2002) and by far my fondest memory was my first trip to San Francisco in the early '60s. My husband and I were a little lost and couldn't find our hotel (the days before GPS and Garmin). We asked a cab driver for directions and he said, 'Follow me.' We did. At one point we were separated by a traffic signal. The cabbie pulled over to the side of the road to wait for us. When we pulled up to him, he said, 'Just turn left at the next intersection, and the hotel will be on your right.' We offered to pay him for his time, he declined, and he said, 'Welcome to San Francisco.' I have loved that city ever since."
If you have a memory or story about the Golden State, share it with us. Send us an email to let us know what you love or fondly remember about our state. (Please keep your story to 100 words.)
Please let us know what we can do to make this newsletter more useful to you. Send comments, complaints and ideas to Benjamin Oreskes and Shelby Grad. Also follow them on Twitter @boreskes and @shelbygrad.
---