Thunderstorms pose possible new danger for crews battling 17,300-acre fire near Yosemite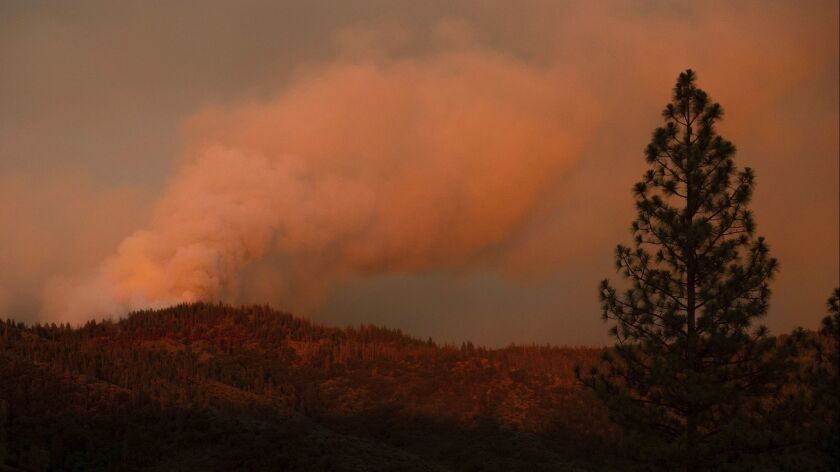 A wildfire near Yosemite National Park that has claimed one life continued to grow overnight to 17,319 acres, burning through steep, rugged forest where patches of dead trees and brush have been gathering for decades, officials said.
The Ferguson fire remained 5% contained as of Wednesday morning while crews made progress in preventing the fire from crossing into the communities of Mariposa Pines and Jerseydale, officials said. Mandatory evacuations remained in place Wednesday, but no new ones were issued.
After battling the blaze amid dry heat and light winds, crews were preparing for a possible thunderstorm Wednesday, which could bring some relief but also pose increased risk, said Mike Beasley, a fire behavior analyst for the U.S. Forest Service.
The fire is burning through terrain that is both extremely difficult to access and filled with dead brush, pine needles and trees — areas easily ignited by drifting embers.
"The whole area … has had this effect of drought and bug-killed tree mortality, so it's scattered patches all over the landscape both where it has burned and where it is burning toward."
Because access to the burn areas in Mariposa County is so difficult, crews have tried to establish "indirect" containment lines, which leave tracts of unburned fuel between the fire and firefighters.
"It's the south and east flanks that it's going to be really hard to find good pieces of ground for containment," Beasley said. Those areas are "steep, rugged, inaccessible; there's not really even any trails out there, let alone roads."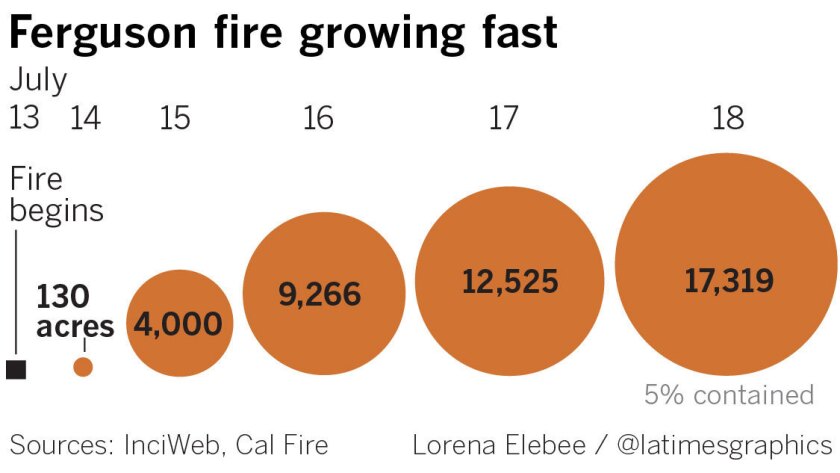 A thick layer of smoke hovering over the fire is also acting as a dual-edged sword: Early in the day the smoke layer blocks visibility and makes dropping water and retardant by air tankers difficult, but it also prevents oxygen from further igniting the flames, Beasley said. When that smoke layer lifts by midafternoon, however, it allows the fire to grow, often into the night.
Thunderstorms in the area could change conditions drastically.
"Monsoonal moisture is expected to start pushing in from the [s]outh, and some thunderstorm buildup can be expected over the Sierra Crest by late afternoon," according to a fire update Wednesday morning. "Thunderstorms can produce gusty, erratic winds, causing hazards for firefighters."
Thunderstorms also produce lightning, which can start new fires, and could give the fire space to grow.
"The rain would be a good thing, but what comes with it as well is strong downdrafts … that could give the fire oxygen," Beasley said.
The fire is only about three miles from the western edge of Yosemite National Park, but winds would have to kick up and shift to the north for the fire to reach the park and the community of Yosemite West, Beasley said.
The park is still open, but the fire has affected air quality and cut off access via Highway 140 through El Portal, said spokeswoman Jamie Richards. The other three entrances are open, she said.
Park officials are in touch with fire authorities, but while "the fire is well outside the park boundary, there are no plans for any operational impact" beyond the closure of Highway 140, she said.
Braden Varney, 36, a Cal Fire heavy equipment operator, was killed early Saturday when his bulldozer tumbled down a steep canyon, officials said
Reach Sonali Kohli at Sonali.Kohli@latimes.com or on Twitter @Sonali_Kohli.
---
The stories shaping California
Get up to speed with our Essential California newsletter, sent six days a week.
You may occasionally receive promotional content from the Los Angeles Times.