Newsletter: Essential California: The mystery of the giant sea bass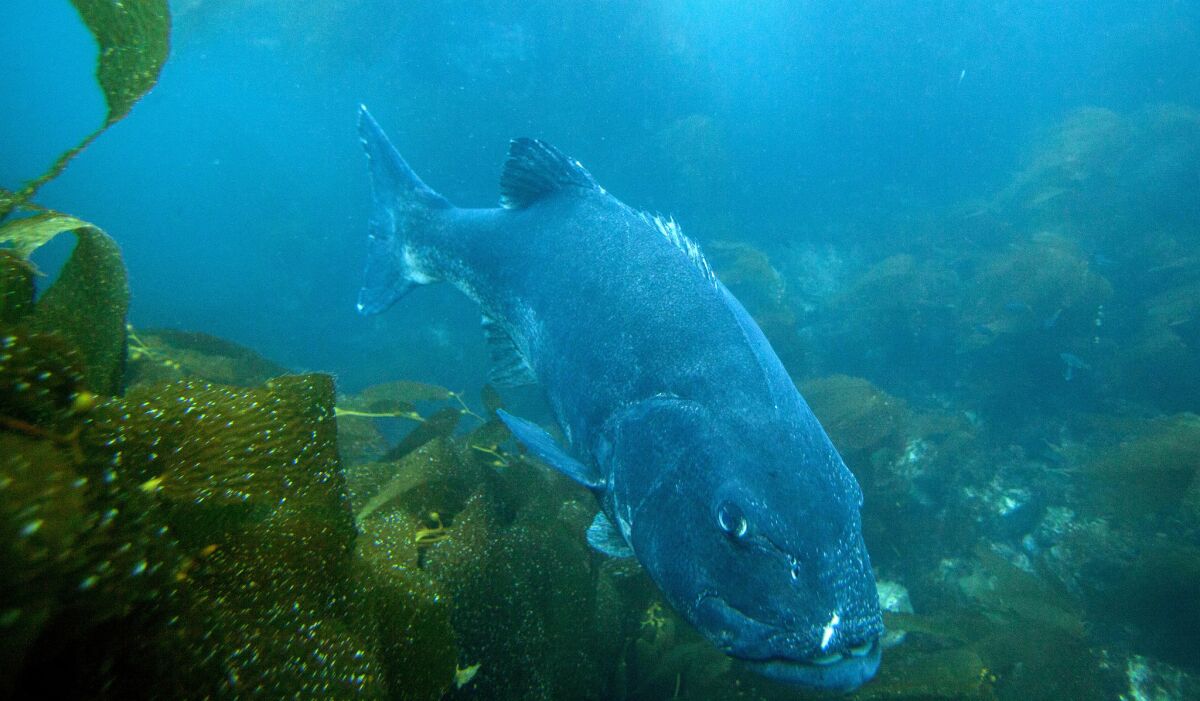 Good morning, and welcome to the Essential California newsletter. It is Saturday, July 21. Here's what you don't want to miss this weekend:
TOP STORIES
Fish tales: Off the coast of Catalina, giant sea bass are finally making a comeback after reaching the brink of extinction because of fishing. Now scientists are using their spot patterns, which function as natural bar codes, to better understanding the massive fish and help them survive and thrive. Los Angeles Times
Medical board decision: The state agency that regulates physicians on Friday ordered USC's former medical school dean stripped of his license to practice medicine, citing "an appalling lack of judgment" in his use of drugs and association with a circle of addicts and criminals while leading a major institution. Los Angeles Times
Family separations: A San Diego federal judge on Friday said he was impressed with the massive effort to reunite some 2,500 children separated from their parents at the border and that it appeared promising that a very significant number of families would be brought back together by next Thursday's deadline. San Diego Union-Tribune
A brave little boy: "With everything going on, with what he was going through, he was always smiling. It just shows what kind of kid he was." Friends and family remember Anthony Avalos, the boy authorities said was tortured and killed despite warnings of possible abuse. Los Angeles Times
Healthcare woes: Can California fight crazy kidney dialysis costs? Los Angeles Times
A line in the sand: For decades, California has battled over access to its beaches, with the government often on one side and property owners on another. In Santa Barbara County, this war is about to reach a head. New York Times
Given the boot: James Gunn, the director behind the wildly successful "Guardians of the Galaxy" series, was fired by Disney after offensive tweets from his past surfaced. Gunn responded: "Many people who have followed my career know, when I started, I viewed myself as a provocateur, making movies and telling jokes that were outrageous and taboo." Hollywood Reporter
Not in the job description: A brigadier general at Camp Pendleton will receive "administrative actions" for reportedly misusing his aide to perform servant-like tasks while deployed to Iraq. Orange County Register
Stealing the show: Jamie Lee Curtis rallies the #MeToo forces at Comic-Con with emotional words in San Diego. Los Angeles Times
Sounds fun: The scooter treasure hunt in San Francisco. San Francisco Chronicle
Plea deal brewing: The stage appears to be set for a deal that would resolve political money-laundering allegations against Los Angeles school board member Ref Rodriguez, based on a filing posted Friday afternoon by the city's Ethics Commission. Los Angeles Times
Fatal shooting: A 4-year-old boy accidentally shot and killed his 2-year-old cousin in a small San Bernardino County town Friday, and authorities have arrested the victim's grandfather on suspicion of leaving his gun in a spot accessible to the children. Los Angeles Times
Jobs, jobs, jobs: Silicon Valley is adding jobs like crazy. Still. Mercury News
THIS WEEK'S MOST POPULAR STORIES IN ESSENTIAL CALIFORNIA
1. Former "Family Affair" child actor Johnny Whitaker now has the role of a lifetime. Los Angeles Daily News
2. How to keep plants alive in this blistering summer heat. Los Angeles Times
3. Drivers were trapped on Interstate 5, and 10 vehicles were seized, in a rash of Saturday night "sideshows." Sacramento Bee
4. Map: L.A.'s strange and wonderful lost amusement parks. Curbed LA
5. Climate change has come to your neighborhood, and the sizzle may never subside. Los Angeles Times
GREAT READS
L.A.'s Camelot: Times Mirror Square was built with money from successive boom years in Los Angeles — the roaring first decades of the 20th century, then the postwar suburban explosion. At its height, the landmark building housed America's most financially successful — but far from most celebrated — newspapers. The building had its Camelot years, and then its Dark Ages. Los Angeles Times
Plus: An incredible graphic tour through The Times' building through the years. Los Angeles Times
Get the Essential California newsletter »
Unbelievable: His mother sent a check to a scammer in Rancho Cordova, and so began an odyssey of a small crime and its long shadow. The New Yorker
Laid to rest: David Rosenkrantz was a hometown hero in the summer of 1943. "L.A. Paratrooper, Buddy Capture 200 Italians," read one newspaper headline. "Los Angeles Warrior 'Captures his Captors,'" read another. But the next year Rosenkrantz was killed by German machine-gun fire. His remains stayed unidentified until this year. Los Angeles Times
Homelessness crackdown: L.A. "sterilized" itself for the 1984 Olympics. That effort had a long legacy. Curbed Los Angeles
Please let us know what we can do to make this newsletter more useful to you. Send comments, complaints and ideas to Benjamin Oreskes and Shelby Grad. Also follow them on Twitter @boreskes and @shelbygrad.
---