An L.A. hero of World War II is buried, nearly 74 years after he was killed by the Germans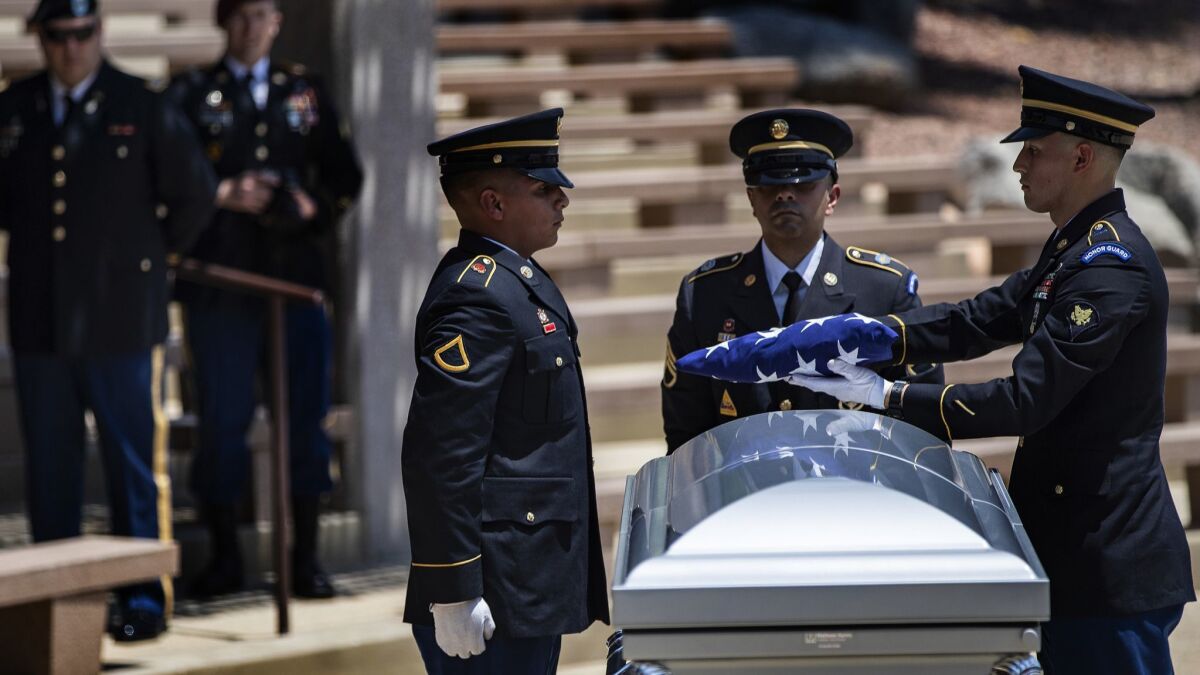 David Rosenkrantz was a hometown hero in the summer of 1943.
"L.A. Paratrooper, Buddy Capture 200 Italians," read one newspaper headline. "Los Angeles Warrior 'Captures his Captors,'" read another.
Army Staff Sgt. David Rosenkrantz had been overseas for just three months when he and another paratrooper were mistakenly dropped into an Italian unit. The Italians, 200 of them, surrendered to Rosenkrantz and his fellow soldier.
But on Sept. 28, 1944, just a year after his victory over the Italians, Rosenkrantz was killed by German machine-gun fire during Operation Market Garden in the Netherlands, a fierce battle chronicled in the 1977 film "A Bridge Too Far."
For weeks, the Germans held the farm where Rosenkrantz, 28, was killed. American troops were unable to recover his body. He was listed as missing for decades; his remains were identified through DNA testing earlier this year.
This week, nearly 74 years after his death, Rosenkrantz's remains were finally returned to his family.
Rosenkrantz was laid to rest Friday at the Riverside National Cemetery, where four of his brothers are also buried.
More than 30 of Rosenkrantz's relatives — nieces, nephews, their kids, and their kids — were present.
Sitting front and center in the outdoor amphitheatre was Phillip Rosenkrantz, David's nephew, who helped locate the remains of the uncle he never knew.
After "Taps" was played and the three-volley salute was fired, the military honor guard folded the flag draped atop Rosenkrantz's casket. Phillip gulped and blinked back tears as he received the symbolic triangle.
"This is a day I have been hoping for over 20 years," he said in his eulogy. "We now have some closure."
That lack of closure weighed heavily on the family members for decades. Eva Rosenkrantz took her son's disappearance particularly hard.
Just a year before David died, Eva was treated as a hometown hero, too. She spoke of his triumph over the Italians to a crowded theater and sat for interviews in her home in Watts.
"I just knew he'd do something — something big," she told one reporter.
She had reason to believe so. The gregarious son of Russian Jewish immigrants, David played football in high school and was in theater and glee club. He was the middle child of 11, and, by all accounts, was a central force in keeping the family close.
Without his remains, Eva Rosenkrantz could not accept that her son had died.
Years after the war ended, she would ask her children to drive her around the streets of Los Angeles, looking for her boy. She died in 1960 without ever knowing what had happened to him.
Decades passed, and the Rosenkrantz family grew to accept that circumstances of David's death might forever remain a mystery. Then, in the late 1990s, Phillip watched "Saving Private Ryan," a film about an Army squad searching for a missing paratrooper.
The movie inspired Phillip to find his uncle.
He set up a website, posting old articles and photographs and whatever else he could find about David. He started attending events for families of soldiers who were missing in action.
Meanwhile, a Dutchman named Ben Overhand had been searching for David's remains for 35 years. Overhand grew up hearing about his country's liberation during World War II, and as a teenager began trying to find the remains of soldiers who aided this effort.
Decades into his research, Overhand found Phillip Rosenkrantz's website. He got in touch with Phillip and gave him a time-worn document: a map of the battle in which David was killed, sketched by a fellow soldier.
A star had been drawn near the driveway to a farmhouse. "Sgt. Rosie KIA," it said.
Through further digging, they learned that the remains had been recovered from the farm by Canadian soldiers, and were buried in an American military grave in the southern part of the country.
The research would lead the Defense POW/MIA Accounting Agency — the federal agency responsible for recovering missing military personnel — to exhume the remains in 2017.
Lt. Col. Joe Buccino of the Army's 82nd Airborne — Rosenkrantz's division — told the funeral gathering that people are always surprised by the fact that more than 100 paratroopers from his division remain missing from World War II.
"As a nation … we cherish the accomplishments of our World War II veterans," he said. "But we sometimes lose sight of the fact that they have not all been found. They have not all been given the service and ceremony that we owe them."
Along with the remains, military researchers found scraps of a paratrooper uniform and size 7EE paratrooper boots — Rosenkrantz's boot size. DNA testing would eventually confirm that the remains belonged to David Rosenkrantz.
There are only a handful of people alive who knew David. One of them is Doni Satorhelyi, whose father, Julius, was David's closest brother.
Satorhelyi was 8 when David died. But she can recall a few things about him, like how, before he went off to war, he would take the streetcar from Watts to the San Fernando Valley on weekends to visit her family. He was sweet and rather quiet, she said. He would bring her candy.
David sent dozens of letters to Satorhelyi's father while overseas, signing each one with "Say hi to Doni." She remembers when the last letter her dad wrote to David was returned to her house, stamped "deceased." She remembers how family gatherings for the rest of her childhood seemed cloaked with sadness.
Just before Friday's ceremony, Satorhelyi said she came, of course, to honor David. But most of all, she said, she's here to honor her father's love for his brother.
"He would be so damn thrilled," Satorhelyi said, suddenly choking up. "He always kept David in his heart, until the day he died."
Twitter: @lauramnewberry
Twitter: @palomaesquivel
---
Life is stressful. Our weekly mental wellness newsletter can help.
You may occasionally receive promotional content from the Los Angeles Times.