Embattled L.A. Unified school board member is poised to take plea deal in money-laundering case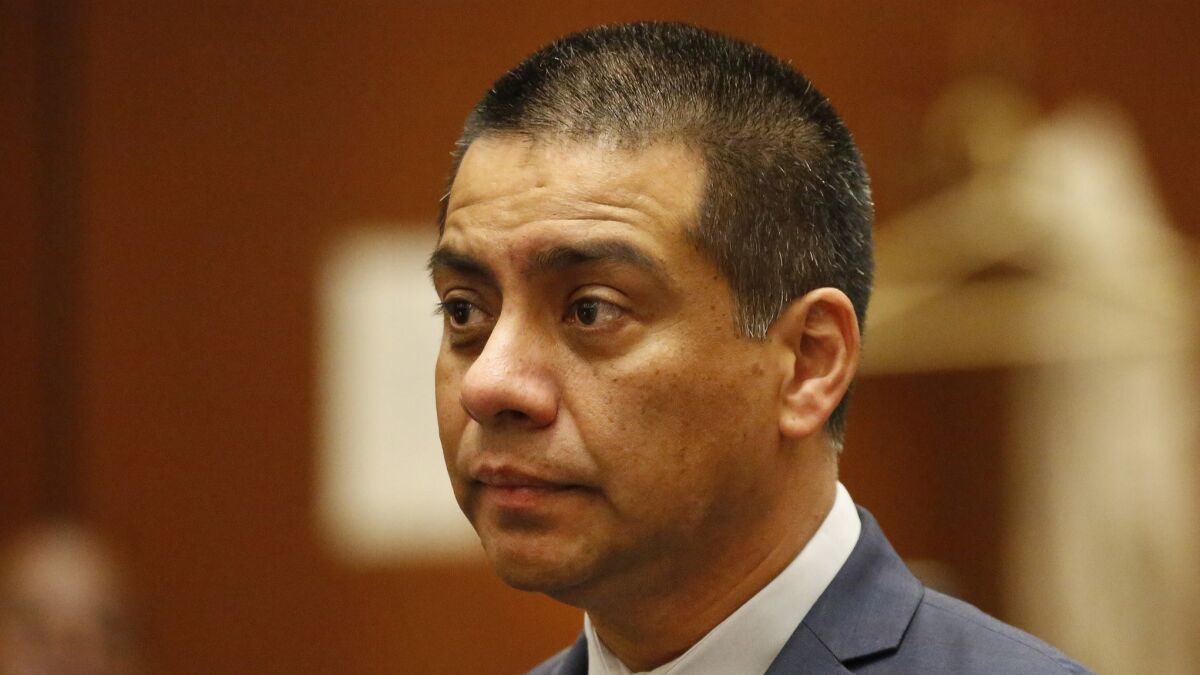 The stage appears to be set for a deal that would resolve political money-laundering allegations against Los Angeles school board member Ref Rodriguez, based on a filing posted by the city's Ethics Commission.
The deal is likely to include his resignation from office, although parties involved in the negotiations would not confirm that.
In the filing, Rodriguez, 47, admits that he "engaged in money laundering to further his 2015 campaign for a seat on the Los Angeles Unified School District Board of Education."
The commission staff is recommending a $100,000 penalty that would be paid by Rodriguez and his co-defendant, Elizabeth Melendrez.
That fine would resolve Rodriguez's case before the Ethics Commission, but that is just one half of his troubles related to political money laundering. The other — and the more serious — is a criminal case based on the same actions.
In that proceeding, Rodriguez is charged with three felonies and 25 misdemeanors. If convicted on all counts, he could face several years in prison.
Because Rodriguez has now apparently admitted guilt to the city's Ethics Commission, it would be seemingly impossible for him to claim that he is not guilty of the same offenses in the criminal case. For that reason, all signs suggest that the criminal case also has been resolved with a separate plea deal.
Details of the expected deal in the criminal case have not been made public.
Legally, Rodriguez could probably remain in office if prosecutors agreed to lower the felony charges to one or more misdemeanors. But observers and those close to the case said it's difficult to imagine a deal that would allow Rodriguez to keep his board seat, even if he is able to avoid time in jail.
The ethics filing describes in some detail what happened, according to investigators.
Late in 2014, Rodriguez, who was then a senior executive at a charter school organization, was putting together his first run for office.
That December, he instructed Melendrez, his cousin, to enlist contributors and later reimburse them with Rodriguez's money. Melendrez worked under Rodriguez as an administrator in the same charter-school organization.
Rodriguez held an event at a family member's residence later that month to announce his candidacy. During the event, he asked family and friends for support.
Afterward, Melendrez promised contributors that Rodriguez would reimburse them. From Dec. 23 through Dec. 31, Rodriguez's family and friends, including employees under his supervision, made 25 campaign contributions ranging from $775 to $1,100. The contributors included low-wage custodians for the charter schools and totaled $24,350.
Soon after, on Jan. 15, Rodriguez attended a mandatory Ethics Commission training for candidates. It included a detailed discussion of city law regarding contributions, including prohibitions on money laundering.
Rodriguez declined to come forward. Had he done so, the fallout could have derailed his campaign.
Instead, when Rodriguez filed his first campaign statement, he reported raising $51,001. Nearly half of that was the laundered contributions. In the same reporting period, incumbent school board member Bennett Kayser reported raising $13,739, and another challenger, Andrew Thomas, reported raising $10,732.
"Therefore, Rodriguez's first public disclosure statement identified him as having received more contributions in that reporting period than any other candidate in the LAUSD District 5 race," the Ethics Commission noted.
Rodriguez could have contributed the money openly and legally to his own campaign. It is against the law to disguise the true source of campaign donations.
The violations "were deliberate, and Rodriguez knowingly received and made use of laundered funds during the election," the filing states. The actions reflected "an intent to conceal, deceive and mislead."
It is possible that the ethics case and the criminal case could be resolved simultaneously Monday. The Ethics Commission, which has jurisdiction over local campaigns, has called a special meeting at City Hall for 10 a.m. The Rodriguez matter is the only item on the agenda.
Meanwhile, for the criminal case, a hearing also is scheduled for Monday morning in the Clara Shortridge Foltz Criminal Justice Center, which is across from City Hall.
If the plea bargain happens as expected, Rodriquez would not necessarily be free from legal jeopardy. Sources tell The Times that the U.S. attorney's office has looked into unrelated conflict-of-interest allegations against Rodriguez.
Those allegations arose when his former employer, Partnerships to Uplift Communities, or PUC Schools, reported that Rodriguez had an improper conflict of interest when he authorized more than $285,000 in payments.
The payments were made from PUC to a separate nonprofit under Rodriguez's control and to a private business in which Rodriguez may have owned an interest.
Through his attorney, Rodriguez has denied wrongdoing regarding the alleged conflict of interest.
On Friday, attorneys for Rodriguez and Melendrez could not be reached or had no comment. The prosecutor on the case also did not return calls.
howard.blume@latimes.com | Twitter: @howardblume
Times staff writers David Zahniser and Emily Alpert Reyes contributed to this report.
---
UPDATES:
8 p.m.: This article was updated with additional information about the case.
This article was originally published at 5:30 p.m.
The stories shaping California
Get up to speed with our Essential California newsletter, sent six days a week.
You may occasionally receive promotional content from the Los Angeles Times.