Newsletter: Essential California: A momentous day in D.C. for a California transplant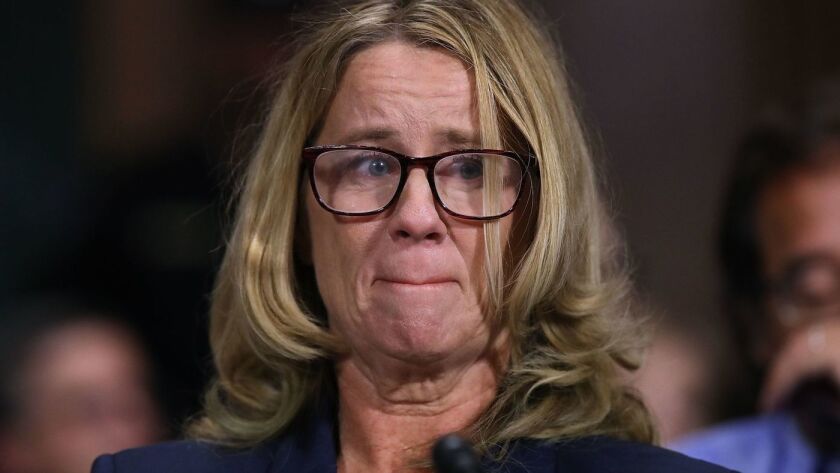 Good morning, and welcome to the Essential California newsletter. It's Friday, Sept. 28, and here's what's happening across California:
TOP STORIES
President Trump and other Republicans sought to portray Christine Blasey Ford as part of a politically inspired "con job" aimed at derailing Brett Kavanaugh's Supreme Court nomination. Instead, through hours of testimony, they got an American Everywoman who described a searing memory of a sexual assault. Robin Abcarian breaks down who was more believable: a Supreme Court nominee or his accuser. Los Angeles Times
— After Ford testified she was sexually assaulted, Kavanaugh responded with anger and tears. Los Angeles Times
— Sen. Dianne Feinstein, the panel's top Democrat, also came in for some grilling. Los Angeles Times
— If Ford's testimony stirred up painful memories, here's where you can get help. Los Angeles Times
See you in court, Elon
The Securities and Exchange Commission sued Elon Musk on Thursday, alleging that the Tesla chief executive's tweets about taking the electric-car company private at $420 a share were "false and misleading" — and asking the court to, in effect, force him out of Tesla's leadership. In its complaint, filed in federal court in Manhattan, the SEC asks the court to prohibit Musk "from acting as an officer or director" of a publicly traded company. It also asks the court to force Musk to pay back "any ill-gotten gains" received as the result of his slew of Aug. 7 tweets. Los Angeles Times
Get the Essential California newsletter »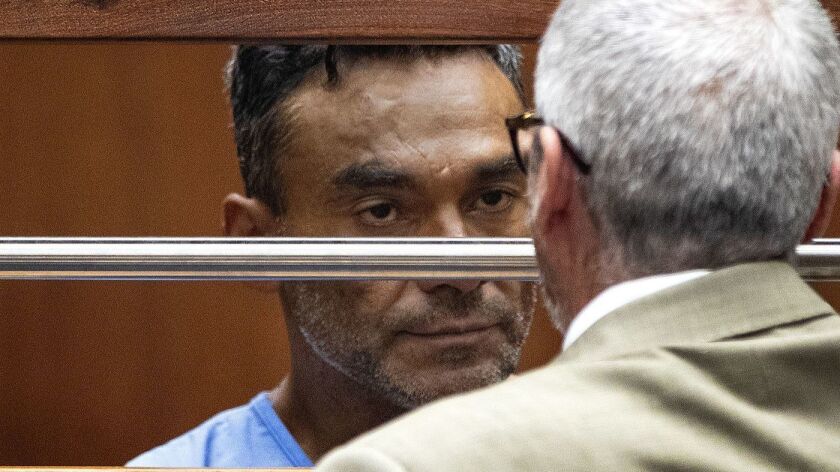 L.A. STORIES
Reversal: A Los Angeles judge on Thursday reversed his order barring journalists from publishing courtroom photos of a Houston man charged with killing multiple homeless people in recent weeks. Los Angeles Times
Cool exhibition: "First Glimpse" peers into UC Irvine's treasure trove of California art, the "largest collection of art that no one has ever seen." Los Angeles Times
Saving a hospital: The city of Lynwood is moving to buy St. Francis hospital, which comes after the hospital's parent company filed for bankruptcy protection last month and sparked alarm in the city. It's a bold plan to protect what officials say is a vital institution. Los Angeles Times
NBA season on the horizon: Lonzo Ball participated in a full-contact practice Thursday for the first time in training camp after having arthroscopic surgery on his left knee in July. ESPN
IMMIGRATION AND THE BORDER
In Mexican politics: Javier Duarte, a onetime rising star of Mexico's ruling party and the former governor of Veracruz state, pleaded guilty to two charges Wednesday — money laundering and criminal association — in exchange for a lighter sentence. Los Angeles Times
Suing ICE: A Sacramento man on Wednesday filed a claim seeking $750,000 against U.S. Immigration and Customs Enforcement, alleging that agents beat and threatened him with deportation last year when he refused to turn in other people who were in the country illegally. Los Angeles Times
POLITICS AND GOVERNMENT
On the bus: Republican John Cox launched a bus tour in California governor's race, telling voters "help is on the way." Los Angeles Times
Poll: Republican Rep. Duncan Hunter's legal woes don't seem to be having the devastating effect on his reelection chances that Democrats had hoped. Los Angeles Times
Plus: A GOP congressional candidate walks into a mosque: How Andrew Grant's constituents reacted to his outreach. Los Angeles Times
Pension watch: "CalPERS chief faces short-term and long-term liabilities." Wall Street Journal
Streetcar! Orange County Transportation Authority board members recently awarded a $220.5-million contract to a construction firm to build the first modern streetcar in Orange County. Los Angeles Times
CRIME AND COURTS
Gruesome: Police in San Francisco have confirmed that a headless body found in a fish tank was that of the homeowner, who vanished several months ago. Los Angeles Times
Flash mob thefts: California's attorney general says 17 people have been charged in connection with a string of brazen robberies of more than $1 million in electronics from Apple stores throughout the state. Los Angeles Times
Stating his case: A California man who unwittingly sold bank accounts to Russians meddling in U.S. elections is living in a "constant state of fear" after becoming a government cooperator, his attorney said in a court filing Wednesday. Associated Press
THE ENVIRONMENT
Dark side of wine labeling: A California winemaker's Oregon controversy. San Francisco Chronicle
CALIFORNIA CULTURE
Tasty! "Top Chef" alum Shirley Chung wants to change the way people think about Chinese food in L.A. Los Angeles Times
A major issue here: Strict rent control has been banned in California for 20 years. Now voters could resurrect it. Sacramento Bee
Plus: Is rent control an answer to the state's housing crisis? NPR
Pricey: Talk show host Ellen DeGeneres and actress Portia de Rossi have bought a Beverly Hills home steeped in Old Hollywood glamour for $15 million, The Times has confirmed. Los Angeles Times
At the theaters: In "A Star Is Born," his directorial debut, Bradley Cooper wrangles with the celebrity industrial complex. So you can imagine how this interview went. New York Times
CALIFORNIA ALMANAC
Los Angeles area: partly cloudy, 75, Friday; partly cloudy, 72, Saturday. San Diego: foggy, 75, Friday; partly cloudy, 75, Saturday. San Francisco area: partly cloudy, 62, Friday; partly cloudy, 67, Saturday. San Jose: partly cloudy, 74, Friday and Saturday. Sacramento: partly cloudy, 83, Friday; partly cloudy, 76, Saturday. More weather is here.
AND FINALLY
Today's California memory comes from Anita Soluna:
"In the 1950s, our family spent one week per summer in Yosemite. We stayed in a 'housekeeping tent.' It was one large, elevated room with a wooden floor. Outside was a pole with a box in which to put food so as not to attract bears into the tent. We put all our food, including a carton of milk and a loaf of raisin bread, into the box. The next morning, we discovered the box open, the milk carton empty, a print of the bear's bottom in the dirt, and a semicircle of bread with all the raisins missing."
If you have a memory or story about the Golden State, share it with us. Send us an email to let us know what you love or fondly remember about our state. (Please keep your story to 100 words.)
Please let us know what we can do to make this newsletter more useful to you. Send comments, complaints and ideas to Benjamin Oreskes and Shelby Grad. Also follow them on Twitter @boreskes and @shelbygrad.
---