Newsletter: Essential California: A big net neutrality fight looms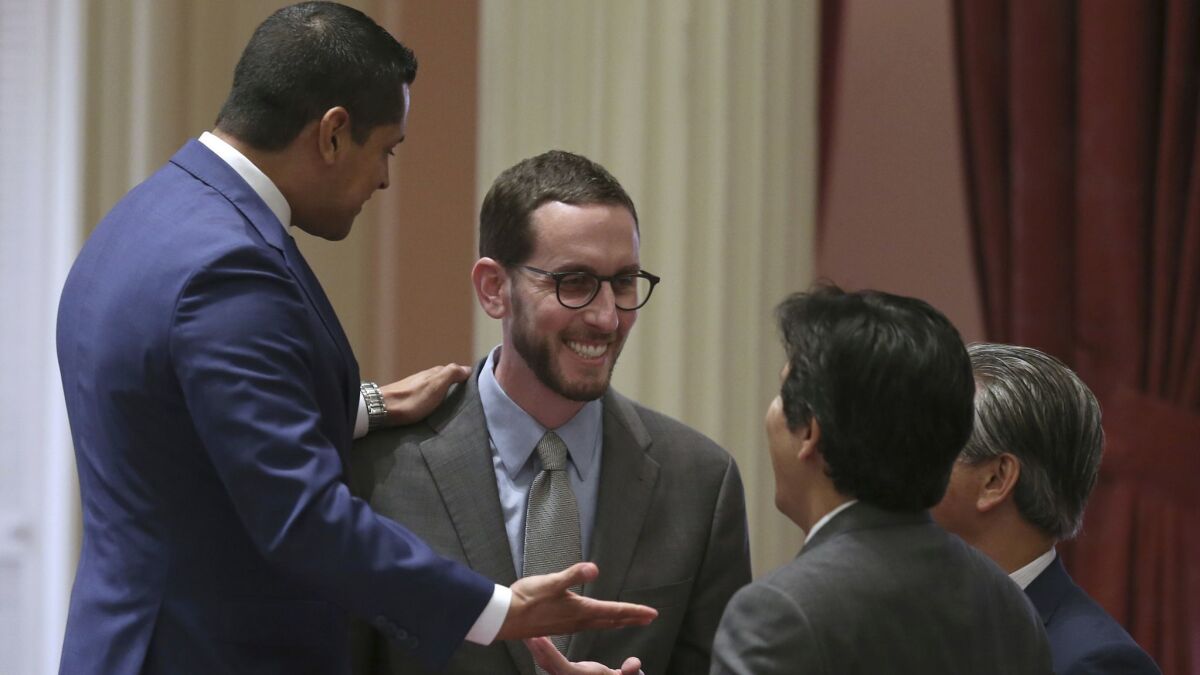 Good morning, and welcome to the Essential California newsletter. It's Monday, Oct. 1, and here's what's happening across California:
TOP STORIES
Gov. Jerry Brown on Sunday restored net neutrality rules in California that were repealed under the Trump administration, setting up a legal battle with the federal government over whether states can prevent companies from blocking access to the internet. News that the governor signed the ambitious new law was swiftly met with an aggressive response from Justice Department officials, who announced soon afterward that they were suing California to block the regulations. Los Angeles Times
More from a busy weekend of bill signing:
-- For the first time, the public will have access to internal police investigations and video footage of shootings by police officers and other serious incidents. Los Angeles Times
-- California is poised to become the first state to require corporate boards of directors to include women. Los Angeles Times
-- Brown signed a law that ends the practice of charging some accomplices to a killing with the actual murder. Los Angeles Times
-- Brown vetoed an earthquake safety bill that would have asked California cities and counties to create lists of buildings that could be at higher risk. Los Angeles Times
-- Why it's now so rare for the Legislature to override a veto by the governor. Los Angeles Times
When disaster strikes
Whether fire or earthquake, mudslide or drought, natural disaster is an inextricable part of the California experience. Emergency response is rarely discussed as a campaign issue, but once in office, a governor's on-the-ground handling of unexpected catastrophe and its immediate aftermath can define his legacy, for good or bad. Just ask Pete Wilson, who navigated quakes and fires, or Gray Davis, who never recovered from energy crisis. Los Angeles Times
Around the horn
Mike Scioscia, a fixture in the Angels dugout for nearly two decades and the manager who led the franchise to its only World Series championship in 2002, announced on Sunday that he is stepping down, ending his 19-year run as the team's field boss. Scioscia, who turns 60 in November, built a Hall-of-Fame-worthy resume in Anaheim. Los Angeles Times
Plus: The regular season didn't end Sunday. After a 15-0 demolition of the Giants, the Dodgers have forced Game 163 to decide the National League West. The Dodgers will host the Rockies at Dodger Stadium at 1:08 p.m. Los Angeles Times
-- For the Dodgers, a chance at October redemption — or just more of the prolonged pain? Los Angeles Times
-- It doesn't take a lot to get the party started at Dodger Stadium. Los Angeles Daily News
Get the Essential California newsletter »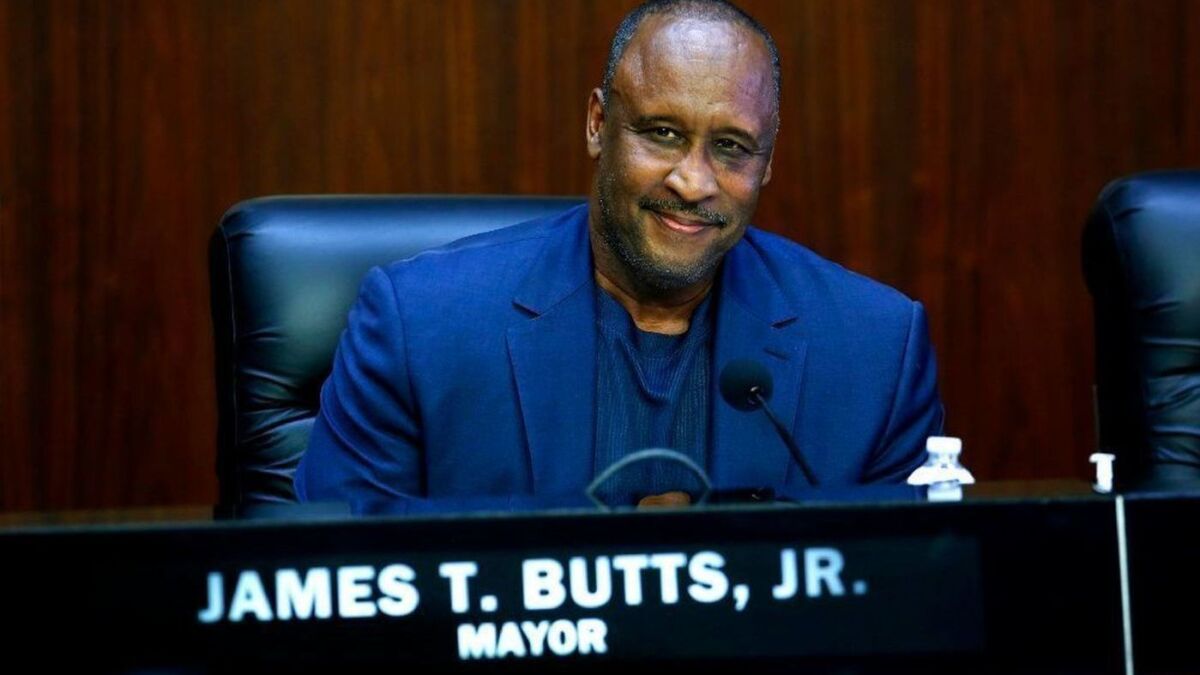 LA STORIES
Election fraud A dollar goes a long way on skid row. So investigators were not completely surprised to find homeless people there taking $1, food or cigarettes to forge signatures of registered voters on petitions to qualify initiatives for the ballot, police said. Los Angeles Times
Fascinating: Long Beach State graduate Mike Marjama reached the majors, then quit baseball for a very unusual — and personal — reason. Los Angeles Times
$$$: A big loan roils Inglewood politics. Los Angeles Times
IMMIGRATION AND THE BORDER
Important: "In shelters from Kansas to New York, hundreds of migrant children have been roused in the middle of the night in recent weeks and loaded onto buses with backpacks and snacks for a cross-country journey to their new home: a barren tent city on a sprawling patch of desert in West Texas." New York Times
CRIME AND COURTS
A win for Elon? A swift settlement of the government's lawsuit — with Tesla's Elon Musk staying on as CEO as part of the agreement — has given the embattled entrepreneur another shot at fixing the ailing Tesla. The company he'll continue to helm is beset with troubles and facing significant challenges, including penalties stemming from the legal settlement announced Saturday. Los Angeles Times
A wild story: In a lawsuit that a federal judge recently ruled can proceed, Mauricio Umansky, chief executive of high-end Beverly Hills real estate firm the Agency, is accused of selling a home for millions less than it was worth because he had partnered with the winning bidder, allowing the pair to maximize their profits when they resold it less than a year later. Los Angeles Times
Scary: A 13-year-old boy diving for lobster was attacked by a shark Saturday morning near Beacon's Beach in Encinitas, leaving him with traumatic upper body wounds. Los Angeles Times
On the lookout: In search of the Riverside snake thieves. The Press-Enterprise
Sad story: A random attack in San Francisco shatters a young couple's lives. San Francisco Chronicle
POLITICS AND GOVERNMENT
A big boondogle?
High-speed rail in California was backed by voters, and many still think it's a good idea. But columnist Steve Lopez calls it a train to nowhere with no conductor. How years of problems, cost overruns and a lack of leadership have left such a mess, and the uncertain future as Jerry Brown -- its biggest cheerleader -- leaves office. It didn't have to be this way. Los Angeles Times
Midterm madness! Why the gas tax repeal -- once a favorite from GOP leaders -- is losing some of its luster. Los Angeles Times
Drama: A student's "deportation game" causes upheaval at Oceanside school. Los Angeles Times
Hmmm: Why has the city of San Diego rehired this guy? San Diego Union-Tribune
CALIFORNIA CULTURE
What a life: Bidding farewell to the legendary turkey farmer of Sonoma County, a larger-than-life presence who smoked turkeys for the White House and even got his duck served by the Queen of England. Press Democrat
Hot sauce wars: Tapatio is one of the taco world's most beloved condiments. But then an impostor entered the hot sauce scene. And here's what happened next. LA Taco
Hollywoodland: How this became the year TV took diversity seriously. Here are the numbers to prove it. BuzzFeed
Buttoning it up: Even at the sex-crazed Folsom Street Fair, there are some rules. SFGate
The gentrification wars: Inglewood is suddenly one of L.A.'s hottest neighborhoods. The artists who moved for the cheap rent wonder if they will be pushed out. Curbed LA
Plus: Can the Sacramento housing boom finally be slowing? Sacramento Bee
Tasty: Meghan Markle's new cookbook is making waves in England. The New Yorker
CALIFORNIA ALMANAC
Los Angeles area: Partly cloudy, 87, Monday. Partly cloudy, 76, Tuesday. San Diego: Partly cloudy, 85, Monday. Partly cloudy, 73, Tuesday. San Francisco area: Cloudy, 68, Monday. Rainy, 67, Tuesday. San Jose: Partly cloudy, 77, Monday. Rainy, 73, Tuesday. Sacramento: Cloudy, 79, Monday. Showers, 77, Tuesday. More weather is here.
AND FINALLY
This week's birthdays for those who made a mark in California: Dodgers player
Kenley Jansen (Sept. 30, 1987), actress Julie Andrews (Oct. 1, 1935), Rep. Devin Nunes (Oct. 1, 1973), Rep. Karen Bass (Oct. 3, 1953) and lawyer Mark Geragos (Oct. 5, 1957).
If you have a memory or story about the Golden State, share it with us. Send us an email to let us know what you love or fondly remember about our state. (Please keep your story to 100 words.)
Please let us know what we can do to make this newsletter more useful to you. Send comments, complaints and ideas to Benjamin Oreskes and Shelby Grad. Also follow them on Twitter @boreskes and @shelbygrad.
Life is stressful. Our weekly mental wellness newsletter can help.
You may occasionally receive promotional content from the Los Angeles Times.