Newsletter: Essential California: Kamala's quest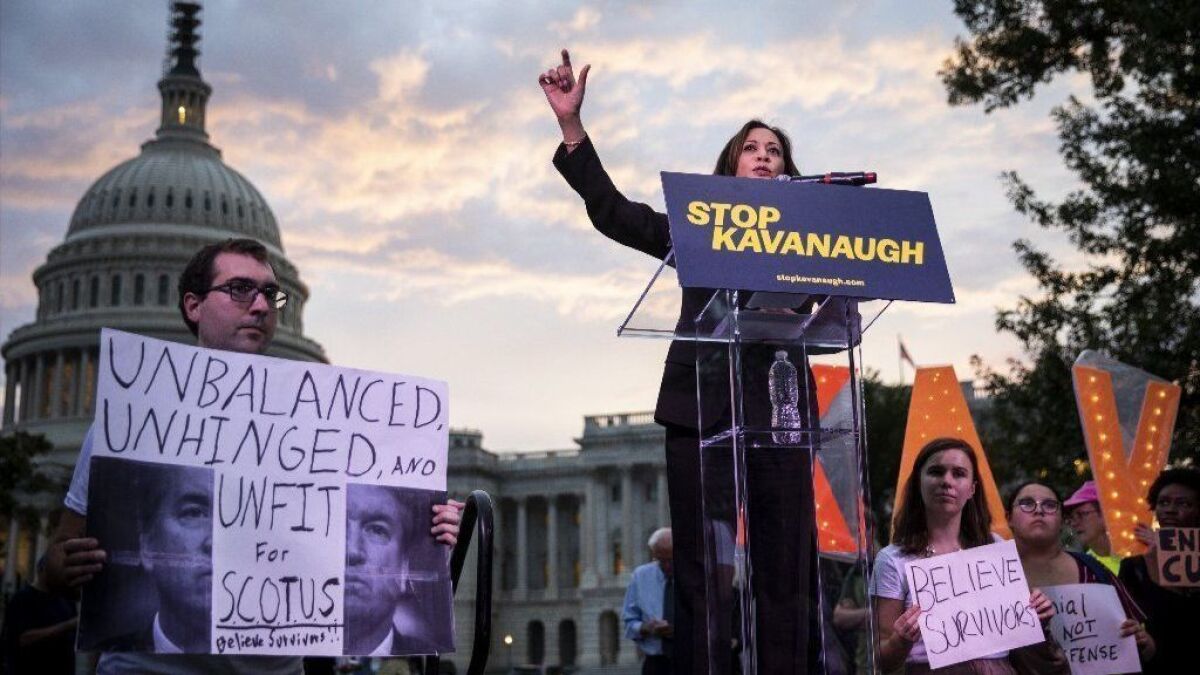 Good morning, and welcome to the Essential California newsletter. It's Friday, Oct. 12, and here's what's happening across California:
TOP STORIES
Rookie senators aren't usually in such high demand to speak and raise money on behalf of colleagues in other parts of the country. But Sen. Kamala Harris' packed travel schedule is another sign of the freshman California senator's rising profile in the Democratic Party. And it's probably no accident that campaigning for Democratic candidates in more than a dozen states has taken Harris — seen as a possible 2020 presidential candidate — to several important primary states. Los Angeles Times
Plus: Rep. Devin Nunes is facing his first serious election challenge in years and is on the attack — not against his Democratic opponent, but his Central Valley district's local newspaper and what he calls its "band of creeping correspondents." Los Angeles Times
Typhus among us
A man hospitalized for dehydration a few months ago at Los Angeles County-USC Medical Center started suffering a severe fever, and doctors weren't sure why. The patient was homeless, a clue to doctors that he might have typhus. Every year, people contract the flea-borne illness typhus in Southern California, mostly in Los Angeles County. Doctors did a blood test. "We sent it off, and lo and behold — typhus," recalled LAC+USC chief medical officer Dr. Brad Spellberg. Since July, there have been nine cases of typhus in downtown Los Angeles, six of which infected homeless people, prompting health officials last week to declare an outbreak downtown. There have also been 20 cases in Pasadena this year. Los Angeles Times
The battle continues
After more than three decades of stops and stalls, the state this week made clear the fight for beach access at Hollister Ranch is far from over. Coastal officials revived efforts to create a long-delayed public path while also preventing a family from building on its slice of the ranch until all visitors can enjoy the 8.5 miles of secluded Santa Barbara County coastline. Los Angeles Times
Get the Essential California newsletter »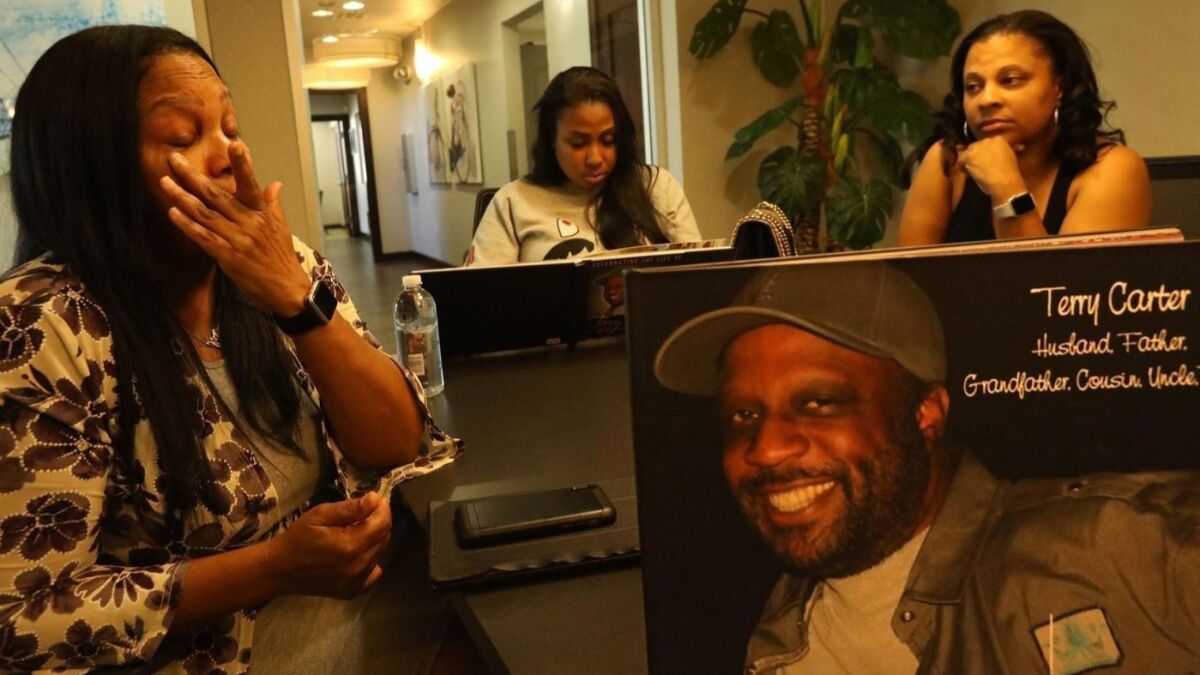 L.A. STORIES
Inglewood intrigue: Among the 48 homes that changed hands in Inglewood in April, one transaction stood out. It involved the mayor and a politically connected and prominent public affairs consultant who has done hundreds of thousands of dollars in work for Inglewood. Los Angeles Times
Actually remembering the victim: Now that the Marion "Suge" Knight saga has come to a close, Terry Carter's family focuses on the man who died, not the man who killed him. Los Angeles Times
Heading for the exits: Los Angeles City Councilman Mitchell Englander said he will step down at the end of the year to take a job with a sports and entertainment firm, becoming the second council member in recent years to quit before finishing his term. Los Angeles Times
Great story: Meet the Westside housewife who is the secret powerbroker behind Breitbart. The Hollywood Reporter
Where the typhus may be coming from: This downtown street is covered in piles of rat-infested trash. L.A. Taco
IMMIGRATION AND THE BORDER
That "big, beautiful wall": Construction workers last week put up the final panel of a new border barrier in Calexico. The project has been touted by President Trump as the first part of his promised wall between Mexico and the U.S. Los Angeles Times
POLITICS AND GOVERNMENT
Downsizing: If Lt. Gov. Gavin Newsom is elected governor as expected, he'll keep building the state's two contentious public works projects: the bullet train and twin water tunnels. But he says he'd scale back both. Los Angeles Times
It's on: U.S. Sen. Dianne Feinstein and California state Sen. Kevin de León will meet Wednesday for a conversation moderated by the Public Policy Institute of California. Los Angeles Times
Midterm jockeying: As Rep. Kevin McCarthy "seeks to replace Speaker Paul Ryan, the No. 2 House Republican is branding himself as an immigration hard-liner in the mold of President Donald Trump, wooing conservatives who might otherwise oppose his ascension to lead the conference next year." Politico
Plus: As even long-shot Democrats harvest huge numbers of campaign contributions, Republicans brace for an onslaught. Los Angeles Times
Listen: "In conservative Orange County, Democrats hope to win back California House Seats." WBUR
Get more midterm election coverage on our Decision California page.
CRIME AND COURTS
Weinstein news: New York City prosecutors have dropped one of six counts of sexual assault against Harvey Weinstein after the former movie mogul's team questioned inconsistencies in a victim's testimony. Los Angeles Times
Big payout: The Irwindale Police Department and a group that runs the agency's Explorer program for teens has agreed to pay $4 million to settle a lawsuit with three women who say they were sexually abused by a former police officer who served as the program's advisor. Los Angeles Times
Gruesome stuff: Two men and a woman have been charged in connection with the kidnapping and torture of a man in Fontana, authorities said. Los Angeles Times
Big picture: How Brett Kavanaugh's addition to the Supreme Court could affect California. San Francisco Chronicle
THE ENVIRONMENT
On the lookout: A shark-detecting buoy installed off the Balboa Pier in Newport Beach is the latest tool in Southern California lifeguards' attempt to get ahead of a growing number of shark-related incidents in the region. Los Angeles Times
CALIFORNIA CULTURE
Can't wait to read: Who started the 1986 fire at Los Angeles' Central Library? Susan Orlean investigates in her new book. Los Angeles Times
Interesting: Voters in Oakland are considering a plan to tax vacant properties to help ease homelessness. KQED
Don't do it! It's not worth the risk to cheat Disneyland's height restrictions. Orange County Register
Silicon Valley news: Facebook said it has purged more than 800 U.S publishers and accounts for flooding users with politically oriented content that violated the company's spam policies, a move that could reignite accusations of political censorship. Los Angeles Times
Hmmmmm: A document shows that an untrained "third party'" overruled a controversial targeting call in the Washington State-USC college football game on Sept. 21. Yahoo Sports
And: Pac-12 Conference Commissioner Larry Scott called for an immediate change to football replays and a broader evaluation of the process in response. Los Angeles Times
CALIFORNIA ALMANAC
Los Angeles area: sunny, 82, Friday; partly cloudy, 70, Saturday. San Diego: partly cloudy, 76, Friday; showers, 68, Saturday. San Francisco area: sunny, 70, Friday; sunny, 66, Saturday. San Jose: sunny, 82, Friday; sunny, 81, Saturday. Sacramento: sunny, 85, Friday; sunny, 87, Saturday. More weather is here.
AND FINALLY
Today's California memory comes from Tonio Mendoza:
"A few years ago, I witnessed wildly different natural events happening along the coast between San Diego and L.A. I was waiting for my sister, who bummed a ride from me to San Diego from L.A. for a job interview. I was happy to do it not just because it was for her but because I'd always enjoyed the drive. It was early spring and I'd stepped over to the beach to chill while waiting. My feet were in the waves, and when I turned around, I saw the amazing views of snow-capped mountains. Later, I was walking along the shoreline when suddenly I saw a waterspout. It looked like a huge ice sculpture. I was too stunned to move away from the area and just stood there watching it — with my feet in the waves, along snow-capped mountains."
If you have a memory or story about the Golden State, share it with us. Send us an email to let us know what you love or fondly remember about our state. (Please keep your story to 100 words.)
Please let us know what we can do to make this newsletter more useful to you. Send comments, complaints and ideas to Benjamin Oreskes and Shelby Grad. Also follow them on Twitter @boreskes and @shelbygrad.
Life is stressful. Our weekly mental wellness newsletter can help.
You may occasionally receive promotional content from the Los Angeles Times.