Newsletter: Essential California: A simple earthquake fix that could prevent financial catastrophe
Good morning, and welcome to the Essential California newsletter. It's Thursday, Oct. 18, and here's what's happening across California:
TOP STORIES
While cities in recent years have taken action to strengthen concrete buildings and wood-frame apartments that could collapse in a major earthquake, single-family homes have gotten much less attention. Cities don't require homeowners to retrofit them, in part because the chance of death is much less than in towers or apartments. But as the fate of one yellow house in Napa showed four years ago, damage from a quake can bring financial catastrophe. Yet retrofitting single-family homes is considered one of the cheapest seismic improvements available. Los Angeles Times
Spooky!
Ever since South Pasadena served as the primary setting for the John Carpenter movie "Halloween," the Southern California town has become a place of pilgrimage for fans of the 1978 horror classic. Forty years later, residents, fans and members of the original crew are reflecting on the legacy of the movie in the town. Los Angeles Times
Decision California
U.S. Senate candidate Kevin de León has campaigned as the progressive alternative to Sen. Dianne Feinstein, but with the election nearing, his strongest support is coming from Republicans, according to a new USC-Dornsife/L.A. Times poll. Los Angeles Times
Plus: California's U.S. Senate candidates met face to face Wednesday to discuss policy priorities and other issues in the Senate race. It's the closest they're likely to come to a campaign debate. Los Angeles Times
Get more election coverage on our Decision California page.
Get the Essential California newsletter »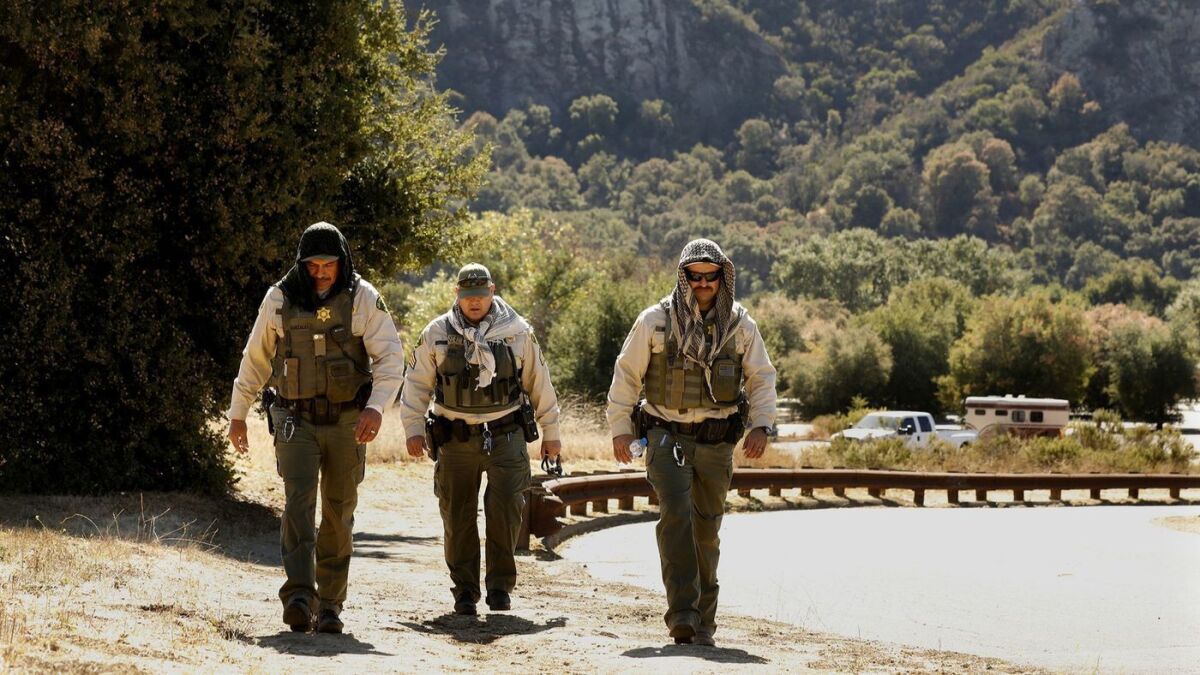 L.A. STORIES
1988 or 2018? The Dodgers gave us a throwback to an old-school style of play in their Game 5 victory, writes columnist Bill Plaschke. Los Angeles Times
Better late than never? Nearly five years after Los Angeles politicians called for the city to legalize selling food and goods on its sidewalks, the City Council is rushing to pass rules before a new law goes into effect across California. Los Angeles Times
Staying local: Why does SpaceX stay in the costly Los Angeles area? It's where the talent is. Los Angeles Times
134 cases, $36 million: Inside sexual misconduct at America's biggest county government. LAist
IMMIGRATION AND THE BORDER
Greetings from Bakersfield: Life in the heart of California's "Deep South." Boom California
Getting to America: To free immigrant children, immigrant families are forced to risk everything. The New Yorker
Plus: "A caravan of migrants fleeing Honduras has grown to 4,000 and the Mexican government has sent an additional 500 federal police to its border with Guatemala in anticipation of their arrival." NBC News
Leakers? The Trump administration has subpoenaed an immigration attorney in an attempt to determine who leaked an internal memo that laid out how Immigration and Customs Enforcement should implement Attorney General Jeff Sessions' decision to restrict political asylum for victims of domestic violence and gang crimes. San Francisco Chronicle
POLITICS AND GOVERNMENT
Fiery talk: President Trump escalated his criticism of California's fire management strategy and threatened to withhold unspecified funding from the state. Los Angeles Times
Making them pay: The California Public Utilities Commission issued $13 million in fines to two state utilities this week, saying safety violations and faulty equipment injured several people and caused at least one explosion. Los Angeles Times
Gearing up: How Sen. Kamala Harris' team thinks she can win the 2020 presidential nomination. Politico
CRIME AND COURTS
Ugh: A Davis high school student allegedly baked her grandfather's ashes into a batch of sugar cookies and gave them to classmates, some of whom were aware they contained human remains before they ate them, authorities said Tuesday. Los Angeles Times
Weinstein update: The detective who was once at the center of the sexual assault case against Harvey Weinstein told one of the disgraced mogul's accusers to delete information from her cellphone before turning it over to prosecutors, according to a document made public Wednesday. Los Angeles Times
Back at the scene: Seeking more evidence in a string of shootings in and around Malibu Creek State Park, Los Angeles County sheriff's deputies and search and rescue personnel again scoured the trails and brush Wednesday. Los Angeles Times
More charges: A Newport Beach surgeon was charged Wednesday with drugging and raping five more women as prosecutors added felony kidnapping counts and increased bail for the celebrity doctor to $1 million. Los Angeles Times
Fascinating: "While homeless people account for less than 1 percent of the city's population, about 16 percent of all homicide victims in Los Angeles this year have been homeless, according to Los Angeles Police Department officials." Los Angeles Daily News
What will they think of next? Federal authorities arrested nine members of a Southern California drug ring trying to FedEx methamphetamine disguised as decorative Aztec calendars and statues to Hawaii, according to the U.S. Attorney's Central District Office. L.A. Taco
CALIFORNIA CULTURE
Exciting: The Los Angeles Times has launched a podcast taking listeners closer to the action of L.A. sports teams. It's hosted by Beto Durán and features The Times' award-winning reporters and columnists. Los Angeles Times
What a boss: How Julia Louis-Dreyfus quietly became the most successful sitcom star ever. Washington Post
Ooof: An expert dismantled a Tesla Model 3. He found poor design and manufacturing are squandering profits. Los Angeles Times
Helping out: Craigslist founder Craig Newmark "is among a gaggle of West Coast technology moguls who are riding to the rescue of the beleaguered East Coast media." New York Times
To infinity and beyond! There's a new Beverly Hills restaurant that looks like a sci-fi spaceship commissary. Eater LA
CALIFORNIA ALMANAC
Los Angeles area: sunny, 84, Thursday; sunny, 88, Friday. San Diego: sunny, 80, Thursday; sunny, 84, Friday. San Francisco area: partly cloudy, 69, Thursday; sunny, 70, Friday. San Jose: sunny, 79, Thursday; sunny, 82, Friday. Sacramento: sunny, 84, Thursday; sunny, 85, Friday. More weather is here.
AND FINALLY
Today's California memory is from William Barnes:
"I had just finished working the late shift at Sears in Inglewood. It was Saturday night and I decided to drive to my parents' home in Escondido. As I headed south, I noticed the fog really begin to cut down on visibility. By the time I reached San Clemente, there were four of us convoying at about 20 mph on the 5 to Oceanside. A normal trip from L.A. to Escondido usually took two hours on a good commute. That night, the same commute took four hours."
If you have a memory or story about the Golden State, share it with us. Send us an email to let us know what you love or fondly remember about our state. (Please keep your story to 100 words.)
Please let us know what we can do to make this newsletter more useful to you. Send comments, complaints and ideas to Benjamin Oreskes and Shelby Grad. Also follow them on Twitter @boreskes and @shelbygrad.
---