Why does SpaceX stay in the costly Los Angeles area? It's where the talent is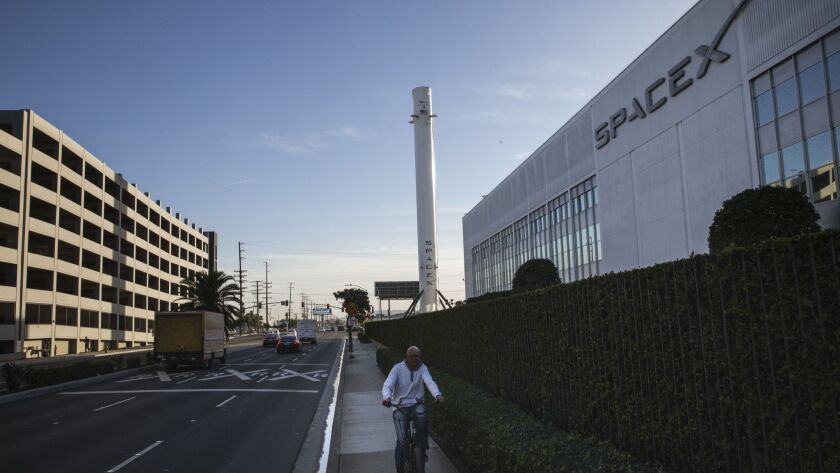 A 19-acre site at the Port of Los Angeles populated by dilapidated buildings and rusted cranes is playing a key role in SpaceX's long-standing plan to colonize Mars. In two to three years, hundreds of workers could be swarming over SpaceX's massive BFR rocket and spaceship system there.
About 20 miles north, at SpaceX's Hawthorne headquarters, thousands of employees already build Falcon 9 rockets and Dragon spacecraft.
That's a lot of heavy manufacturing planned for a region — and state — that are often derided for chasing away factories and large headquarters operations with high costs and regulations.
Although SpaceX has facilities outside California — launch and rocket refurbishment in Florida, test sites in Texas — and it recently accepted an incentive agreement to expand in Coryell County near Waco, Texas, the Elon Musk-led venture is staking its expansion plans on Southern California for a reason. It wants to take advantage of the region's vast aerospace talent pool.
The majority of SpaceX's more than 6,000 employees are based locally.
"More important than anything is quality of people," especially in engineering, said Greg Autry, director of the Southern California Commercial Spaceflight Initiative at the USC Marshall School of Business.
Since moving into a former Northrop Corp. facility off Crenshaw Boulevard in 2007, SpaceX now occupies 10 buildings in Hawthorne, said Steve Basham, senior market analyst at CoStar Group, a commercial real estate data firm. Most of the company's expansion occurred from 2014 to 2016. That's when the company began to notch a number of milestones, such as a $2.6-billion NASA contract to build an astronaut transport capsule and the earliest landings on Earth of its first-stage rocket booster. The first of those boosters stands sentry outside the main Hawthorne facility.
SpaceX's other major Southern California facility is at Vandenberg Air Force Base near Lompoc, where the company launches a handful of satellites each year for commercial and civil customers. SpaceX recently landed a first-stage booster on a pad on base for the first time.
Though SpaceX launches far more frequently from its Florida launch sites, Vandenberg is important because its location is ideal for launching to polar orbit. That's a common destination for satellites that monitor the environment and climate because the spacecraft tends to fly over the same spot of Earth around the same time each day, said Ramon Lugo, director of the Florida Space Institute at the University of Central Florida. Polar orbit launches from Vandenberg also go over the ocean, which is preferable to land, he said.
SpaceX isn't the largest aerospace employer in the L.A. area by a long shot. Northrop Grumman Corp. has 16,600 employees in the county, according to the L.A. Business Journal's list of largest private-sector employers, released in August.
"The region has long been the center for major industries like automotive, aerospace and tech, and is home to some of the best talent in the nation," Brian Bjelde, SpaceX's vice president of human resources, said in an emailed statement. "We continue to recruit and retain the brightest employees from diverse industries who are attracted to our mission and to all that the area has to offer."
Lockheed Corp. and Northrop Grumman once maintained headquarters in the region. Lockheed, then based in Calabasas, announced a merger in 1994 with Martin Marietta to create Lockheed Martin Corp.; the combined company's headquarters was established in Bethesda, Md. And in 2011, Northrop Grumman relocated to Falls Church, Va., to be near government customers.
But those companies still maintain facilities here and mine for talent in the area, particularly now as the U.S. defense budget grows and new, cutting-edge programs get off the ground.
"Businesses like SpaceX can't afford to not be in Los Angeles," L.A. Mayor Eric Garcetti said. "The pipeline for the workforce … access to incredible supply chain and geography really almost demand that Los Angeles would be the top of anyone's list."
The burgeoning private space industry has spread out across the country in search of open land and new launch facilities.
Jeff Bezos' Blue Origin has a test site in West Texas where it conducts engine firings and flight tests of its New Shepard crew capsule and rocket system, which is intended to ferry tourists to space. Huntington Beach-based Rocket Lab has a launch site and rocket production facility in New Zealand. And Richard Branson's Virgin Galactic space tourism company plans to eventually relocate operations from Mojave, Calif., to a spaceport in southern New Mexico once it is ready to take tourists to space.
SpaceX, too, has scattered some of its operations, such as rocket testing, which requires more open land. In August, Texas' Coryell County entered into a development agreement in which SpaceX can receive economic development grants in exchange for material improvements, expansion and hiring local employees at its test site.
SpaceX currently leases about 4,300 acres from the city of McGregor, which straddles Coryell and McLennan counties. That includes hangars and several test sites, said Kevin Evans, McGregor city manager. One of the sites is for testing SpaceX's Raptor methane-powered rocket engine, which will power BFR, a 387-foot-tall booster and spaceship system that is expected to cost $5 billion to develop.
The site is close to Baylor University, Texas A&M and Central Texas College, which are graduating "an educated, qualified workforce," said Jack Barcroft, a member of Coryell County's Economic Development Board, who helped draft the agreement with SpaceX.
"We want to accommodate that workforce that's being created," he said. "We're interested in a couple of other aerospace companies, but SpaceX is right here. It's in our backyard."
SpaceX told the city of Los Angeles that it preferred to build its next-generation BFR system close to Hawthorne, Garcetti said. The rocket and spaceship system will also carry Japanese e-commerce billionaire Yusaku Maezawa on a tourist trip around the moon in 2023.
On a recent weekday, half of a protective payload fairing could be seen propped horizontally on a stand at Berth 240 of the port site. Mr. Steven, the ship that SpaceX uses to try to catch the protective shells that cover satellites, which also return to Earth, was docked nearby. The company has already built and pressure-tested a massive carbon-fiber tank to hold the BFR's liquid oxygen propellant, and it has started testing the rocket's Raptor engines.
Florida has also attracted several space-related manufacturing facilities, most recently with Blue Origin. But the state never attempted to woo SpaceX, said Dale Ketcham, vice president of government and external relations at Space Florida, the state's aerospace-specific economic development agency.
"Manufacturing and design, those are things [Musk] likes to keep there," Ketcham said of California. "We have other things to chase other than that one."
Twitter: @smasunaga
---
Your guide to our new economic reality.
Get our free business newsletter for insights and tips for getting by.
You may occasionally receive promotional content from the Los Angeles Times.