Newsletter: Essential California: Fury in Venice over a planned homeless shelter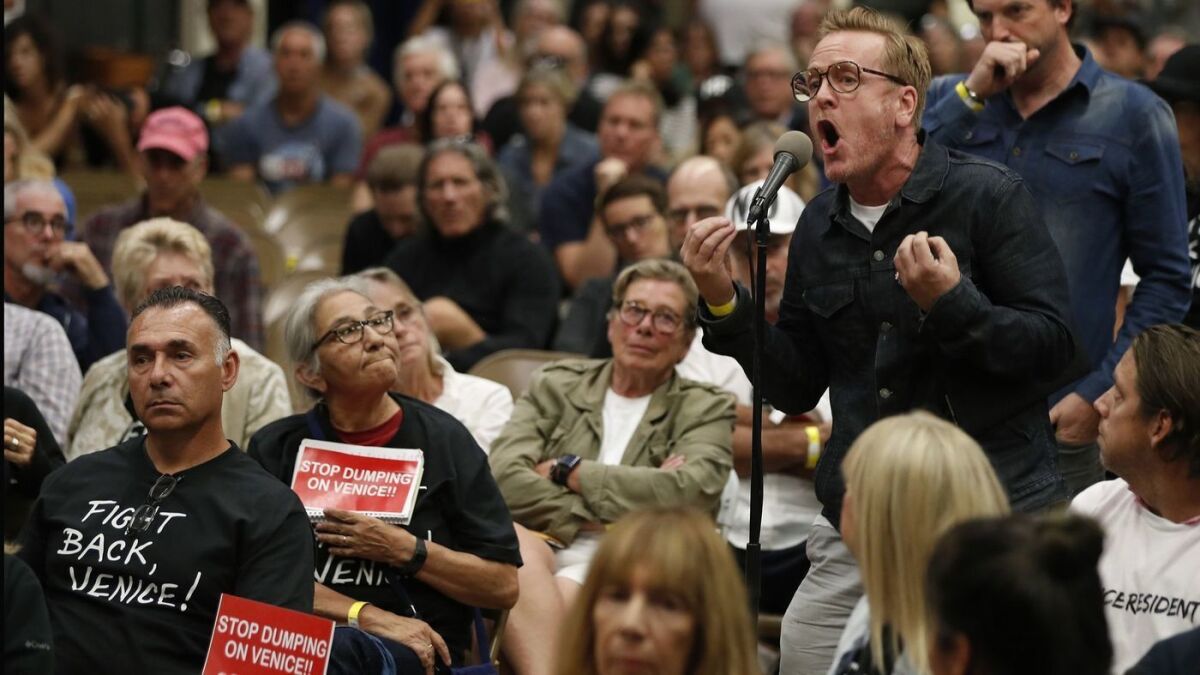 Good morning, and welcome to the Essential California newsletter. It's Friday, Oct. 19, and here's what's happening across California:
TOP STORIES
L.A. voters have committed more than $1 billion to providing housing for homeless people, whose continued presence on the streets has emerged as a critical issue both for the city and for Los Angeles Mayor Eric Garcetti as he considers a run for president in 2020. But exactly where to put that housing — temporary and permanent — has become a vexing and emotional issue in recent months. Proposed homeless shelters in Koreatown, Sherman Oaks and San Pedro have sparked anger and accusations that City Hall is ignoring residents' wishes as officials pick sites. And many have looked to Garcetti for leadership to balance the need for housing with community concerns about blight and crime. This week in Venice, the mayor listened as angry residents vented and tried to make his case for shared sacrifice. Los Angeles Times
— A new documentary tries to tackle the complexities of L.A.'s homeless problem. Los Angeles Times
— Fear on the streets of skid row. Pacific Standard
— A once hotly contested way of cracking down on San Francisco's homeless appears to be on the decline. SF Gate
Democrats' dilemma
How much should California Democrats focus on Trump in their efforts to flip the House? It's a subject of debate. Some Democrats see attacking Trump as essential in an election that will show whether Americans want Congress to put a check on the president. Others avoid Trump and focus on contrasts with specific GOP candidates. Which path they choose depends on a high-risk calculation of whether mentioning the president might backfire with even a sliver of voters in a close contest. Los Angeles Times
— With election day near, Trump again tries to use immigration to fire up crowds. Wall Street Journal
— Trump threatened to send troops to the border and cancel a trade deal with Mexico to stop a migrant caravan. Los Angeles Times
-- Even Republicans are amazed by California Democratic fundraising. San Francisco Chronicle
Prop. 10's woes
An initiative that would expand rent control in California faces a steep deficit as election day nears, according to a new USC Dornsife/Los Angeles Times poll. Los Angeles Times
Get the Essential California newsletter »
L.A. STORIES
She's back: A veteran teacher who was pulled from the classroom at Franklin Elementary in Santa Monica after she described the childhood oddities of Trump aide Stephen Miller has returned. Los Angeles Times
Enter the King: The Lakers lost the first game of the LeBron James era, but this dazzling graphic of the Lakers and the quest for perfection will console you. Los Angeles Times
Clipper Nation: Owner Steve Ballmer wants to reinvent how you watch a Clippers game. Variety
Chavez Ravine: A good time to remember what was there before Dodger Stadium. LAist
CRIME AND COURTS
On video: An Orange County Sheriff's Department dashcam video shows a deputy repeatedly punching a motorist in the face while arresting him for misdemeanor public intoxication earlier this year, an action the man's attorney calls excessive force. Los Angeles Times
Deputy shot: Two Los Angeles men were arrested in connection with a shooting that wounded a San Bernardino County sheriff's deputy in Adelanto on Thursday. Los Angeles Times
Gangland: The long, brutal shadow of MS-13 in the Central Valley. Fresno Bee
Predator files: In what is becoming a trend, the San Jose Diocese has opened its files and released names of predator priests of the past. Mercury News
But: Sacramento delays action, saying it wants a review. Sacramento Bee
Interesting: Why the L.A. County Sheriff's Department makes up a good percentage of the county's sexual assault payouts. LAist
In Newport Beach: From reality TV star doctor to serial sexual assault suspect. Los Angeles Times
POLITICS AND GOVERNMENT
About-face: A handful of Republican lawmakers and candidates, including Costa Mesa Rep. Dana Rohrabacher, have filmed ads about their children's medical conditions — the kinds of health problems that without Obamacare's protections would make insurance coverage unaffordable. Yet Rohrabacher voted to repeal Obamacare, along with its protections for preexisting conditions, dozens of times, including as recently as 2017. He is not alone. Los Angeles Times
Pulling punches? Did Kevin de León go soft on Sen. Dianne Feinstein during their one and only joint appearance? San Francisco Chronicle
The legacy of Gov. Moonbeam: "Through it all, Brown has relished his reputation as an indecipherable oddball." Los Angeles Review of Books
Fungus among us: The California disease made worse by climate change. Buzzfeed News
CALIFORNIA CULTURE
Timely times two: 1990 marked an important social and political moment. The Soviet Union was falling apart. HIV became one of the top 10 causes of death in the United States. And the U.S. was heading toward a war with Iraq. It was the moment for a mural in downtown L.A. that made a statement. Now, in the age of Trump, it's having a second act. Los Angeles Times
Sigh: There was a time you could have purchased one of the Bay Area's most storied islands for $200,000. San Francisco Chronicle
Yum: The anatomy of the Tijuana-style taco stand — where the meat is cooked twice and the ladies handle the tortillas. L.A. Taco
"Old" versus "new" America: The Sikh activist from California who took on Dear Abby and created a storm. New York Times
Money, money, money: Here we go. 2019 is shaking up to be a gilded age for Silicon Valley, where some huge names are poised to go public. Wall Street Journal
And: Look at these images of the old San Francisco Mission District when it was more barrio than hipster playground. The New Yorker
History lesson: Remembering the great quake of 1868. Mercury News
CALIFORNIA ALMANAC
Los Angeles area: sunny, 88, Friday and Saturday. San Diego: sunny, 82, Friday; sunny, 83, Saturday. San Francisco area: sunny, 71, Friday; sunny, 68, Saturday. San Jose: sunny, 82, Friday and Saturday. Sacramento: sunny, 85, Friday and Saturday. More weather is here.
AND FINALLY
Today's California memory comes from Ren Bloom:
"Right after college, I came out from the East Coast for an interview in downtown L.A. The day was bright; it was early morning. People were walking to work and milling about the Civic Center. I walked (in the wrong direction) down to what I would later learn was Japantown. I had never been to anything like it before. I was late to my interview with the L.A. County Office of the Chief Administrative Officer, but I still remember the feeling of exhilaration I had. I was in California! More than two decades later, memories of the blue sky and sun on that day still bring a smile to my face. I've never stopped loving California and can't imagine living anyplace else. BTW, I got the job."
If you have a memory or story about the Golden State, share it with us. Send us an email to let us know what you love or fondly remember about our state. (Please keep your story to 100 words.)
Please let us know what we can do to make this newsletter more useful to you. Send comments, complaints and ideas to Benjamin Oreskes and Shelby Grad. Also follow them on Twitter @boreskes and @shelbygrad.
---