Newsletter: Essential California: In this House district, Asian Americans hold the key to victory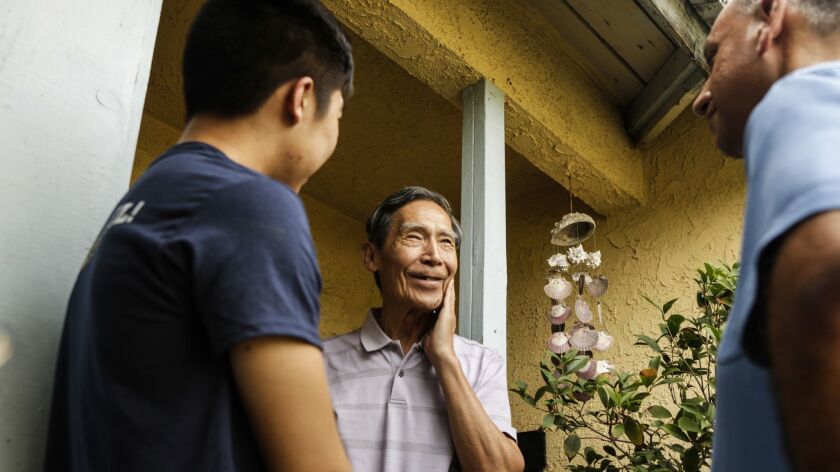 Good morning, and welcome to the Essential California newsletter. It's Friday, Nov. 2, and here's what's happening across California:
TOP STORIES
For decades, Asian Americans in the 39th Congressional District, a tri-county slice of suburbia built on the immigrant American dream, have supported their Republican congressman. Now Democrat Gil Cisneros is hoping to win a large share of their votes, even though his opponent, Republican Young Kim, is a Korean American immigrant and former liaison to the Asian community for the retiring Rep. Ed Royce. Cisneros is running what he calls an unprecedented effort to mobilize and turn out Asian American voters. Los Angeles Times
Plus: Lt. Gov. Gavin Newsom waded through the lunch hour crush at L.A.'s Grand Central Market while Republican John Cox huddled with supporters in Northern California, both hoping to entice voter support in the final stretch of the 2018 governor's race. Los Angeles Times
On the trail: Republican candidates say they would protect sick Americans but fight coverage for the poorest patients. Los Angeles Times
Get more election coverage on our Decision California page.
The sights, the sounds
After decades of silence, L.A.'s Triforium has become the "pipe organ of light" its creator meant it to be — for three nights. For the past two Fridays, the Triforium dazzled thousands of onlookers with its "polyphonoptic" interface — as creator Joseph Young termed his forward-looking computer code that turned music into kinetic light. In those performances it synced to the likes of multi-instrumentalist Reggie Watts, the Bob Baker Marionette Theater, electronic loop vocalist Julianna Barwick and tenors from the L.A. Opera singing arias from Philip Glass' "Satyagraha." Los Angeles Times
Thoughts on a film festival's demise
"You wouldn't think it'd be too difficult to maintain a thriving independent film festival in one of the world's biggest and most iconic movie cities, a so-called 'company town' whose inhabitants are assumed to live and breathe cinema as few others do," writes Times film critic Justin Chang. "But Thursday's announcement that the Film Independent-run Los Angeles Film Festival would be shuttering after an 18-year has demonstrated the opposite. It is, in fact, all too easy for a sprawling metropolis already stuffed to the gills with entertainment coverage, industry and media screenings and Oscar-season festivities week in and week out to take one of its flagship events for granted." Los Angeles Times
Get the Essential California newsletter »
L.A. STORIES
Hate crime in Irvine: Days after a man shot dead 11 worshipers at a Pittsburgh synagogue, a hooded intruder was captured on video camera defacing an Irvine synagogue. Congregation members say they are united "in strength." Los Angeles Times
Tracking hizzoner: Los Angeles Mayor Eric Garcetti's security detail has racked up nearly $450,000 in travel costs since 2015 as Garcetti visited other parts of the U.S. and foreign countries, according to figures released by the city on Thursday. Los Angeles Times
On campus: For USC assistant Tee Martin, it's a fine line between family matters and issues at work. Los Angeles Times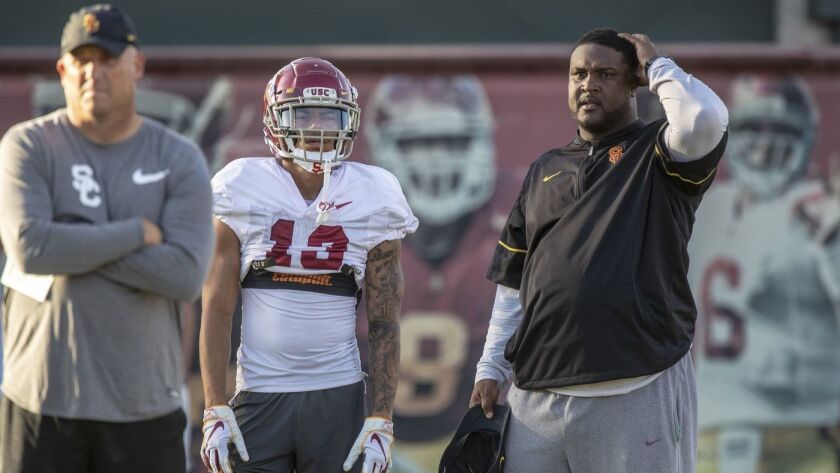 Nice: An airline that only serves Southern California and was founded by a 97-year-old started flights this week. Bloomberg
IMMIGRATION AND THE BORDER
On the offensive: How President Trump has used three horrific California slaying cases to demonize immigrants. Los Angeles Times
Plus: "Trump's closing argument for the midterm elections includes a tweet featuring convicted cop killer Luis Bracamontes, who killed two Sacramento-area deputies in a 2014 rampage." But much of the ad is false. Sacramento Bee
POLITICS AND GOVERNMENT
More complaints: A second former staffer for Los Angeles City Councilman Jose Huizar has filed a lawsuit against the city, alleging she faced retaliation after complaining that Huizar had an affair with a staffer and had instructed his aides to perform inappropriate tasks. Los Angeles Times
Waiting in the wings: The heir apparent to embattled Interior Secretary Ryan Zinke has sued the agency on behalf of powerful California water interests when he served as a lawyer. Politico
Interesting piece: In California, Latino voter apathy is reflected by a disconnected media. Columbia Journalism Review
CRIME AND COURTS
Dodging a bullet: The California bullet train appears to have fended off a civil suit attempting to stop the project, inching the high-speed rail line toward what could be another in a series of legal victories. Los Angeles Times
Not good: A Boyle Heights man has been charged with manslaughter after prosecutors said he was high on nitrous oxide when he slammed into a pair of parked cars, causing a gruesome chain-reaction crash that killed an 11-year-old girl and left several others injured last year. Los Angeles Times
OIS: A man who tried to grab a deputy's gun outside a 7-Eleven in the City of Industry was shot by the deputy and then barricaded himself inside the store's backroom after taking a clerk hostage early Thursday, authorities said. Los Angeles Times
A wow story: "The true story of a ring of thieves who stole millions of dollars' worth of luxury watches — and the special agent who brought them down." GQ
THE ENVIRONMENT
Water wars: "A public agency and a powerful farmer are gearing up for a high-stakes court battle to determine who owns the largest share of Colorado River water in the West." Desert Sun
More H2O: In this California House race, water is the "lifeblood." Will an edge on the issue give Rep. Jeff Denham a boost? Los Angeles Times
CALIFORNIA CULTURE
It begins: How "Widows," "Roma" and more holiday releases look to shake up the Oscars' best picture race. Los Angeles Times
Plus: Claire Foy, Christian Bale and nine more stars undergoing movie makeovers this awards season. Los Angeles Times
RIP: Willie McCovey, the Hall of Fame first baseman who spent 19 of his 22 major-league seasons with the Giants and became one of the most beloved players in franchise history, has died at the age of 80. San Francisco Chronicle
New exhibit: "How sculptor Alexander Calder was shaped by a stint in Southern California." Los Angeles Magazine
Makes sense: UC Berkeley's fastest-growing class is Data Science 101. Wall Street Journal
Tragedy: A Fresno mother died giving birth. She named her "miracle" baby after heaven. Fresno Bee
CALIFORNIA ALMANAC
Los Angeles area: sunny, 85, Friday; sunny, 84, Saturday. San Diego: sunny, 81, Friday; sunny, 77, Saturday. San Francisco area: foggy, 69, Friday; partly cloudy, 69, Saturday. San Jose: partly cloudy, 78, Friday; partly cloudy, 79, Saturday. Sacramento: partly cloudy, 82, Friday; partly cloudy, 89, Saturday. More weather is here.
AND FINALLY
Today's California memory comes from Don Dean:
"I was born in 1942 at Mercy Hospital in San Diego and grew to a teenager in East SD. As youths we would spend our days in the canyons or riding our bikes down to fish in the gravel pits near the mission. Mission Valley was all truck farms in those days. I was always jealous of my parents who moved to San Diego in the '30s, when the Mission Valley freeway was a dirt road. Dad was an old China Marine from Texas; Mom, from Iowa, was a nurse at Hillside Hospital. I still have family in San Diego and now two sons are now Californians. I love California, but so does everybody else!"
If you have a memory or story about the Golden State, share it with us. Send us an email to let us know what you love or fondly remember about our state. (Please keep your story to 100 words.)
Please let us know what we can do to make this newsletter more useful to you. Send comments, complaints and ideas to Benjamin Oreskes and Shelby Grad. Also follow them on Twitter @boreskes and @shelbygrad.
---