For USC assistant Tee Martin, it's a fine line between family matters and issues at work
On Friday night, Tee Martin went looking for his son. He walked down to the field, where Kaden Martin's Redondo Union High teammates were happily taking pictures despite a 21-0 loss to Mira Costa. The boys informed Tee that Kaden, the team's starting quarterback as a 14-year-old freshman, had sprinted straight to the locker room as soon as the game ended.
Kaden had just had four passes intercepted. Tee took it all in from the stands with his uncle, Arthur, who had traveled to the South Bay from his home in Alabama. Arthur could tell that Tee was deep in thought about how to help Kaden bounce back.
When Kaden emerged from the locker room, Tee was waiting. Kaden was devastated by his performance, sure, but there was something else nagging at him, making it hurt way worse than it should have.
"The one thing he said was he wanted me to feel good," Tee would say later. "He wanted to do good so I could feel better. When he made that statement, I was crushed. I got teary-eyed and really had to pick myself up. Because that's not why I got into this business.
"Sometimes we're caught up and things are going so fast, you forget the toll that it takes on your kids, and they hear things. They see things. And when you come home, they feel your energy. And my son knew something wasn't right with me in my soul."
This was three days before USC coach Clay Helton announced he would be taking over play-calling responsibilities from Martin for the rest of this season — a public demotion that served, intended or not, to turn Martin into a scapegoat for the Trojans' struggles.
Martin has spent his life in the business of college football. As a boy named Tamaurice, he was a prospect at Williamson High in Mobile, Ala., who wanted to prove he was capable of being a major college quarterback. By the time he led Tennessee to a national championship in 1998, folks had started calling him Tee because that was easier to pronounce than his given name. Martin has been a college coach for a decade and the same man who brought him to USC, Lane Kiffin, already has offered Kaden a scholarship to play at Florida Atlantic.
The cycle begins anew and Martin is so much a part of it that it's easy to forget he has another son conceived during his time at Tennessee, Amari Rodgers, a receiver at Clemson.
Martin has seen it all, and so he knew what a bad USC offense could mean for him and his family. In the weeks leading up to last weekend, Martin braced his wife, Toya, Kaden and younger son Cannon for bad news because he had "a feeling" of how this might go.
"No matter what you hear," he told them, "just know that I'm going to be fine."
Saturday, with Martin still at the controls of the USC offense, the Trojans fought back from a 24-7 deficit against Arizona State and took a 28-24 lead as Jack Sears found his rhythm with help from some simple, confidence-building play calls from Martin. The Trojans were one dropped Tyler Vaughns touchdown pass from a 10-point lead in the third quarter. It fell apart, as it has all season. USC lost 38-35 but, say what you will of the Trojans' previous three defeats, this one was not on Martin.
Still, it was a fourth loss before November, and this is USC. Helton gave Martin the news Monday morning that he would no longer be calling plays. Helton asked Martin to stay on as offensive coordinator while focusing more on his role coaching the receivers and Martin said he wanted to stay. His contract has two more years on it, and what would it say to Kaden if he didn't honor that and continue to do his job?
Monday afternoon, USC made the announcement in a news release. When Toya picked up Kaden from school, he said he already had heard.
"Dad will be fine," Kaden said.
::
It was Utah week, and Martin sat in his McKay Center office with the third-down plan for the Utes in front of him.
As usual, he exuded confidence in himself and the players he coaches. He laughed off the criticism he receives on social media. He admitted to having responded to a few critics with mocking emojis. Above a recent message marveling at the ineptitude of the offense, "Tee Martin liked this" can be seen.
"After you've been a black quarterback in the SEC, there's really not much people can say to me that I haven't heard before," Martin said, "not only social media-wise, but to my face. But that doesn't bother me or affect me. I know what it is.
"I don't get down, just because those people don't matter. And they have never mattered. All that's mattered is me showing them otherwise. So I get competitive. I get even, so to speak. You get called the N-word for no reason, then I'm going to show you how good this can really be and really make you mad. That's how I've always dealt with that dynamic because it's only there due to ignorance."
Martin felt as if he spent his playing career trying to convince people he was smart enough to play quarterback simply because of the color of his skin. There were not many successful black quarterbacks to emulate in the late 1980s and early 1990s. He wore No. 17 because of Joe Gilliam of the Pittsburgh Steelers, Doug Williams of the Washington Redskins and, later, Charlie Ward of Florida State.
A big-name in-state institution Martin refused to name was recruiting him only as an athlete. Auburn already had fellow Mobile native Dameyune Craig in its program, and Martin did not want to compete with another black quarterback fighting for the same respect. Florida State, Martin's dream school because of Ward, also was not interested in him as a quarterback. Tennessee got into the mix thanks to Pat Washington, an assistant coach who helped sway Martin because he had been a black quarterback from Mobile who played at Auburn.
Arthur Martin, Tee's uncle, remembers a recruiter coming into their rough, inner-city neighborhood and promising Tee that he would be earning millions in the NFL within three years. To Arthur, it would have been natural for someone with Tee's upbringing to be intrigued by that, but his nephew wasn't.
Tee instead decided to attend Tennessee, even though it meant waiting his turn behind Peyton Manning.
"In high school, I called my own plays for three years, and in Little League, I called my own plays," Martin said. "I wanted to go somewhere where I could learn and take my mind to the next level. I felt football knowledge was what I needed."
"He learned from a guy that is arguably as good of a strategist that has ever played quarterback," said Duke coach David Cutcliffe, then Martin's offensive coordinator at Tennessee. "Tee's really smart, so he grasped it, and he studied the little things from Peyton, bugged Peyton to watch tape with him."
Martin put in two years behind Manning before he'd get his shot to start. In Knoxville, he was walking in the footsteps of a living legend, but there were two things Manning hadn't accomplished: He had been 0-4 against Florida and had not won a national championship.
In his second game as the starter, Martin led Tennessee to a 20-17 victory over the Gators. The students rushed the field and brought a piece of the goalpost to Martin's apartment.
A magical autumn was just beginning. The Volunteers were 12-0 and won the Southeastern Conference championship, putting them in the first Bowl Championship Series title game against Florida State. The night before the game in Tempe, Ariz., Martin bumped into Ward at the team hotel.
"I said to him, 'Man, you don't know what this does for me,' " Martin said.
Tennessee beat Florida State 23-16 for the national title.
Martin was selected in the fifth round of the 2000 NFL draft by the Steelers. His professional career never got off the ground but, during his time in Pittsburgh, he met Toya Rodriguez, then an 18-year-old pop singer.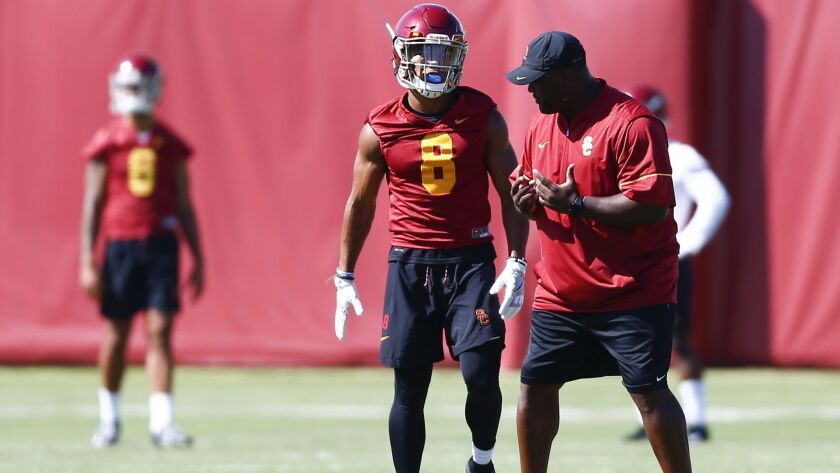 After Martin retired from the Canadian Football League in 2005, he and Toya settled in Atlanta, where Tee began training quarterbacks.
He showed a knack for it and got his first college job as an assistant at New Mexico under Mike Locksley, a black head coach, in 2009. The next year, he moved on to Kentucky, where he'd rise to passing game coordinator in his second season under Joker Phillips, another black head coach.
In 2012, Kiffin came calling with an opening at USC.
"I think younger coaches that were players sometimes get a knock on them or a perception that's unfair," Kiffin said. "Oh, they're going to be really good recruiters, but maybe they don't have a great understanding of how to coach the game. Going through the stuff with Tee, I really felt he knew quarterback play and wide receiver play. He had a good feel for everything."
To Martin, it is not so much an issue for "younger coaches that were players" but all black coaches across the sport. He thinks it is "crazy" that he is only the second black coordinator at USC, following Hue Jackson's run from 1997 to 2000.
In the comfort of his office two weeks ago, Martin pointed out how last season Sam Darnold became the first 4,000-yard passer in USC history with Ronald Jones rushing for 1,500 yards and yet the credit went only to the players.
"We've had record numbers here, but it's never the coordinator, it's the players," Martin said. "But some people can do the same thing, and he's a 'genius.' That's been happening my whole life. It just kind of comes with the territory, and I just keep it moving."
In a few days, the Trojans would be playing for first place in the Pac-12 Conference South against Utah.
That Saturday night in Salt Lake City, with "a feeling" already creeping into Martin's heart about his USC future, the offense failed to convert on its first 10 third downs.
::
Is Martin fine?
When he got home Monday night, 6-year-old Cannon greeted him in the garage, like always, and it almost felt like nothing had changed.
Toya, who gets through the stress of Kaden's and Tee's games by listening to Beyonce on her headphones, wants their home to be a safe place where her husband in particular can be his relaxed self. So they didn't talk about the news, really.
But later that night, Tee logged onto his Twitter account. He deleted all references to USC from his biography and switched his profile pictures from a collage of the NFL receivers he has coached and a photo of him in USC gear to pictures of a pristine beach and him with his four children.
USC fans naturally assumed that meant Martin felt spurned enough by Helton's decision that he was ready to cut ties with the university.
"My Instagram had already been a picture of Kaden and his eighth grade graduation," Martin said. "It was the last time all four were together at one time. I decided to take that picture over to Twitter. It was nothing big. The other was a calming picture, just what I needed, Turks and Caicos, a trip we took last spring, a vacation I had taken with my wife that meant a lot.
"That's what I decided to do at the time and what I needed for my soul and my family."
For Martin, who has worked so hard to keep a composed public face, it felt out of step. But during these trying weeks, he has been afraid to show his vulnerability to those who call him Tamaurice and Tee alike.
In mid-October, during USC's week off, Martin's Little League coach from Mobile, Henry Pough, came to see him and his family at home. It was Pough who first saw Tamaurice throw a football as a 9-year-old and then badgered his mother into letting him play. Pough and Martin tossed passes to Kaden and Cannon, and Tee told Toya and the kids, "This house and everything that we have is because of this man."
Last weekend, it was his uncle, Arthur, with a well-timed visit to Los Angeles. Packers wide receiver Randall Cobb, whom Martin coached at Kentucky, also came to see him with Green Bay in town to play the Rams. Tuesday, it was former USC receiver Nelson Agholor who came by practice during his bye week with the Philadelphia Eagles.
"It's always good to know that you're loved," Martin said. "And in a time like this, sometimes just seeing your family and friends, they give you a hug, it makes you feel good. Randall, Nelson, that was just huge for me. It makes you feel special. It gives me strength, and it's good to have that support in a time of need."
Martin isn't fine. Not right now, anyway. But there's a limit to what he can show, especially to Kaden, who has a playoff game Friday night against Corona del Mar.
Tee will be in Corvallis for USC's game against Oregon State, receiving updates however he can, hoping that he got that important father-son teaching moment right a week ago.
"It falls back to Kaden," Toya said. "No matter what, he's looking at his dad. He loves his dad, and in his mind, it's like that's his Superman."
Asked Wednesday whether he would consider staying at USC through his contract with the diminished role, Martin started to seem more like himself. He said he would be happy to be at USC if he's wanted.
"I have sons," Martin said. "This isn't the last time that something is going to happen to me in my career. My sons are going to have a bad game. If I can't show them how to have resolve, then who is? It's on me as a father to raise my own sons and nobody else is going to do it but me. I have to be the example myself. I'm not a quitter, and I'm not going to raise quitters."
Twitter: @BradyMcCollough
---
Get the latest on L.A.'s teams in the daily Sports Report newsletter.
You may occasionally receive promotional content from the Los Angeles Times.