Newsletter: Essential California: The fire lookout atop Point Dume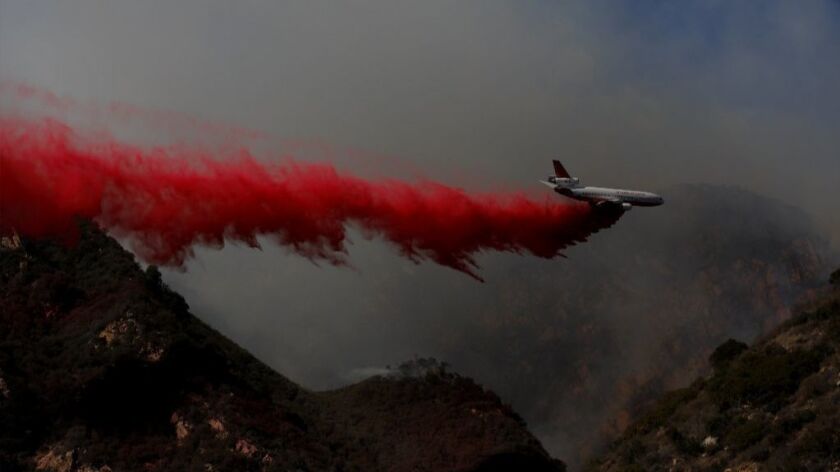 Good morning, and welcome to the Essential California newsletter. It's Monday, Nov. 12, and here's what's happening across California:
TOP STORIES
Today's newsletter comes to you from Malibu, where Ben was surveying the damage of the Woolsey fire:
"I'm going to tell y'all a little secret. In my nearly two years of living in Los Angeles, I had never been to Point Dume. Getting there was a pain, and finally when you did, you had to wait in line to park and then had a limited opportunity at a scenic overlook in a region full of them.
"So as I drove through the fire-ravaged neighborhoods surrounding the iconic rock that marks the end of the Santa Monica Bay, I decided I had to stop. That urge prevailed throughout my time driving in Malibu — a place so defined by wealth and exclusivity. (In the midst of so much destruction, how often do you see a view like this?)
"Atop the rock, I was not alone. Malibu native Robert Spangle sat there with a cup of coffee, a small table and a pair of binoculars. He waved me over, told me to sit down and offered me a snack. Normally one looks out to sea when at the point. Not this time. We scanned the horizon looking for plumes of smoke and watched as tankers dropped flame retardant, while talking about what the last couple of days had been like.
"By Sunday, he'd been on watch for much of the last two days, tracking the fire. During the day, he looked for plumes of smoke; at night he monitored the glowing flames.
"He then regularly radioed friends about the rough movements of the fires. Those friends then went to the scene trying to help out.
"After chatting, it was time for both of us to go. I had to file this newsletter, and Spangle had to go meet up with his friends. They needed to strategize about how they were going to keep their hometown safe from more fires."
Read the story of this 29-year-old Marine-turned-photographer: Los Angeles Times
Get the Essential California newsletter »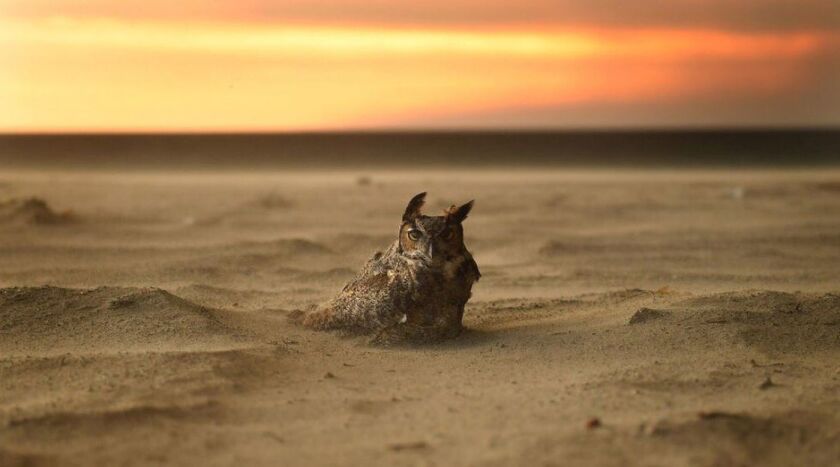 MORE ABOUT THE FIRES
Devastating: The death toll from the Camp fire raging in Butte County rose to 29 on Sunday as authorities continued their search for victims amid the ruins of the Sierra foothills town of Paradise. Los Angeles Times
The big picture: These devastating fires should not be a surprise to California, which has struggled to deal with the risk and the hard choices required to better protect the public. Los Angeles Times
Worrisome: A forecast that includes several days of gusting Santa Ana winds has fire officials worried about the possible spread of the Woolsey fire straddling Ventura and Los Angeles counties. Los Angeles Times
Plus: "This is not the new normal, this is the new abnormal. And this new abnormal will continue certainly in the next 10 to 15 to 20 years," Gov. Jerry Brown said. Los Angeles Times
The scene: A surreal weekend on Pacific Coast Highway as sunny Malibu becomes something much different. Los Angeles Times
History lesson: Paradise was always at great risk of a disastrous fire. This time, its luck ran out. Sacramento Bee
Close to home: As a kid, he watched the fires rage in the distance, always wondering whether this would be the one to destroy everything. An editor recounts a lifetime in the Butte County fire zone. Chico Enterprise-Record
Plus: The grim search for elderly victims in Paradise. San Francisco Chronicle
So tragic: The horror worsened by the hour, and the missing became ghosts over a time that has lost everything. Los Angeles Times
Those tweets: Trump erroneously blamed the fires on bad forest management, and firefighters are angry. Los Angeles Times
Just like us: Martin Sheen is fine, sleeping in his car at Zuma Beach. The Hollywood Reporter
On the street: "The house was a smoldering ruin, utterly wasted. But near the door was an intact box, a delivery from the home-goods company West Elm." The New Yorker
Steve Lopez says: Calamity after calamity, California keeps marching forward. Los Angeles Times
Smart story: "Forced out by deadly California fires, then trapped in traffic." New York Times
POLITICS AND GOVERNMENT
Wowzer: Rep. Dana Rohrabacher has lost the congressional seat he held for 30 years in one of the most conservative stretches of Orange County, a stunning defeat for the GOP as other Republicans' early leads receded in the latest ballot counts, putting the party in fear of losing all six tightly contested House races in California. Los Angeles Times
Plus: Another vulnerable Republican goes underwater. Los Angeles Times
The team comes together: Californians made their choice Tuesday and elected Gavin Newsom their next governor. Now, Newsom faces some crucial choices of his own: Who will serve in his administration. Los Angeles Times
THOUSAND OAKS MASS SHOOTING
First on the scene: Officers first on the scene of an active shooter situation are now trained to rush in and confront the assailant, a tactic that is likely to save civilian lives but puts police at a deadly disadvantage. The story of the Ventura County lawman who lost his life in the Borderline bar massacre. Los Angeles Times
Plus: A hero of the mass shooting who survivors said helped save lives. Ventura County-Star
Perspective: Las Vegas, Thousand Oaks and a crisis that no one seems able to solve. The New Yorker
CALIFORNIA CULTURE
New man around town: Klaus Biesenbach has taken over as director at Los Angeles' Museum of Contemporary Art in a period of great turmoil for the museum. His goal is "to develop a vision for the museum and then align the board and the staff and all the other constituencies" behind that. Los Angeles Times
Nice! A legendary surfer's guide to the California coast. San Francisco Chronicle
$$$: Which TV stars make the most money? Variety
South of the border: How Mexico is reshaping its approach to Central American migrants. San Diego Union-Tribune
CALIFORNIA ALMANAC
Los Angeles area: Sunny, 75, Monday. Partly cloudy, 74, Tuesday. San Diego: Sunny, 76, Monday. Partly cloudy, 74, Tuesday. San Francisco area: Sunny, 69, Monday. Partly cloudy, 66, Tuesday. San Jose: Sunny, 73, Monday. Partly cloudy, 70, Tuesday. Sacramento: Sunny, 69, Monday. Partly cloudy, 67, Tuesday. More weather is here.
AND FINALLY
This week's birthdays for those who made a mark in California:
Retired Sen. Barbara Boxer (Nov. 11, 1940), L.A. City Council President Herb Wesson Jr. (Nov. 11, 1951), TV host Jimmy Kimmel (Nov. 13, 1967) and Rep. Eric Swalwell (Nov. 16, 1980).
If you have a memory or story about the Golden State, share it with us. Send us an email to let us know what you love or fondly remember about our state. (Please keep your story to 100 words.)
Please let us know what we can do to make this newsletter more useful to you. Send comments, complaints and ideas to Benjamin Oreskes and Shelby Grad. Also follow them on Twitter @boreskes and @shelbygrad.
---