Newsletter: Essential California: Pelosi's next move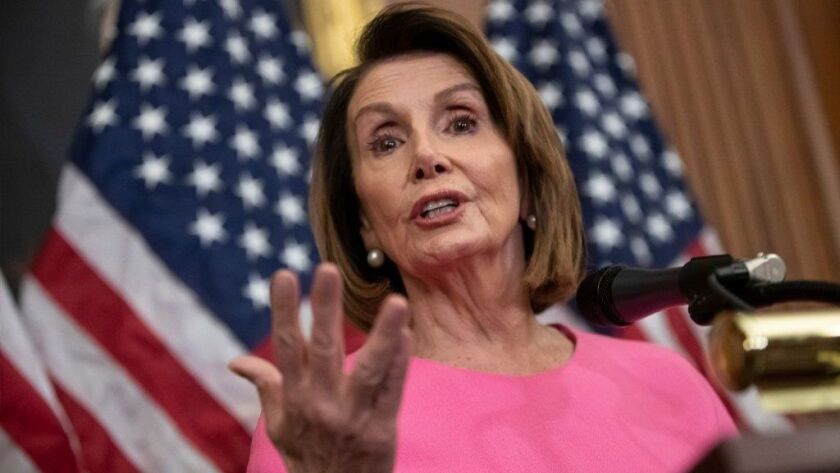 Good morning, and welcome to the Essential California newsletter. It's Thursday, Nov. 29, and here's what's happening across California:
TOP STORIES
House Minority Leader Nancy Pelosi easily won the support of a majority of next year's House Democrats to become the party's nominee for speaker, rebuffing attempts from a faction of rebel lawmakers who were pushing for new leadership. Pelosi's real test of whether she can regain the gavel will come Jan. 3, when she will need the vast majority of Democrats to support her on the House floor for the final vote to elect a speaker. Los Angeles Times
The final congressional race is decided: TJ Cox defeated three-term Republican Rep. David Valadao on Wednesday, giving Democrats a gain of seven House seats in California and 40 nationwide — the party's strongest midterm showing since the Watergate era in the mid-1970s. Los Angeles Times
On the other side of the aisle: By commanding fierce loyalty, House Majority Leader Kevin McCarthy persuaded vulnerable lawmakers to cast several votes that hurt them in November, contributing to the party's loss of House seats. His unwavering support for Trump also didn't help in a state where the president is deeply unpopular. Los Angeles Times
Allegations against the chairman
Eric Bauman, the powerful chairman of the California Democratic Party, made crude sexual comments and engaged in unwanted touching or physical intimidation in professional settings, 10 party staff members and political activists said in interviews with The Times. When presented with the allegations, Bauman said in a statement Wednesday that he planned to seek treatment for health issues and alcohol use. Los Angeles Times
Patrolling a town that's not there
Paradise police officers like Perry Walters are patrolling a city that no longer exists, with tears and resolve. Of the 20 sworn officers in his department, eight lost their homes. Yet they continued to work, becoming eyewitnesses for residents desperate to know about homes, neighbors and pets. More often than not, the news was bad. Officers' cellphones filled with photos of rubble that they snapped for residents who could not enter the fire zone but needed to see what had become of their homes. Some officers found human remains, reduced to bits of vertebra and skull. Los Angeles Times
Plus: A couple with three young children and no insurance faces "starting from the bottom again" after the Camp fire. Los Angeles Times
— Meet the Butte County sheriff whose profile has risen as a result of the fires. Associated Press
-- Officials are making more concrete plans for the schools ravaged by the Camp fire. ED Source
Get the Essential California newsletter »
L.A. STORIES
Big shakeup: In a sudden purge, numerous top L.A. County Sheriff's Department officials will be fired or relieved of duty once Alex Villanueva is sworn in as the new sheriff. Los Angeles Times
Sobering stat: In California's Inland Empire, fewer than half of the jobs pay a living wage. Los Angeles Times
$120 million on the line: How former CBS Corp. Chairman and Chief Executive Les Moonves is reported to have tried silencing an accuser. New York Times
Benchsky: Meet the anonymous artist installing bus benches at neglected stops on L.A.'s Eastside. Los Angeles Times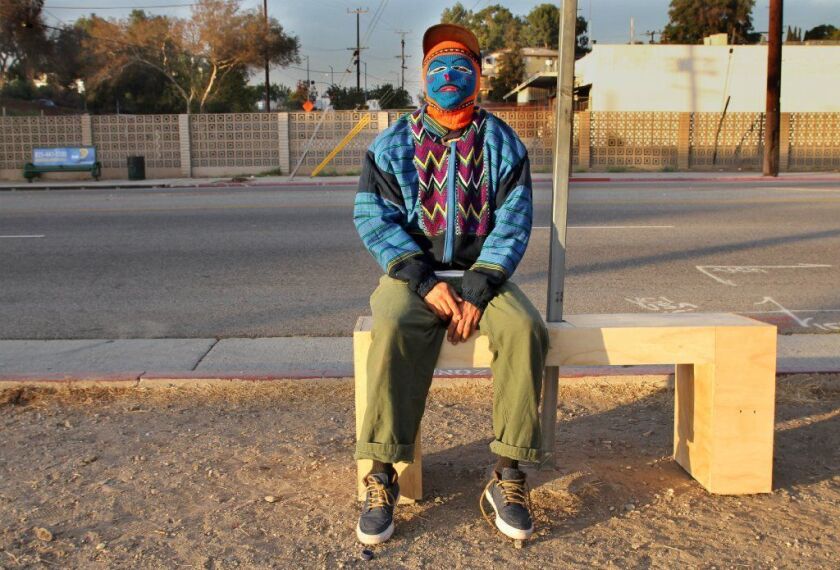 IMMIGRATION AND THE BORDER
Gulp: Sounding an alarm, Tijuana's mayor said the city has only enough resources to support the Central American migrant caravan for two more days and beyond that, there is no guarantee of support. San Diego Union-Tribune
POLITICS AND GOVERNMENT
In Washington: California Rep. Barbara Lee lost her bid to become the first black woman elected to a House leadership position and the first woman to lead the House Democratic Caucus. Los Angeles Times
Your tax dollars at work: The Los Angeles County subway project that will whisk commuters from the Westside to downtown in less than half an hour will receive $100 million in federal grants next year, the Federal Transit Administration said Wednesday. Los Angeles Times
CRIME AND COURTS
Celebrity break-ins: Thirteen men with alleged ties to a South Los Angeles gang have been charged with a series of sophisticated burglaries targeting some of the city's biggest celebrities and athletes during the last 13 months. Los Angeles Times
Abused, then arrested: Inside California's crackdown on sex work. The Guardian
THE ENVIRONMENT
Foliage! Here's why the trees look extra-gorgeous right now in Sacramento. Sacramento Bee
Good news: "Near record numbers of chinook salmon are surging up the Mokelumne River, marking the second large spawning year in a row and signaling to fisheries biologists that habitat improvements in recent years are paying off for fish and the people who eat the pinkish delicacies." San Francisco Chronicle
CALIFORNIA CULTURE
Click: In its latest full photography issue, the California Sunday Magazine captures people across the West where they feel most at home. California Sunday Magazine
Speaking of the magazine: It has been purchased by investor Laurene Powell Jobs. New York Times
Podcast: Why did Lynn Swann, USC's athletic director, keep Clay Helton as football coach? Los Angeles Times
RIP: Read David Mamet on Ricky Jay. New York Times
"My favorite year": In Los Angeles with Eve Babitz in 1971. Los Angeles Review of Books
Who knew? For the women of the rogue taxidermy movement, there's a curious allure to the taboo art. Los Angeles Times
Dang: The latest ripoff risk for elderly homeowners? Clean energy loans. CalMatters
Great photos: Meet the "world's first LGBTQ synagogue." BuzzFeed
CALIFORNIA ALMANAC
Los Angeles area: rainy, 63, Thursday; partly sunny, 66, Friday. San Diego: rainy, 68, Thursday; partly sunny, 66, Friday. San Francisco area: rainy, 60, Thursday; mostly cloudy, 59, Friday. San Jose: rainy, 60, Thursday; cloudy, 60, Friday. Sacramento: rainy, 58, Thursday; mostly cloudy, 57, Friday. More weather is here.
AND FINALLY
Today's California memory comes from Adrea Caren:
"My German immigrant parents, who escaped from the Nazis in Germany, were grateful for their lives. They brought us up thanking America every day for saving their lives. Everyone worked hard, scrimped and saved. In 1942, they bought a house in Beverlywood for about $35,000. My grandparents lived with us. My brother and I were out on the neighborhood streets playing from morning to dinnertime. Believe it or not, there were empty lots in the neighborhood! We dug holes in the dirt, trying to build ourselves a swimming pool … something we dreamed to swim in. We climbed trees and built forts in them. It was the happiest of childhoods. We never worried about anything, even though we had little money. There was no TV, internet, nothing electronic except an iron for clothes. Life was wonderful!"
If you have a memory or story about the Golden State, share it with us. Send us an email to let us know what you love or fondly remember about our state. (Please keep your story to 100 words.)
Please let us know what we can do to make this newsletter more useful to you. Send comments, complaints and ideas to Benjamin Oreskes and Shelby Grad. Also follow them on Twitter @boreskes and @shelbygrad.
---