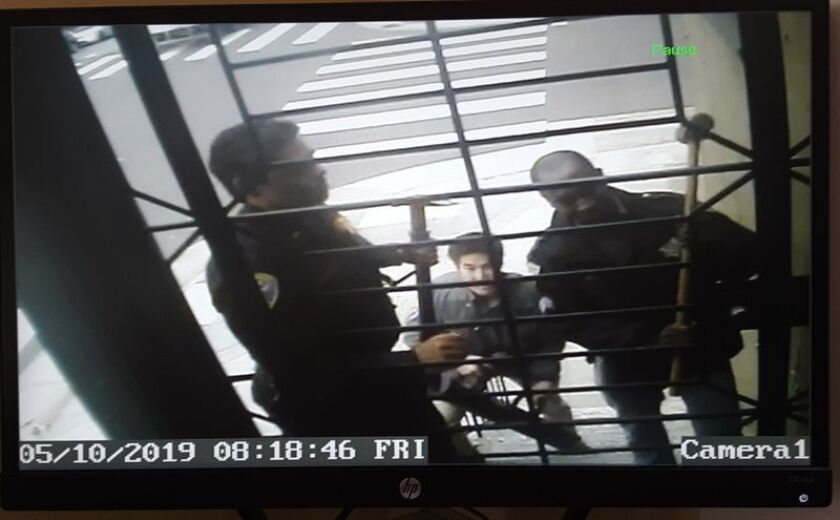 Good morning, and welcome to the Essential California newsletter. It's Monday, May 13, and here's a quick look at the week ahead:
Elite cyclists set off from Sacramento on Sunday for the 2019 Amgen Tour of California, which will wind across 778 miles of California terrain before finishing in Pasadena at the end of the week.
On Tuesday, the 72nd Cannes Film Festival will open in the south of France. Expect Hollywood to be watching how the big streaming companies play in the French Riviera sandbox this year: Netflix and Amazon both plunked down serious coin at the Sundance Film Festival earlier this year, leaving rival studios to "wonder if Netflix and Amazon are temporarily done buying or if they'll carry their checkbooks on the journey," according to Variety. The L.A. Times' Kenneth Turan, Amy Kaufman and Justin Chang will all be in France covering the action. Plus, seven of the most-talked-about films at the fest this year.
Also Tuesday: Jackie Goldberg and Heather Repenning will face off in a Los Angeles runoff election for a seat on the board that governs the nation's second-largest school district.
Los Angeles Unified's District 5 spans an oddly shaped district that includes more affluent, hipster neighborhoods like Silver Lake and Echo Park, as well as the lower-income, majority-Latino cities of Bell, Huntington Park, South Gate and Cudahy in southeast L.A. County. Nearly 90% of the students in the district are Latino, which has left some questioning why the two candidates in the runoff are white.
(See also: "Pre-election rundown: Where Jackie Goldberg and Heather Repenning stand on hot-button issues in LAUSD's school board race" from LA School Report)
On Thursday, television's No. 1 comedy "The Big Bang Theory" will air its final episode on CBS.
Friday marks an obscure but important legislative deadline in the state Capitol. First, some background: Any bill that's projected to cost the state more than $150,000 typically gets sent to the "suspense file," which is where "bills that would cost taxpayers money are held in legislative limbo," as Sacramento bureau chief John Myers put it in an explainer a few years ago.
Any bill with a fiscal impact has to make it out of the fiscal committees of each house and onto the Senate or Assembly by the close of business Friday, or die a quiet death. Bills that don't clear the hurdle are "essentially killed without a recorded vote," with no public explanation of their fate. "That means," as Myers wrote in his explainer, "that no one will know for sure whether a bill is really killed because of its price tag or its politics."
And now, here's what's happening across California:
TOP STORIES
When a reporter would not betray his source, police came to his home with guns and a sledgehammer. San Francisco police wanted to know who had provided freelance journalist Bryan Carmody with a confidential police report looking into the death of San Francisco Public Defender Jeff Adachi.
Officers handcuffed Carmody for six hours as they collected his equipment. It remains unclear whether Carmody was handcuffed because of guns he says he legally owns, which he said were locked in a safe at the time. Fellow journalists in the Bay Area and beyond were outraged by the search of Carmody's home and office. Los Angeles Times
The New York Times went big on the Golden State Warriors' move from Oakland across the Bay to San Francisco, with a long meditation on the pending move and what it means fronting the paper's Sunday sports section. New York Times
Get the Essential California newsletter »
L.A. STORIES
More than a year after California legalized recreational marijuana, pot smuggling arrests have surged 166% at LAX. Los Angeles Times
Los Angeles County Sheriff Alex Villanueva not only runs the nation's largest jail system and patrols 4,000 square miles of the country's most populous county, he's also head of the police force for dozens of individual, smaller cities throughout the county that contract with his agency for law enforcement services. (Some quick background: Though the city of Los Angeles often dominates the conversation, there are 87 other incorporated cities in Los Angeles County. Many of the larger cities in the county, like Los Angeles, Inglewood, Santa Monica and Culver City, have their own police forces — as do quite a few smaller cities. A total of 42 cities in L.A. County that don't have their own police departments pay for deputy sheriffs to patrol their streets.)
Leaders of some "contract cities" that pay for L.A. County Sheriff's patrols are worried decisions by Sheriff Villanueva could cause their liability costs to swell. Los Angeles Times
L.A. Metro's downtown subway project may not open until mid-2022. The twin tunnels known as the Regional Connector are designed to connect three rail lines into two mega-routes. Los Angeles Times
Your support helps us deliver the news that matters most. Subscribe to the Los Angeles Times.
IMMIGRATION AND THE BORDER
The length of time that migrant children are spending in U.S. custody has spiked in recent years. Unaccompanied minors who crossed the border without a parent or guardian used to be kept in custody before being released to sponsors for an average of 34 days; that average has jumped to 77 days. KQED
POLITICS AND GOVERNMENT
Only one California Republican defied President Trump on Friday and voted in favor of House Democrats' disaster aid bill, which would provide $19.1 billion in disaster relief funds for victims of California's deadly 2018 wildfires, as well other aid-related efforts around the country. That congressman, Rep. Doug La Malfa of Oroville, represents the town of Paradise, which was ravaged by the Camp fire. Sacramento Bee
CRIME AND COURTS
Fifty-six percent of the arrests or citations for drug sales in San Francisco during fiscal year 2017-2018 were made in the Tenderloin. San Francisco Chronicle
THE ENVIRONMENT
Despite a growing population and development pressure, California hasn't opened a new state park in 10 years. Mercury News
The X Prize Foundation is known for awarding multimillion-dollar prizes for technological innovation. Now, it's partnered with Gov. Gavin Newsom to launch an X Prize for new firefighting ideas and technologies to combat wildfires. Like all X Prizes, this firefighting award will be funded entirely through private money. KQED
CALIFORNIA CULTURE
Actress Peggy Lipton, a star of "The Mod Squad" and "Twin Peaks," has died at 72. Los Angeles Times
The Lakers have agreed to hire Frank Vogel as coach. If you're scratching your head over that, Hall of Fame center Shaquille O'Neal wants you to "give him a chance." Los Angeles Times
A bicycle advocacy group has ranked Santa Barbara as the top bike city in the state. The news probably comes as a rough blow to the Northern California city of Davis, which has traditionally dominated in statewide bike-friendliness rankings. Santa Barbara Independent
Former NBA star Dennis Rodman has been accused of stealing several thousand dollars in merchandise from a Newport Beach yoga studio, including, um, a 400-pound crystal. Los Angeles Times
Here's what it's like to live in Northern California's only (legal) tiny-house community, nestled on the banks of the San Joaquin River about 40 minutes outside Stockton. The Bold Italic
In a rare public appearance, In-N-Out owner and burger heiress Lynsi Snyder-Ellingson spoke about her faith and past struggles with substance abuse at the Biola University commencement ceremony. In a fun surprise, every graduate also received an In-N-Out gift card along with their diploma. Whittier Daily News
CALIFORNIA ALMANAC
Los Angeles: Partly sunny, 73. San Diego: Partly sunny, 68. San Francisco: Cloudy, 61. San Jose: Sunny, 73. Sacramento: Partly sunny, 81. More weather is here.
AND FINALLY
This week's birthdays for those who made a mark in California: director George Lucas (May 14, 1944), Rep. Jackie Speier (May 14, 1950), L.A. City Atty. Mike Feuer (May 14, 1958), Rep. Mimi Walters (May 14, 1962), Facebook CEO Mark Zuckerberg (May 14, 1984) and Father Greg Boyle (May 19, 1954).
If you have a memory or story about the Golden State, share it with us. (Please keep your story to 100 words.)
Please let us know what we can do to make this newsletter more useful to you. Send comments, complaints, ideas and unrelated book recommendations to Julia Wick. Follow her on Twitter @Sherlyholmes.
---