Shaquille O'Neal and former Lakers say give Frank Vogel a chance, and better players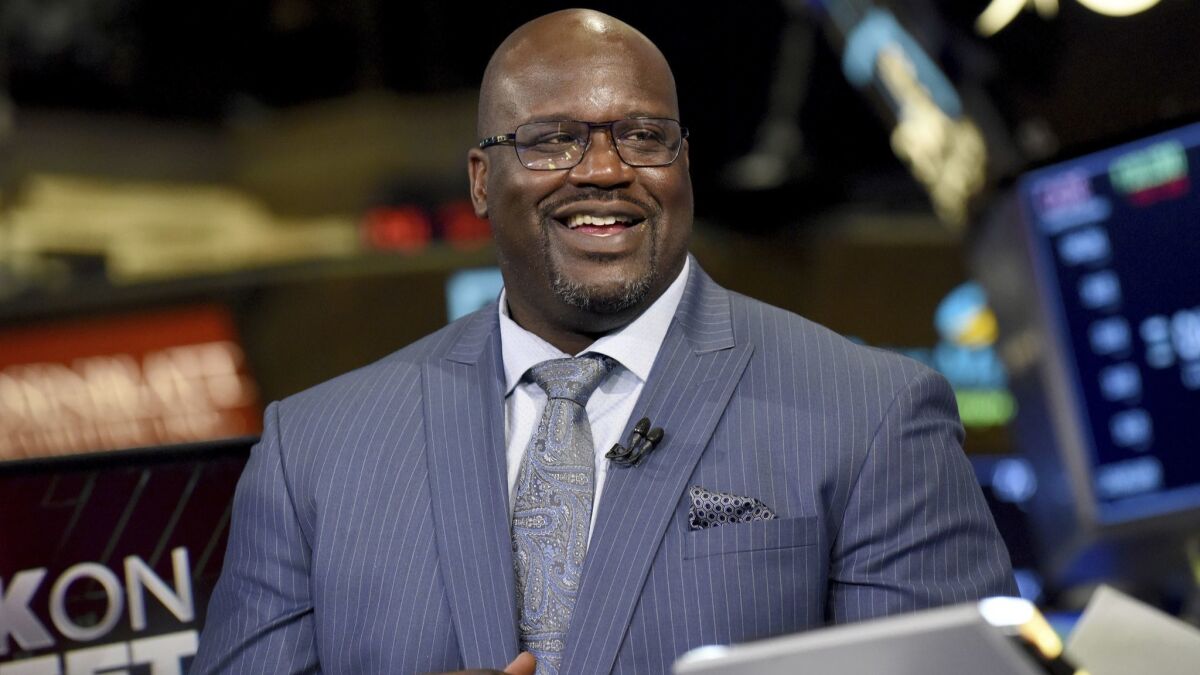 When Shaquille O'Neal was asked to share his thoughts on what many consider the Lakers' scratch-your-head hire of Frank Vogel as coach, the Hall of Fame center didn't hesitate.
"Give him a chance," O'Neal told The Times on Sunday. "That's the least people can do. He did a good job in Indiana, right? So give him a chance to see if he does a good job with the Lakers."
The Lakers haven't announced they hired Vogel, but The Times and other outlets reported Saturday that the two sides agreed on a three-year deal for him to replace Luke Walton.
With Jason Kidd as a top assistant on Vogel's staff, Robert Horry agrees with O'Neal that fans have to be patient.
"Give the man a chance, because there really is no right coach out there," said Horry, who won three of his seven NBA championships with the Lakers. "There is no Phil Jackson walking through that door. There is no Pat Riley walking through that door. So nobody is ever going to be happy with what coach they get. Vogel might be the perfect coach. Who knows?"
Another former Laker, Ron Harper, believes the coaching search should not have made it to Vogel. Harper said Tyronn Lue "should have been the next coach of the Lakers."
Sign up for our Lakers newsletter »
Lue interviewed twice, but he and the Lakers couldn't agree on terms of a contract. That came on the heels of Monty Williams, who also interviewed twice, taking the coaching job with the Phoenix Suns.
"Ty Lue won an NBA championship in Cleveland with LeBron James," said Harper, who won two of his five championships with the Lakers. "Ty Lue should have been the next head coach. That's where I stand at. I know I don't have a vote in it. I know I ain't got nothing riding on it, but Ty Lue should have been the next coach.
"I don't know if Frank Vogel is a step up from Luke. That's what it's going to boil down to, right? I thought Luke should have kept the job. I thought Luke got a raw deal too."
O'Neal pointed out that Vogel had success coaching the Indiana Pacers for five-plus seasons, producing a 250-181 regular-season record and a 31-30 playoff mark that included consecutive trips to the Eastern Conference finals in 2013 and 2014, losing both series to James and the Miami Heat.
But in Indiana, he had a wealth of talent in All-Stars Paul George and Roy Hibbert, and role players in David West, Lance Stephenson and George Hill.
Vogel was let go by the Pacers after the 2015-16 season and hired by the Orlando Magic, who he led to a 54-110 record in two years before he was fired after the 2017-18 season.
Other than James, a 15-time All-Star, the Lakers still are developing young players like Lonzo Ball, Josh Hart, Brandon Ingram and Kyle Kuzma.
"The Lakers need some players, because it takes talent to win in this league," said O'Neal, who won three of his four championships with the Lakers. "What if the Lakers get Anthony Davis? So if the Lakers get some players, Vogel could be all right."
The Lakers have about $35 million in salary cap space to possibly sign another superstar free agent this summer.
Kevin Durant, Kyrie Irving, Kawhi Leonard, Klay Thompson and Jimmy Butler are the big names expected to be free agents this summer.
"They got to get a free agent," Harper said. "If they don't, they are in the same place they were last year. They have to grow up. They have to wait and see if Brandon Ingram is going to be OK and if Lonzo Ball is going to be OK. But they got to get some players to help Vogel."
Twitter: @BA_Turner
All things Lakers, all the time.
Get all the Lakers news you need in Dan Woike's weekly newsletter.
You may occasionally receive promotional content from the Los Angeles Times.