Newsletter: Essential California: Remembering Harvey Milk in the age of Pete Buttigieg
Good morning and welcome to the Essential California newsletter. It's Wednesday, May 22. It's also Harvey Milk Day in California, as designated by the state Legislature in 2009.
Milk was California's first openly gay elected official and one of the first openly gay men to hold elected office in the United States.
He would have turned 89 today, had he not been assassinated alongside San Francisco Mayor George Moscone on Nov. 27, 1978. Milk's election as a San Francisco supervisor and his assassination less than a year into his term were era-defining moments that shaped the state and the gay rights movement nationally.
Growing up in Simi Valley in the 1980s, Stephen Torres felt as if he had always sort of been aware of Harvey Milk. It was looming secondhand history, muddled through media and overheard conversations.
Torres knew that "something terrible had happened." He also knew that discussion of that terrible thing was often paired with ugly laughter, "the ubiquitous gay jokes that went along with Harvey Milk."
For a young gay kid in a conservative community, the jokes were "like a sting of recognition, that they were talking about me too." He also knew "something good" — that a movie had been made about Milk and that it had won an Academy Award.
When Torres came out as a teenager, one of the first things he wanted to do was see that movie. The Simi Valley Blockbuster didn't stock "The Times of Harvey Milk," so Torres borrowed his mother's old Volvo station wagon to rent the 1984 film in Thousand Oaks.
"When I saw it, I just wept," he remembered. It was 1997 and Torres was newly 18. "It was crazy to me to see this story that had taken place in California and at a time that was so familiar to me from my early childhood. Just the power of his story and the movement."
Eventually, Torres would move to San Francisco and become an activist himself. He now sits on the board of the Harvey Milk LGBTQ Democratic Club, which is hosting a Harvey Milk Day block party on Castro Street tonight.
"People in my generation really wanted to know this history. Not just about Harvey, but about the gay movement of the '70s," Torres said.
It's hard to conceive of just how monumental Milk's 1977 election was in 2019 terms. Openly LGBT individuals have now held some form of elected office in all 50 states, the last midterm election brought a "a rainbow wave" of advancements, and Pete Buttigieg, who is gay, is in the field of contenders for the 2020 Democratic nomination.
But the late 1970s were a time of radical gay activism and conservative crusades. This was the age of Anita Bryant's "Save Our Children" campaign and the Briggs Initiative, a California ballot measure that would have banned gays and lesbians from teaching in public schools.
"If you just look at those two efforts that were happening during the time, they were hugely powerful culturally in California and across the U.S.," said Terry Beswick, the executive director of the GLBT Historical Society and museum in San Francisco. "But they also really empowered gay people. They raised the visibility of people like Harvey Milk."
Beswick's Castro museum, which has a permanent exhibit on Milk, is the first stand-alone museum of gay, lesbian, bisexual and transgender history and culture in the United States. The collection includes the blood-stained suit that Milk was wearing the day he was gunned down at San Francisco City Hall.
Knowing of threats to his life, Milk sat down in the back room of his Castro Street camera store just 10 days after he was elected in 1977 to tape-record his will. The museum exhibit is set up so that visitors can listen to that recording, in which Milk talks about what his intentions are in the event of his assassination, while looking at the suit.
Beswick described how he recently took Chasten Buttigieg, the husband of the presidential candidate, on a tour of the museum. The two men paused in front of the suit. "In that moment, I was just thinking about giving him a brief look at Harvey Milk," Beswick remembered. But when he stepped back to allow Buttigieg to listen to the recording, he recalls thinking, "Ah, what did I just do."
"I could see the tears in his eyes and I was thinking, he's got to be thinking about the risk that his husband is taking, even by running for president," Beswick said, explaining that although San Francisco is "a bit of a queer cultural bubble," that isn't the case in the rest of the country.
After Buttigieg finished listening to the recording, he turned to Beswick and said, "This is why we do what we do."
"That could mean so many things, but for me what it meant was this is why we hear our history, so that people think about the juxtaposition of the history with today's current events," Beswick recalled.
Later, I asked Beswick if he had ever imagined living in an a time where we'd not only see an openly gay man running for president, but pushback that that openly gay candidate was too establishment.
He laughed. "In some ways, it feels like we have arrived," he said. "The thing about the queer community is that we are as diverse as the rest of the culture."
And now, here's what's happening across California:
TOP STORIES
The Trump administration wants to cut payments to California for fighting wildfires on federal land. The acrimonious relationship between President Trump and the Golden State has grown even more fraught in the aftermath of the state's deadliest wildfire. Now, as California prepares for what some officials fear will be another devastating fire season, the U.S. Department of Agriculture and U.S. Forest Service are withholding reimbursements that state fire agencies say are owed for battling wildfires on federal lands last year. Los Angeles Times
Get the Essential California newsletter »
L.A. STORIES
At 80, L.A.'s Union Station tries to reinvent itself for a rail future. Metro has spent more than $21 million on efforts to beautify and restore the station since 2013. Los Angeles Times
Thousands of property owners along the L.A. River might be required to get flood insurance in the next two years. Curbed LA
Newly elected Los Angeles school board member Jackie Goldberg officially took her seat Tuesday and immediately challenged aid to charter schools. Los Angeles Times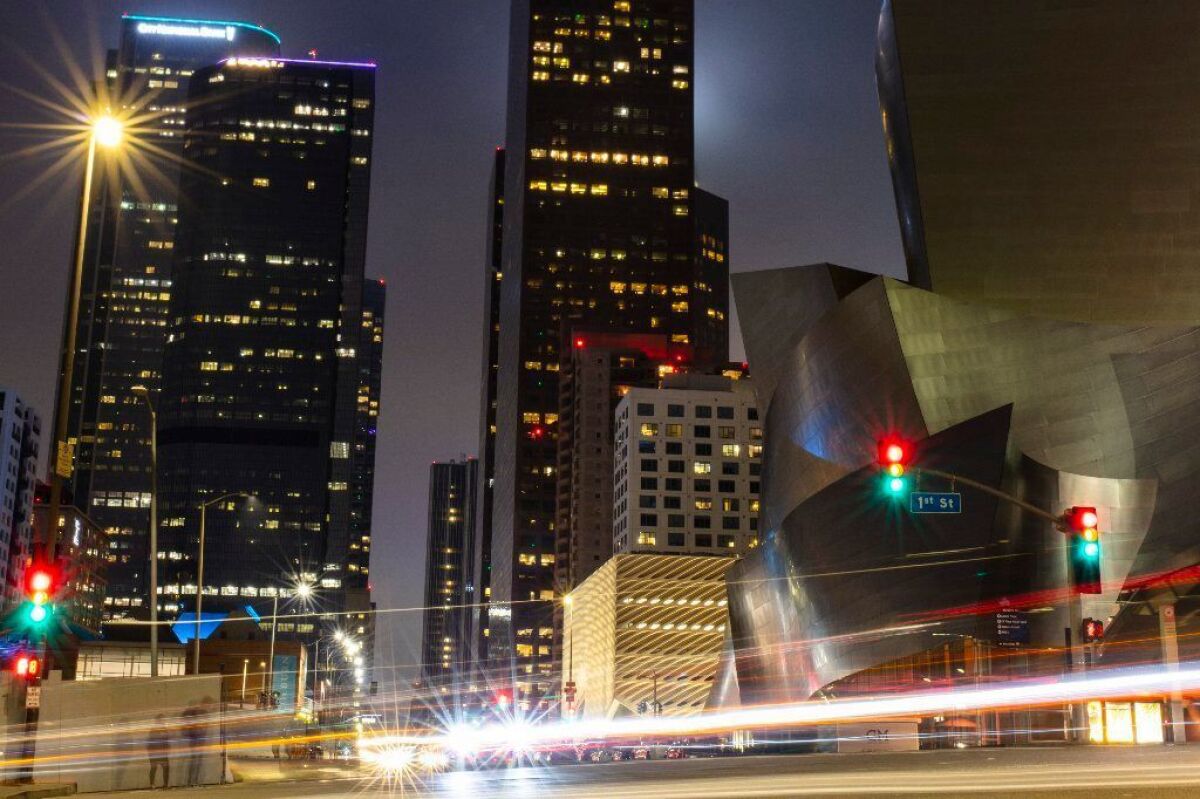 Downtown L.A.'s Grand Avenue is home to cultural institutions ranging from MOCA and the Broad museum to Walt Disney Concert Hall. But where is it headed? This multi-story package explores the past, present and future of the arts hub. Los Angeles Times
A 102-year-old Ladera Heights woman is being evicted to make way for her landlord's daughter. Los Angeles Daily News
A Lionsgate comedy and an Amazon Studios TV series have both pulled out of planned filming in Georgia in protest of restrictive abortion legislation recently passed in the state. Georgia's generous tax incentive program has drawn many productions to the Southern state over the last decade. Los Angeles Times
Your support helps us deliver the news that matters most. Subscribe to the Los Angeles Times.
POLITICS AND GOVERNMENT
The California High-Speed Rail Authority sued the Trump administration over terminating a nearly $1-billion grant for the state's beleaguered bullet train. The lawsuit escalates the conflict between California and the Trump administration over a project that aims to make the state a leader in advanced transportation. Los Angeles Times
Labor unions are paying to help California's lieutenant governor decorate her office. Sacramento Bee
After snarling San Francisco traffic, Uber and Lyft could face a new tax in their hometown that would raise millions to pay for the city's transportation needs. San Francisco Chronicle
CRIME AND COURTS
Facing a firestorm of public criticism, San Francisco's police chief defended the controversial raid of a reporter's home. Los Angeles Times
In the ongoing war between Hollywood's writers and their (now former) agents, the Writers Guild of America has added another claim to its lawsuit against the talent agencies. Hollywood Reporter
THE ENVIRONMENT
Half of all failing water systems in California are in the agricultural San Joaquin Valley. Jose del Real reports on the tainted water crisis facing many California farmworkers. New York Times
CALIFORNIA CULTURE
Tesla enters survival mode as the company's stock price drops. Los Angeles Times
Postmates couriers have joined the growing surge of gig-economy worker activism. More than 1,200 couriers have signed a petition protesting how the San Francisco-based company recently restructured its pay rates. Workers have said the restructuring cut their incomes by about 30%. San Francisco Chronicle
For minority chefs in the Bay Area, restaurant partnerships bring opportunity and tension. San Francisco Chronicle
Racial inequity in the fine-dining world runs deep: A new report shows that, on average, workers of color make $6 less an hour than white workers employed in the Bay Area's finest restaurants. Mother Jones
A towering Burning Man installation has racked up more than $20,000 in fines after an Alameda man started working on it in his live-work space. SF Gate
Who's making the decisions for the L.A. Lakers amid the team turmoil? It's complicated, but the Lakers are, at root, a family business. At the head of the organization is owner Jeanie Buss and her trusted advisors. Here's how that inner circle was formed. Los Angeles Times
CALIFORNIA ALMANAC
Los Angeles: sunny, 68. San Diego: rain, 63. San Francisco: sunny, 66. San Jose: partly sunny, 71. Sacramento: sunny, 71. More weather is here.
AND FINALLY
There is science, logic, reason; there is thought verified by experience. And then there is California.
— author and environmentalist Edward Abbey
If you have a memory or story about the Golden State, share it with us. (Please keep your story to 100 words.)
Please let us know what we can do to make this newsletter more useful to you. Send comments, complaints, ideas and unrelated book recommendations to Julia Wick. Follow her on Twitter @Sherlyholmes.
---