San Francisco police chief defends controversial search of reporter's home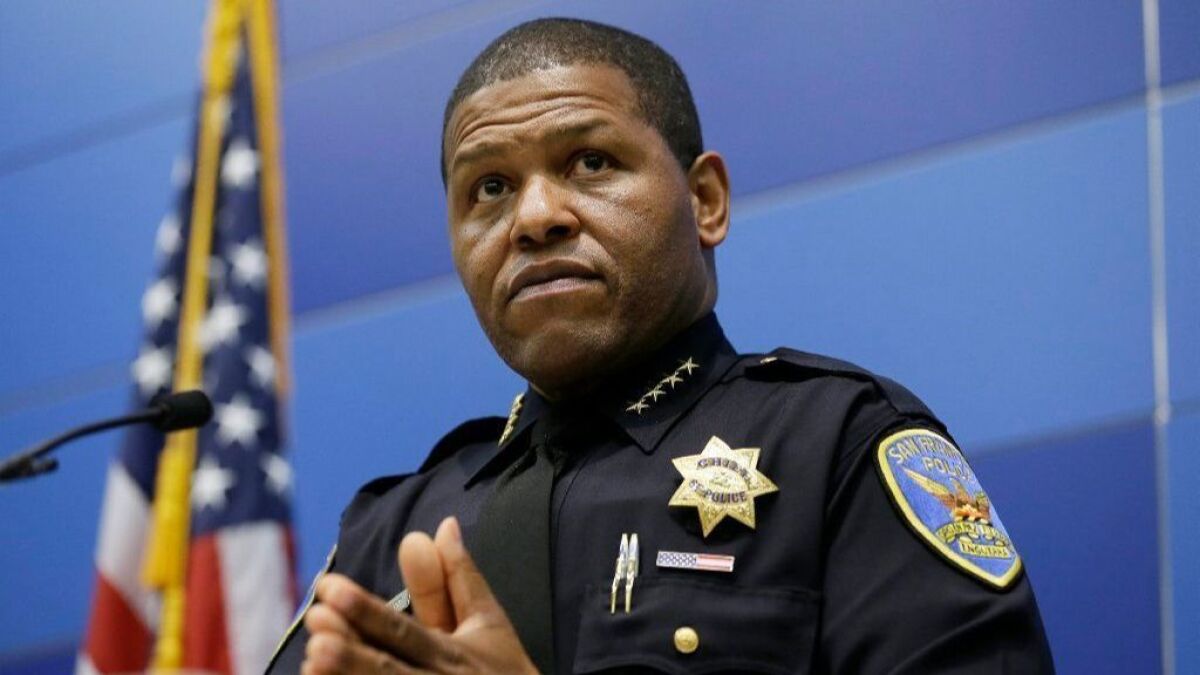 Facing a firestorm of public criticism, San Francisco Police Chief Bill Scott said Tuesday the raid of a journalist's home earlier this month was prompted by the suspicion that the reporter was a co-conspirator in a criminal investigation, adding that his alleged conduct "crossed the line."
Scott explained at a 20-minute news conference that freelance videographer Bryan Carmody allegedly played a role, along with at least one Police Department employee, in obtaining and selling the confidential police report about the death of Public Defender Jeff Adachi.
Adachi died in February at age 59 of an accidental overdose of cocaine and alcohol.
Carmody, a veteran journalist, has said he obtained the report from his source and sold a package of his reporting, which included the document, to Bay Area TV stations.
"We do believe Mr. Carmody committed a crime, and that's what we've been investigating," Scott said. "We believe that in order for this to be successfully pulled off, there had to be some contact between an SFPD employee and Mr. Carmody."
Scott didn't identify or reveal more details about how many police employees might have been involved in the leak. Carmody has repeatedly refused to identify his source but said that he didn't pay for the information or the document.
Reached by phone after the news conference, Carmody's attorney, Thomas Burke, declined to comment.
The chief's comments offer the fullest explanation yet of why police arrived at Carmody's home, armed with a sledgehammer, to seize his notebooks, computers, hard drives and other equipment.
Although he stressed he wasn't defending the conduct of his rank and file, Scott sought to justify their tactics, including the use of a sledgehammer.
"We know that looks bad," he said, adding that the Department of Police Accountability, a civilian watchdog panel, would be reviewing the incident.
"There are some lessons to be learned here. We're very humble about taking a critical review of this."
Earlier Tuesday, an attorney for the Police Department said at a court hearing that the agency would return Carmody's equipment.
The raid on Carmody's home and the ensuing controversy are part of the evolving intrigue surrounding Adachi's death. Shortly after he died, local TV affiliates circulated images online of the apartment the lawyer had been using, and the report described the official as spending time with a woman who was not his wife.
The suggestive and salacious details — sourced from the police report — angered local politicians and Adachi's widow, who criticized San Francisco police for allowing the details of a confidential document to get into the media's hands.
Since news of the search broke, journalists and 1st Amendment advocates have voiced their outrage that a reporter could be searched in such a manner.
"It is black-letter constitutional law that a reporter cannot be held liable, criminally or civilly, for receiving, possessing or publishing truthful information on matters of public concern merely because government officials were supposed to keep the information secret," Carmody's attorneys, Burke and Daniel Laidman, told a judge in their motion last week. Both attorneys have previously represented the Los Angeles Times.
They cited the strong legal protections for journalists, including the federal Privacy Protection Act and the state's Shield Law, which is enshrined in the California Constitution, and argued that the warrants were "plainly invalid."
"State and federal law make it virtually impossible for government officials to obtain and execute search warrants targeting journalists' news gathering material," the attorneys said in their motion.
Public officials such as San Francisco Mayor London Breed initially defended the raid but backtracked as anger increased across the city. On Sunday Breed posted on Twitter that she was "not OK" with raids on reporters.
"Seizing the entire haystack to find the needle risks violating the confidences Mr. Carmody owes to all his sources, not just the person who leaked the police report," San Francisco Dist. Atty. George Gascon said in a Monday tweet, adding that he had not seen the warrant.
---
The stories shaping California
Get up to speed with our Essential California newsletter, sent six days a week.
You may occasionally receive promotional content from the Los Angeles Times.