Good morning, and welcome to the Essential California newsletter. It's Tuesday, July 2, and I'm writing from Los Angeles.
Southern California and smog have long been synonymous in the cultural imagination. But for decades the region saw hard-fought improvements in air quality from its lung-choking past. Those Southern California air quality improvements were echoed across the nation, as years of emissions-cutting regulations helped everyone breathe a little easier.
But, as my colleagues Tony Barboza and Rahul Mukherjee explained in an investigation published yesterday in the Los Angeles Times, air quality across the U.S. has once again started to slip, with the worst issues seen in Southern California.
I spoke to Tony, who has spent the last five years as The Times' air quality beat reporter, about what's causing the decline in air quality and why it matters.
Why has air quality improvement stalled after decades?
There are a number of factors. We know that it's getting harder to find sources of pollution to cut, and that emissions are declining more slowly. If you talk to air quality regulators, they'll tell you that all the low-hanging fruit has been picked. We've already gone after the biggest sources of pollution and cut them back dramatically. But we still have a long way to go, particularly with some of the biggest polluters like diesel trucks. Another factor is unfavorable weather, which means hotter temperatures and more stagnant air in the summer, where we have days on end with little movement to disperse the pollution.
Is climate change a factor?
Yes, by raising temperatures, climate change is making air pollution harder to control. It's speeding up the chemical reactions that form smog.
[Read the story: "The war on Southern California smog is slipping. Fixing it is a $14-billion problem" in the Los Angeles Times]
How seminal was the 1970 Clean Air Act to the decades of progress that we've previously seen on air pollution in California?
The 1970 Clean Air Act came at a time when air pollution was a horrendous, visceral problem in many cities across the country. Nowhere was it worse than in Los Angeles and other parts of California. That law helped usher in tough regulations that brought decades of uneven, but on the whole steady, progress toward cleaner air. We've been living with the benefits of that. Studies in recent years in Southern California have shown the dividends from that law, with children having measurably stronger and bigger lungs as a result of cleaner air.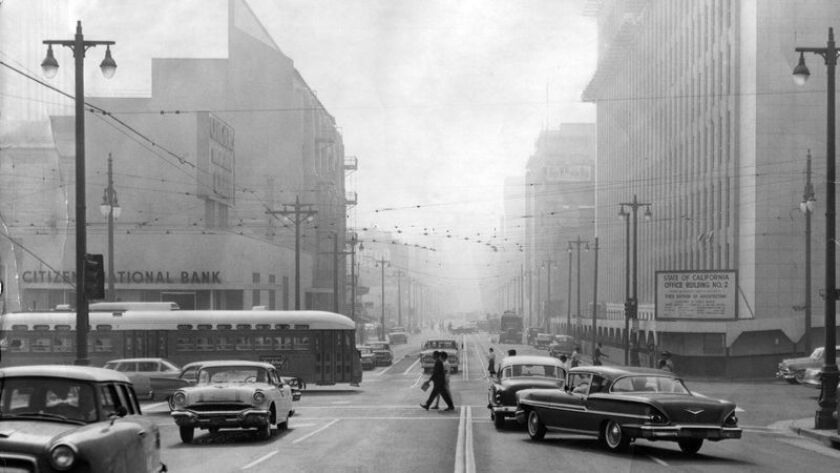 The most notable setback in Southern California has been with ozone. What exactly is ozone and why is it so dangerous?
There are generally two kinds of pollution that we worry about for large metro areas like Los Angeles. There is fine particle pollution, or soot, and that tends to build up more in colder weather. And then there's ozone — and that's a key ingredient in the more notorious type of L.A. smog that builds up when it's hot out.
The effect of exposure to ozone gas is a little bit like having sunburn on your lungs. We know from decades of studies that it's harmful. Ozone is also linked to a lot of health problems, like asthma attacks and other respiratory issues that send people to the hospital and can even be deadly. Ozone is the pollutant that we've seen the most notable lack of progress on in recent years.
How worried should the average Southern California resident be about air quality?
Anybody who's seen a rise in air pollution in their community should be concerned that it's going in the wrong direction. But it's also important to give this perspective. Compared to the 1970s or '80s, we're all breathing much cleaner air. What happened to L.A. smog has really been a dramatic success in the long term. The concern now is about backsliding.
Despite the long-term improvement, we still have areas like San Bernardino or Riverside where people are breathing dirtier air, and on many, many more days than people closer to the coast or in downtown L.A. There is a sharpening divide, where people inland are dealing with this problem much more day in and day out. And people along the coast might think it's something that's already been solved. That's the dynamic you see emerging more strongly now.
[See also: "Southern California needs $14 billion to reduce smog. What are you willing to pay?" in the Los Angeles Times]
And now, here's what's happening across California:
TOP STORIES
California's kindergarten vaccination rate dropped again in the most recent school year as more parents sought permission from doctors to not immunize their children, according to new state data. The troubling trend comes amid a national measles outbreak as well as intense debate over whether California should strengthen its school immunization laws. Los Angeles Times
Angels pitcher Tyler Skaggs was found dead at age 27 in a Texas hotel room on Monday. His cause of death is not yet known, but authorities do not suspect foul play. The team was scheduled to begin a series against the Texas Rangers in Arlington, but the game was canceled. Los Angeles Times
Get the Essential California newsletter »
L.A. STORIES
Evening freeway commute times vary by day of the week, according to speed data. Crosstown LA
Metro's plan for bus-only lanes is L.A.'s latest existential battleground. LAist
An interesting development in the ongoing war between Hollywood writers and their agents: Two high-profile scribes, Meredith Stiehm and John August (both of whom are on the Writers Guild of America negotiating committee) have signed with Verve — a boutique talent agency that broke ranks with its 10% brethren to side with the writers back in May. The Hollywood Reporter
Meanwhile, CAA has filed a lawsuit against the WGA, making it the third high-powered Hollywood agency to take the union to court. Los Angeles Times
Your support helps us deliver the news that matters most. Subscribe to the Los Angeles Times.
IMMIGRATION AND THE BORDER
Members of a secret Facebook group for current and former Border Patrol agents joked about the deaths of migrants, discussed throwing burritos at Latino members of Congress visiting a detention facility in Texas on Monday and posted a sexually explicit illustration of Rep. Alexandria Ocasio-Cortez. The group has roughly 9,500 members. ProPublica
The Border Patrol chief has since issued a statement calling the posts "completely inappropriate." Los Angeles Times
POLITICS AND GOVERNMENT
Dozens of DMV offices in California are now opening an hour earlier to battle wait times. Los Angeles Times
Bakersfield's longest-serving city manager will retire in December after 27 years. Here's a look at his legacy. Bakersfield Californian
Fare hikes went into effect for a number of Bay Area transit services on Monday. Here's a rundown of which agencies raised prices. SF Gate
Some 7.5 million Californians will get access to retirement savings plans under a new state program that launched Monday. Los Angeles Times
An Oakland City Council member wants to temporarily close a street where people are living in recreational vehicles. San Francisco Chronicle
CRIME AND COURTS
Former USC gynecologist George Tyndall pleaded not guilty to sexual abuse charges on Monday. Los Angeles Times
Rep. Duncan Hunter's personal relationships, including alleged affairs, can be evidence in his criminal trial, per a judge's ruling. San Diego Union-Tribune
HEALTH AND THE ENVIRONMENT
Want to remove a tree in San Jose? It'll cost you thousands. San Jose Spotlight
Wildflower season is far from over on the Marin coast. Here's where to see those blooms, as well as Marin's native summer-blooming orchids. Marin Independent Journal
CALIFORNIA CULTURE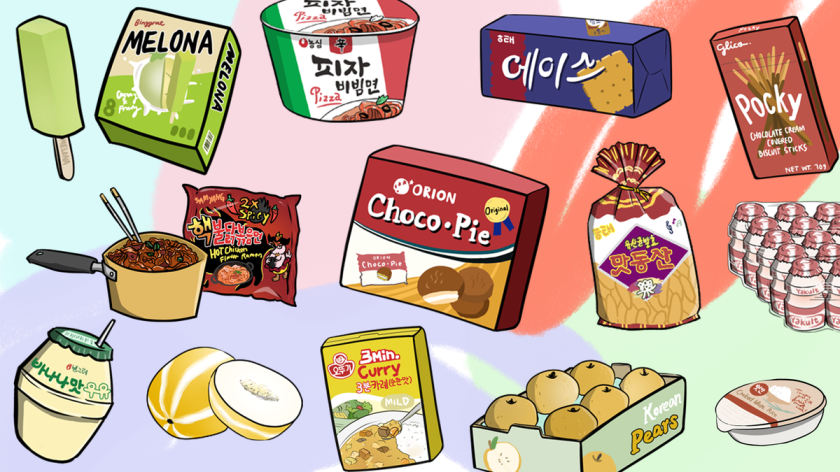 If you're lucky enough to live by an H Mart — the Korean grocery chain with a massive selection of everything from fermented soybean paste to kitchen electronics — you know that the variety of offerings can be overwhelming. Here is the illustrated guide to what your H Mart purchase says about you that you never knew you needed. Los Angeles Times
A bitter dispute over the ownership of a proposed Coachella cannabis dispensary and coffee shop highlights the lax monitoring of laws encouraging minority ownership in cannabis businesses. Desert Sun
The RealReal soared as its IPO hit the market last week. The San Francisco-based company sells secondhand luxury apparel and goods online. San Francisco Chronicle
Why San Francisco tech workers hate the city they transformed. The Guardian
Plus, how to speak Silicon Valley: These are the 53 essential tech-bro terms, explained. The Guardian
How Chinese food fueled the rise of the nascent West Coast punk scene in the late 1970s. Topic
Here's a rundown of Fourth of July fireworks and events around Southern California. Los Angeles Times
Have you been listening to "The Man in the Window," Los Angeles Times reporter Paige St. John's investigative podcast on the alleged Golden State Killer's twisted, painful path? The final episode drops today. Los Angeles Times
CALIFORNIA ALMANAC
Los Angeles: sunny, 81. San Diego: partly sunny, 72. San Francisco: windy, 67. San Jose: sunny, 75. Sacramento: sunny, 87. More weather is here.
AND FINALLY
Today's California memory comes from Jenine Baines:
"When I first visited L.A., my grandfather lived on Franklin Avenue near Capitol Records, which sent the Beatlemaniac in me into transports of joy. Equally exciting were the 'hippies' lining Hollywood Boulevard. Grandpa and I wore love beads too. One day, we visited the set of 'I Dream of Jeannie.' (We were related to Barbara Eden's husband.) Everyone was very nice, but Dr. Bellows kissed my hand! After finishing the day with hot fudge sundaes at the Brown Derby on Hollywood and Vine, I never wanted to leave. Fourteen years later, Major Nelson was J.R. Ewing, and I returned for good."
If you have a memory or story about the Golden State, share it with us. (Please keep your story to 100 words.)
Please let us know what we can do to make this newsletter more useful to you. Send comments, complaints, ideas and unrelated book recommendations to Julia Wick. Follow her on Twitter @Sherlyholmes.
---