Newsletter: Essential California: Golden State Killer case's twisted, painful path
Good morning, and welcome to the Essential California newsletter. It's Tuesday, June 11, and I'm writing from Los Angeles.
A little over a year ago, a 72-year-old former cop was at home in the Sacramento suburbs. He had a roast in the oven and was tinkering on a woodworking project in the garage when a heavily armed team of local and federal agents arrived.
Joseph James DeAngelo Jr. was arrested on suspicion of being one of California's most prolific serial killers and rapists — the Golden State Killer — on April 24, 2018, after decades of terror.
Authorities believed that the septuagenarian was responsible for 12 killings, 45 rapes and more than 120 residential burglaries that occurred during the 1970s and '80s. They say he continually escaped detection to start anew, and is responsible for crimes attributed to various sobriquets across the state: the Cordova Cat Burglar, the Visalia Ransacker, the East Area Rapist, the Creek Bed Killer, the Diamond Knot Killer and the original Night Stalker.
Pulitzer Prize-winning investigative reporter Paige St. John began work on a profile of DeAngelo shortly after his arrest. But what started as a profile soon grew into a yearlong project, as she interviewed friends, family and the detectives who struggled to piece together a broad spectrum of similar crimes. She also spent a great deal of time with the victims of DeAngelo's alleged sexual assaults, some of whom were speaking about their assaults for the first time.
"The Man in the Window," a four-part narrative series and podcast launches today. I spoke with Paige about her reporting, and how the dots were finally connected around the suspected Golden State Killer's various rampages.
How did you decide to embark on this project?
It's in my backyard. There's no escaping it. I was part of the team of reporters that hauled out the day of Joseph DeAngelo's arrest and began covering it as spot news for a week. From there, I just never left it.
Was this a case that you had followed before you began work on the story?
No, I didn't know anything about the case before the day he was arrested.
I'm new to California, from Florida. But I think most people, even in California, don't remember these crimes. If they were aware of the case, it was because of the promotion around [the late writer] Michelle McNamara's book ["I'll Be Gone in the Dark"].
There are still plenty of people in Sacramento who remember the terror at the time, when the rapist was going around. But the killings didn't have that kind of effect, unless you were right in the neighborhood. Because the crimes weren't connected, people at the time really weren't aware that there was a serial killer on the prowl.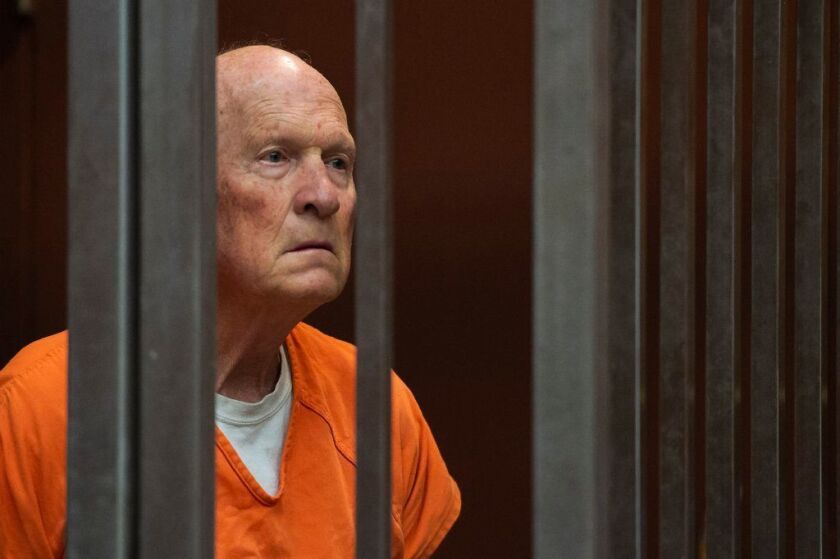 How did the name "Golden State Killer" then enter the zeitgeist as a famous serial killer, after the fact?
A&E had a true crime show called "Cold Case" and this was one of the cases that they profiled. A chat board on the A&E website started up around the TV series. Those are the people that actually kind of brought this back to life. They were scattered all across the country, but for some reason that community latched onto this case and started doing the armchair sleuthing. Some pro boards started up out of that group, and then a Los Angeles magazine writer, Michelle McNamara, came along. She's the one who came up with the phrase "Golden State Killer" around 2011.
The detective community and the armchair sleuths had been calling him EAR/ONS. EARS for the East Area Rapist and ONS for the Original Night Stalker. Those crimes were connected in 2001 by early DNA.
The first part of your series focuses on DeAngelo's ex-fiancee Bonnie Colwell — a woman who was treated really terribly by the press after DeAngelo's arrest. What happened, and how did you build the trust to tell her story?
She's a private individual who suddenly found her life terrorized by the media crush. She basically had to go into hiding. There were TV trucks blocking the driveway of her and her family's homes. Everybody wanted a piece of Bonnie. And some horrible things were being said about her, linking her as the cause for the murder and mayhem.
I approached her cautiously, carefully and slowly. I did not ask for an interview at first. I approached her in the same way I approached the rape victims who were talking to me, by saying you control your story.
When interviewing victims of sexual assault, the best thing you can do is to give them control. I'll help them tell their story, but I'm not taking it from them and I don't want to cause any further harm. It requires a very different kind of reporting, which is especially different from what I'm used to as an investigative reporter.
["The Man in the Window": Read the series and listen to the podcast]
What do you hope that people take away from the series and podcast?
We try to break the mold. This is not straight true crime. This is true crime with a social conscience. I hope that it will wake people up a bit more to the women around them who have been sexually assaulted. And maybe begin some conversations, where they ask and listen.
And now, here's what's happening across California:
TOP STORIES
UCLA is under scrutiny over its handling of a former gynecologist who was charged with sexual battery and exploitation during his treatment of two patients at a university facility. The former UCLA gynecologist's arrest comes more than a year after USC was rocked by allegations that its former campus gynecologist acted inappropriately toward hundreds of students for nearly three decades. Los Angeles Times
The Golden State Warriors will live to see Game 6 of the NBA Finals after narrowly eking out a 106-105 victory over the Toronto Raptors in Game 5. San Francisco Chronicle
Get the Essential California newsletter »
L.A. STORIES
16,000 people in L.A. now live in cars, vans and RVs. But safe parking remains elusive. Los Angeles Times
$339,000 for a restroom? L.A. politicians balk at the cost of toilets for homeless people. Los Angeles Times
Sen. Dianne Feinstein is calling for the suspension of racing at Santa Anita after the track suffered two horse deaths over the weekend. Twenty-nine horses have died at the track since Dec. 26. Los Angeles Times
The well-known Superba Food + Bread team are taking over one of Hollywood's most prominent restaurant spaces. Eater LA
The famously incomplete Target "husk" of Hollywood is once again moving forward, with a new opening date of summer 2020. Curbed LA
Your support helps us deliver the news that matters most. Subscribe to the Los Angeles Times.
IMMIGRATION AND THE BORDER
Customs and Border Protection holding facilities are meant to hold people for 72 hours or less. But a group of asylum seekers say they spent 18 days in San Diego's San Ysidro Port of Entry holding cells. San Diego Union-Tribune
Plus: An in-depth look inside the asylum processing center in the basement of the San Ysidro Port of Entry. Asylum seekers say that border officers denied them food, delayed medical treatment, used physical force against them or other detainees and pressured them to sign paperwork that would trigger their return to Mexico. KQED
POLITICS AND GOVERNMENT
Sen. Kamala Harris' sister, Maya Harris, has served as a chief advisor and loyal confidant in her sister's presidential campaign. Politico
See also: Harris' husband, lawyer Doug Emhoff, takes on a growing public role in the 2020 race. Associated Press
Oakland officials say the budget proposed by their City Council president is "too flawed to fix." San Francisco Chronicle
CRIME AND COURTS
Nearly a decade after the McStay family vanished from their home, a man has been convicted of killing the couple and their two sons and burying their bodies in the Mojave Desert. Los Angeles Times
Lyft has filed a lawsuit against San Francisco, with Lyft alleging that its Bay Area hometown reneged on a deal to give the ride-share company exclusive rights for street-rented bikes in the city. San Francisco Chronicle
THE ENVIRONMENT
Half Dome cables are back up in Yosemite. Here's how to get a permit to reach the summit. Fresno Bee
In the tony Santa Barbara community of Montecito, Rick Caruso's new hotel is already butting heads with locals over beach access. After a group of families celebrating a school graduation on the beach were asked to leave by suit-wearing hotel reps, the families insisted they were well below the high tide line — and therefore on public property. Both sides issued open letters, and the Coastal Commission is now investigating the matter. Santa Barbara Independent
A marble cave deep in the Sequoia National Forest was closed after damage from fires in 2015. The natural wonder finally reopened last weekend. Fresno Bee
CALIFORNIA CULTURE
The search continues for a Sacramento-based automotive writer who disappeared last week while test-driving a motorcycle in Northern California. Sacramento Bee
San Francisco officials are considering banning the sale of e-cigarettes, but JUUL's chief executive says he is committed to keeping the company and its fast-growing workforce in the city. San Francisco Chronicle
Sonoma County's luxury home market prepares for a continuing wave of tech IPOs, which could create thousands of new Bay Area millionaires. Santa Rosa Press Democrat
The company that helped pioneer the "glamping" industry in the United States is about to embark on a major California expansion. Their plans include a tented resort just outside Yosemite and new camps in Joshua Tree, Catalina Island and Sonoma. San Francisco Chronicle
And speaking of high-end tents and the desert, the dates for Coachella 2020 have been announced. Tickets will go on sale this Friday. Los Angeles Times
An Orange County lawyer grows Peru's beloved ají amarillo for big-name chefs and home cooks alike. Alta Magazine
The last Farrell's Ice Cream Parlour has closed in Brea. Orange County Register
Fox's "Dark Phoenix" debacle: "Dark Phoenix" was supposed to be the ultimate X-Men movie. Instead, it had a dismal opening stateside. Here's what went wrong. The Hollywood Reporter
Here are 10 of the most recommended books about the Bay Area and California. KQED
Man versus nature versus man: A history of art and community at the Bay Area's Albany Bulb. Curbed SF
CALIFORNIA ALMANAC
Los Angeles: cloudy, 87. San Diego: cloudy, 77. San Francisco: sunny, 79. San Jose: sunny, 94. Sacramento: sunny, 103. More weather is here.
AND FINALLY
Today's California memory comes from Steve Engel:
"The first years of my life were lived in the Pico-Robertson area. In our backyard was an incinerator made of concrete with an iron door. It was my job to take out the trash and burn it. Always interested in science and loving to play with fire, I was fascinated when I read about dust explosions. I would get a good fire going in the incinerator, stand about six feet away, and throw in a handful of flour. Whoom!
Eventually I launched amateur rockets and became an aerospace engineer."
If you have a memory or story about the Golden State, share it with us. (Please keep your story to 100 words.)
Please let us know what we can do to make this newsletter more useful to you. Send comments, complaints, ideas and unrelated book recommendations to Julia Wick. Follow her on Twitter @Sherlyholmes.
---