Newsletter: Play Next: From print to podcasts
Good morning, I'm Paige Hymson, a podcast producer here at The Times. We have some exciting news about a brand-new podcast coming out next week. The trailer was just released and you can take a listen here and subscribe wherever you listen to podcasts.
"Larger Than Life" is a documentary podcast reported, written and hosted by Times staff writer Daniel Miller and produced by L.A. Times Studios. It's about Big Willie Robinson, a 6-foot-6, muscle-bound street racer who preached peace a quarter-mile at a time. Cops and criminals, movie stars and miscreants, even Crips and Bloods — out at the drag strip, Big Willie could get them all to see eye to eye, easing tensions and making L.A. a safer and more unified place.
Episodes 1 and 2 will be available July 9. While you're waiting for them to be released, don't forget to join the "Larger Than Life" Facebook group. We'll be sharing parts of the story and discussing it with members of the group.
Subscribe to the Play Next podcast newsletter »
From Print to Podcasts
An inside glimpse into the audio industry that's taking newsrooms by storm.
This week, I spoke with some of the producers and editors we've been working with about the growing number of journalists transforming their reporting into audio stories and narrative podcasts.
Here at The Times, we've already developed Christopher Goffard's reporting into the popular "Dirty John" series and Paige St. John's reporting into the "Man in the Window" podcast, and there are more on the horizon.
"It totally makes sense for reporters to want to explore this medium," said Steve Clow, deputy metro editor at the Los Angeles Times.
Clow worked with Goffard and St. John on "Dirty John" and "Man in the Window." He helped the journalists decide how to frame the story and edited many, many scripts.
"Everyone needs to understand that [the podcast] is a different beast, requiring an enormous amount of work in a foreign platform. But the finished product makes it worthwhile," Clow said.
He acknowledges it was a learning experience for him and for the reporters, both of whom were creating podcasts for the first time.
"They had to teach themselves new skills: How to record for broadcast, what equipment to use, the various tricks of the trade. They had to chase down audio. In Chris' case, it was an old VHS tape of a wedding from 30 years earlier. Paige immersed herself in audio archives from the 1970s and pushed tirelessly to secure the necessary clearances," Clow said.
Catherine Saint Louis, senior editor of podcasts at Neon Hum Media, agrees that audio storytelling poses fresh challenges for print reporters.
"People are always surprised with how much work a podcast takes," said Saint Louis. "It's very much like learning another language. And the best reporters are the ones who recognize that."
Saint Louis edited "Larger Than Life," The Times' podcast set to be released July 9, and has been working on it since last fall.
"There is no hard-and-fast rule for reporters, I think, that make the transition to podcasting," Saint Louis said. "There is no recipe, but understanding that you're speaking a different language and understanding the monumental challenge is important."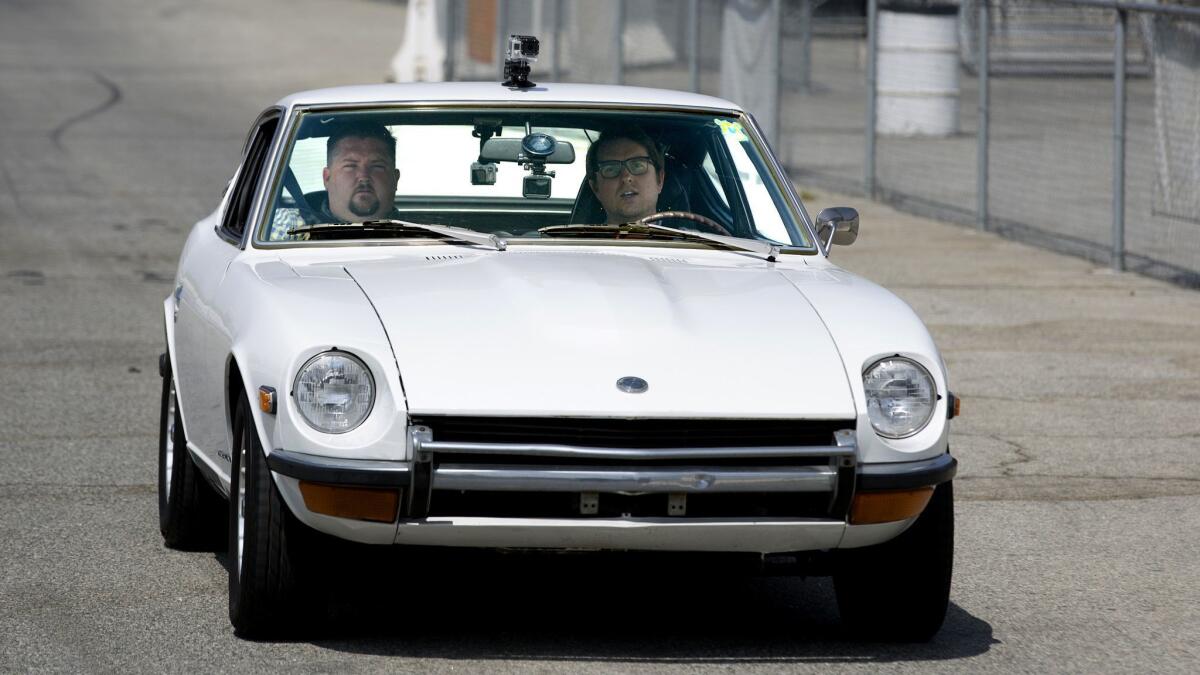 Karen Lowe was the senior producer and editor at Wondery for "Dirty John" and "Man in the Window."
"This collaboration between podcast producers and newspapers is a relatively new phenomenon," Lowe said, "and it is such a perfect marriage."
This partnership provides opportunities for both newspapers and podcast networks to grow.
"The credibility of these newspapers signals to the listener that they can trust the veracity of what they're hearing," Lowe said.
It doesn't look like the trend to turn print reporting into podcasts will be ending anytime soon. Oren Rosenbaum, head of emerging platforms at United Talent Agency, says he's seen the rapid growth of the audio market firsthand.
"As the demand for podcasts has taken off, the medium has increasingly become the focus of my work," Rosenbaum said.
He represents podcast creators, talent and networks looking to expand their podcasts into new arenas such as television and film. He also works with clients including actors, writers, directors, producers and corporate brands to strategize on how to best integrate their ideas into the podcast medium. Rosenbaum said he has noticed more and more television and film content is relying on podcasts as source material, especially in the nonfiction space.
"The truth is generally stranger than fiction," Rosenbaum said. "And people are usually captivated by incredible stories outside of their personal experiences."
It's not too late to listen to the "Man in the Window" podcast. Download and subscribe here. »
Picks of the Week
Each week, different Times staff members will share their personal podcast recommendations with you. Here's what Abbie Fentress Swanson, executive producer of podcasts and audio at the L.A. Times, is listening to now:
"The Horror of Dolores Roach," Gimlet: Gentrification, cannibalism, empanadas. These are some of the threads woven into this sound-rich, nail-biting fictional narrative written by Aaron Mark. If that's not enough to get you to tune in, the actors who voice the roles of Dolores and her stoner friend Luis do not disappoint: Panamanian American dancer, singer and actress Daphne Rubin-Vega and actor Bobby Cannavale.
"Julie: The Unwinding of the Miracle," Pineapple Street Media: If you knew you were dying, how would you prepare for that moment? That's the question explored by Julie Yip-Williams in this poignant, personal and funny podcast. Yip-Williams was born blind in Vietnam. She and her family fled to Hong Kong as refugees before putting down roots in Monterey Park. Then there's the point in Yip-Williams' life where this three-part podcast begins: preparing to die from terminal colon cancer.
"Conan O'Brien Needs a Friend," Earwolf: Nothing makes time fly on the freeway like this freewheeling, irreverent podcast from comedian Conan O'Brien. Conan's back-and-forth with his celebrity guests is peppered with droll commentary from personal assistant Sona Movsesian and producer Matt Gourley. Conversations often give way to surprisingly intimate moments. If you're new to the show, start with the episodes featuring Jeff Goldblum, Martin Short, Lisa Kudrow and Will Ferrell.
Special thanks to Camila Victoriano of L.A. Times Studios for helping to develop this newsletter.
Coming Up
Episodes 1 and 2 of "Larger Than Life" are available July 9. Don't forget to listen to the trailer here.
Have a smart home device? Ask to hear "Los Angeles Times" news briefs every weekday for all the latest updates. Here's how.
Thank you for reading this newsletter from the Los Angeles Times.
Invite family, friends and colleagues to sign up here.
Not a subscriber? Get unlimited digital access to latimes.com. Subscribe here.
Get our L.A. Goes Out newsletter, with the week's best events, to help you explore and experience our city.
You may occasionally receive promotional content from the Los Angeles Times.