Newsletter: Today: An Apprentice in the White House: You're Fired! But Wait, There's More.
I'm Davan Maharaj, editor-in-chief of the Los Angeles Times. Here are some story lines I don't want you to miss today.
TOP STORIES
An Apprentice in the White House: You're Fired!
Today, President Trump will try to hire a new Supreme Court justice, after Republicans spent nearly a year thwarting President Obama's nominee. But on Monday, Trump was busy uttering the words of his persona in his reality show, "The Apprentice." The ICE chief was given walking papers. But the firing that caused a firestorm was that of acting Atty. Gen. Sally Yates, who said she could not defend Trump's executive order temporarily banning refugees and travelers from certain countries (read her letter here). The White House responded viciously, saying she had "betrayed the Department of Justice." The move sent another round of shock waves through Washington, and more legal fights over the order are brewing. Meanwhile, Trump's pick for attorney general, Sen. Jeff Sessions, awaits confirmation, possibly this week.
You Think This Is Chaotic? Trump's Lieutenants Say They've Only Just Begun
Despite criticism over the travel ban from fellow Republicans on Capitol Hill, career diplomats, national security experts and world leaders, Trump's top aides say they're just getting started. Advisors such as Steve Bannon and Stephen Miller see themselves as launching an experiment to fundamentally transform immigration to the U.S. — and to block those who, in their view, won't assimilate into American society. Their focus: people from majority-Muslim countries.
More About Immigration
-- What every member of Congress from California has said, or hasn't said, about Trump's immigration order.
-- USC, UCLA and universities across California are dealing with uncertainty about the future of international academic exchange.
-- A look at the volunteer lawyers who mobilized to stop detentions and deportations at LAX.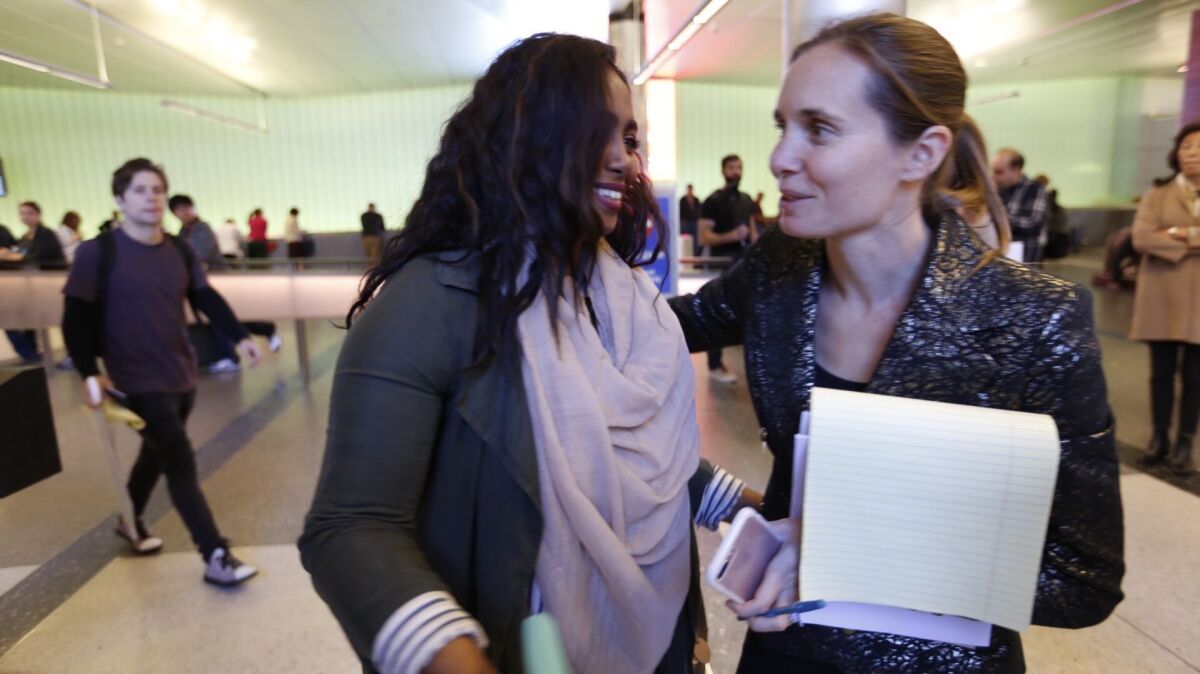 Will the Senate Go Nuclear Over Trump's Supreme Court Pick?
Nearly a year has passed since Justice Antonin Scalia died and left a vacancy on the Supreme Court. Tonight, Trump will reveal his pick, and Senate Democrats are in no mood to cooperate. They could mount a rare filibuster to block the nomination — except Democrats themselves created a "nuclear option" in 2013 that Republicans could now use against them.
In Goldwater Country, Some Feel Great Again
For Arizona voters who were outraged with eight years of President Obama, the first week of the Trump administration has been a delight. "It's everything he said he wanted to do, and that's something we needed," says one resident of Goodyear, a conservative suburb west of Phoenix. And they're hoping for more.
Politics Pierces the Corporate Veil of Silence
For corporate America, silence generally has been golden when it comes to politics. But more and more chief executives — the leaders of Google, Starbucks, Ford, Goldman Sachs, among them — are speaking out against Trump's immigration policy, lest their reputations be tarnished. And, as columnist Michael Hiltzik writes, look no further than Uber for a lesson in how quickly things can turn against a company.
CALIFORNIA
-- Despite secrecy, some portraits of those who were detained at LAX are emerging.
-- After four decades, authorities say they've figured out who killed Karen Klaas, the ex-wife of Righteous Brothers singer Bill Medley.
-- A rape victim in San Diego did her own detective work to find her assailants, discovering they bragged online about the night she was assaulted.
-- Harold Rosen, who oversaw the creation of the world's first geosynchronous communications satellite in El Segundo, has died at age 90.
HOLLYWOOD AND THE ARTS
-- Theater review: A stunning, gravity-defying adaptation of "Moby Dick" speaks eloquently to our current turmoil.
-- First person: Reporter Jeffrey Fleishman remembers a strange, long-ago trip to visit a director in Tehran that revealed a lot about the true Iran.
-- Actor Kal Penn says he's raised more than $600,000 for Syrian refugees.
-- The Atlanta hip-hop trio Migos is having a moment with its chart-topping hit "Bad and Boujee" and its new album, "Culture."
CLASSIC HOLLYWOOD
Ninety-seven years ago this week, Walt Disney started his first job as an artist at the Kansas City Slide Co. He earned $40 a week.
NATION-WORLD
-- A man known for taking right-wing, nationalist positions was charged with six counts of murder in the Quebec mosque shooting.
-- U.S. officials say Iran carried out a medium-range ballistic missile test that may violate a United Nations Security Council resolution.
-- The Boy Scouts of America says it will allow transgender children who identify as boys to enroll in its boys-only programs.
-- President Rodrigo Duterte of the Philippines has compared himself to Hitler, but that hasn't hurt his popularity.
-- More than 1 million people have signed a petition urging Britain to cancel a state visit by Trump because he could embarrass the queen.
BUSINESS
-- Tesla Motors and Southern California Edison have unveiled one of the world's largest energy-storage facilities. The idea is to reduce reliance on fossil fuels.
-- Sony Corp.'s nearly $1-billion write-down on its movie business represents an extraordinary step for the struggling studio.
SPORTS
-- Trump's travel ban could affect L.A.'s bid to get the 2024 Summer Olympics, but other contenders are dealing with politics too.
-- USC's Bennie Boatwright is ready to return to the basketball court after adjusting to life off it because of injuries.
OPINION
-- Trump is taking the Bannon Way, and it will end in disaster.
-- Mexico's a great neighbor, but we could turn it into a bad one.
WHAT OUR EDITORS ARE READING
-- Professor and author Eliot A. Cohen sees the time we are living in as "a clarifying moment in American history." (The Atlantic)
-- The mystery of who bought 19.5% of a Russian oil giant. (Reuters)
-- A group is trying to brighten Baghdad by painting the city's maze of security walls. (BBC)
ONLY IN L.A.
Now they're cooking with gas … blowtorches, that is. In a fiery twist on dinner theater, the Gastro Garage crew cooks things with blowtorches, drills and other pieces of equipment you might find on a tool bench. Get a closer look (OK, not too close) at how they crisp their crullers.
Please send comments and ideas to Davan Maharaj.
If you like this newsletter, please share it with friends.