Newsletter: Today: In Montecito, a Search for Survivors and the Fallen
At least 17 people have died in the flooding and mudslides that hit Montecito this week, and officials fear they may find more victims.
TOP STORIES
In Montecito, a Search for Survivors and the Fallen
"Is anybody here?" That question hung in the air as teams of rescuers and residents looked for survivors in the mudflows that tore through Santa Barbara County. The aftermath of Tuesday's rainstorm killed at least 17 people, left hundreds trapped, and destroyed at least 100 single-family homes and eight commercial properties. It also damaged 300 more residences and blocked the 101 Freeway, which is expected to remain closed through at least tonight. With gas, water and electricity knocked out in most of the area, Montecito — a community that is home to celebrities (witness Oprah Winfrey's video) — "is in the Stone Age right now," as one fire official put it. And once again, the debate over the use of emergency cellphone alerts is coming up; in this case, officials didn't send one until the flooding had already begun. Here is more from the scene.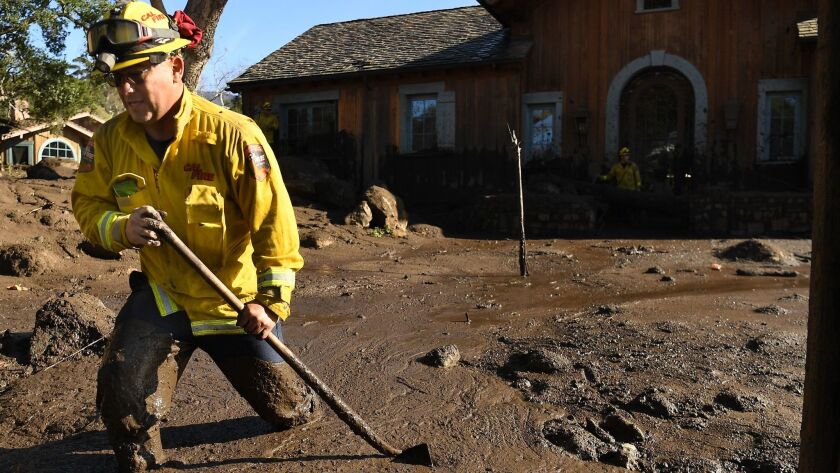 Immigration: The Raids, the Reprieve and the Reaction
Yesterday's raids on 98 7-Eleven stores in 17 states and the District of Columbia resulted in the arrests of 21 people suspected of being in the U.S. illegally. The larger message: The Trump administration is ramping up a once commonly used and widely feared tactic to punish employers and target workers too. The action came on the same day President Trump railed against a court ruling that temporarily keeps the Deferred Action for Childhood Arrivals program in place. Some worry that the reprieve may take away the urgency in Congress toward a more lasting solution.
House Republicans Exit, Stage Right
To veteran political watchers, the announcement that Republican Rep. Darrell Issa of Vista would retire came as a surprise, even if Issa, the richest man in Congress, was also seen as the most vulnerable GOP incumbent in California. His departure, along with that of Rep. Ed Royce of Fullerton, means at least 31 experienced House Republicans nationwide are heading for the exits this year. Democrats need just 24 seats to retake control of the House. Will a big blue wave, starting in the West, roll through the November elections? Mark Z. Barabak takes a closer look in this analysis.
Will You Have to Work to Get Medicaid?
In short, the answer is: "Probably not." Still, for the first time in Medicaid's half-century history, the Trump administration is clearing the way for states to impose work requirements. The vast majority of those who depend on the government health insurance program for the poor will be exempt; only those who are of working-age, non-disabled and living in a state that seeks to impose the requirement will be affected. Still, patient advocates expect that some poor people, faced with stacks of paperwork, will drop out.
More Politics
-- Trump's "American energy dominance" plan got a big lump of coal this week; is he going to place tariffs on solar cells and panels later this month?
-- The president, who once said he would "be glad to" talk to special counsel Robert S. Mueller III, suggested no such interview need take place.
-- Trump, still stewing from the release last week of a scathing book, renewed his call to alter libel laws, saying his administration would take "a very, very strong look" at them.
-- Former Vice President Joe Biden had some sharp words of advice for Trump: "Grow up. Stop focusing everything through the prism of me."
Why U.S. Doctors Make House Calls, Online, to China
China provides basic healthcare to nearly all its 1.4 billion people, but that doesn't mean patients put much faith in an overstretched system where most doctors are paid less than $15,000 a year. For those Chinese who can afford it, a number of new businesses are setting up teleconferences with American doctors. They can't prescribe medication but can offer second opinions on treatment options for cancer and other diseases.
MUST-WATCH VIDEO
-- In Montecito, scenes of destruction, search and rescue.
-- Two films starring Spencer Tracy in the courtroom are film critic Kenneth Turan's DVD picks of the week.
CALIFORNIA
-- Lawmakers have a $190.3-billion state budget plan from Gov. Jerry Brown to consider. Here are some ot the highlights.
-- As part of that plan, Brown wants California to launch its first fully online public community college. The idea is to help young adults gain skills for better jobs and greater economic mobility.
-- An L.A. man accused of making a "swatting" phone call that caused a fatal police shooting in Kansas is now wanted in Canada for a similar alleged hoax made a week earlier.
-- A study says rat poison from marijuana farms is harming federally threatened northern spotted owls in three Northern California counties.
HOLLYWOOD AND THE ARTS
-- If it's winter, it must be time for a Liam Neeson thriller. "The Commuter" is his latest.
-- The film "Saturday Church," about a 14-year-old grappling with questions about gender identity, has a lesson or two for Hollywood.
-- A celebrity reading of the screenplay for the Watergate drama "All the President's Men" is coming to L.A. City Hall. The organizer says it's a show of support for the 1st Amendment.
-- Barack Obama shares the secret to his signature "dad moves" on David Letterman's new Netflix talk show.
CLASSIC HOLLYWOOD
David L. Wolper produced countless documentaries, movies and TV shows, but he was best known for executive-producing the groundbreaking TV miniseries "Roots" and for orchestrating the opening and closing ceremonies of the 1984 Olympic Games in L.A. For Wolper, who was born on this date in 1928 and died in 2010, "the most thrilling week of my career" came when "Roots" aired and he saw the public respond.
NATION-WORLD
-- The Supreme Court sounded closely split in a case over whether Ohio and other states may remove voters from the rolls who have not voted in two elections and failed to respond to a mail notice.
-- The New York, New York Hotel and Casino became the second large casino on the Las Vegas Strip to be robbed within the last three months. This time, the suspect escaped in a taxi.
-- The Vermont Legislature became the first in the United States to approve a bill legalizing recreational marijuana. All other states have done so via ballot measures going to the voters.
-- Weeks after Mexico recorded its most murderous year on record, the United States urged its citizens not to visit five violence-plagued Mexican states.
-- When a Louisiana teacher questioned a superintendent's pay raise, she got arrested. The video of the incident went viral, and the school board reportedly received death threats.
BUSINESS
-- Two Democratic senators have proposed "massive and mandatory" fines for data breaches at Equifax Inc. and other credit reporting companies, starting at $100 for each consumer affected.
-- The next generation of wearable technology being shown at CES includes an electronic sun exposure sensor that can be placed on a thumbnail.
SPORTS
-- Adam Rippon, who came out as gay in 2015, has overcome bullying and self-doubt to earn a spot on the U.S men's Olympic skating team.
-- The Clippers' Lou Williams dropped 50 points to lead his team to its first win over the Golden State Warriors since 2014; meanwhile, the Warriors' Kevin Durant hit the 20,000-point career mark.
OPINION
-- Former Republican strategist Dan Schnur writes that Rep. Ed Royce's departure from Congress is going to make it even tougher to restore America's international reputation.
-- Take it from a former Division I athlete: College sports, with their "revenue" and "nonrevenue" athletes, are just like Jim Crow.
WHAT OUR EDITORS ARE READING
-- "I had a chuckle to myself": A University of Toronto professor's 10-year-old book, titled "Fire and Fury," is selling briskly, but it's not about Trump. (CBC)
-- The author of a Google spreadsheet that listed men in the media industry who have been accused of sexual misconduct has come forward to explain why she created it and how it got beyond her control. (The Cut)
-- Serena Williams discusses becoming a mother and the medical emergency she dealt with after giving birth. (Vogue)
ONLY IN CALIFORNIA
Have you seen the American Market & Deli, Club Raven or Thrift Town? If so, you must have been in Sacramento — or seen the film "Lady Bird." Though California's capital has rebranded itself from "City of Trees" to "America's Farm-to-Fork Capital," the Golden Globe winner and Oscar contender is perhaps the best marketing vehicle yet for the 916.
If you like this newsletter, please share it with friends. Comments or ideas? Email us at headlines@latimes.com.
---