Newsletter: Today: Build That Dam Wall?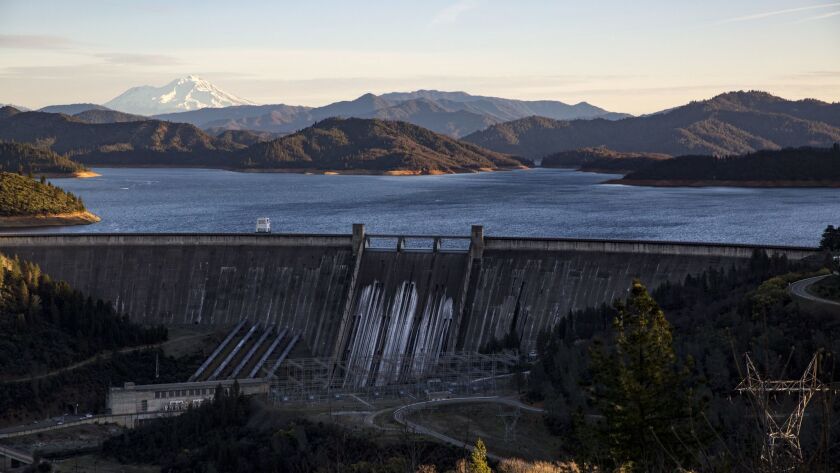 The Trump administration wants to make one of America's tallest dams even taller.
TOP STORIES
Build That Dam Wall?
President Trump's desire to build a wall on the border with Mexico was front and center this week, but there's another huge project hundreds of miles to the north that his administration is pushing, against California leaders' will: adding nearly two stories in height to the Shasta Dam. State law prohibits the 602-foot structure from getting any taller. Yet Central Valley farmers are eager for more water to grow their crops, and if constructed, the project promises a big payoff for water interests with close ties to the administration. Senior GOP members of Congress are looking to give it a boost as part of a spending bill next week. Will it result in another battle between the state and the federal government?
This Turbulence Is Not at 30,000 Feet
After flying to Southern California and St. Louis, Trump has landed back at the White House. There, rumors are swirling about the fates of (take a breath) Atty. Gen. Jeff Sessions, national security advisor H.R. McMaster, Veterans Affairs Secretary David Shulkin, Chief of Staff John F. Kelly and Housing and Urban Development Secretary Ben Carson. Seem chaotic? The president's supporters tend to "see this as Trump asserting himself," as one puts it. Meanwhile, Trump and the GOP have another concern, out of this week's special election in Pennsylvania: Is it a sign the tax cut won't give a boost to Republicans in the midterm election?
More Politics
-- A little more than a week after Gary Cohn quit, Larry Kudlow has been named as Trump's chief economic advisor. He is, similar to Cohn, a staunch free-trader with experience on Wall Street.
-- The FBI office that handles employee discipline has recommended firing former Deputy Director Andrew McCabe, even though Justice Department officials are still reviewing the matter.
-- The Stormy Daniels swirl of trouble for Trump: How bad is it?
'Now This Is Our Job'
In Washington, D.C., they sat silently with their backs to the White House. In Los Angeles, they shouted from megaphones and recited poems. In Parkland, Fla., they staged two walkouts and gathered on a football field for a group hug. All over the U.S., teenagers held 17-minute protests to honor the victims of last month's shooting at Marjory Stoneman Douglas High School and call for an end to gun violence. "Students are tired of waiting for their parents to do something about it," said Deshowe Johnson, a 15-year-old sophomore at Hamilton High School on L.A.'s Westside. "Now this is our job."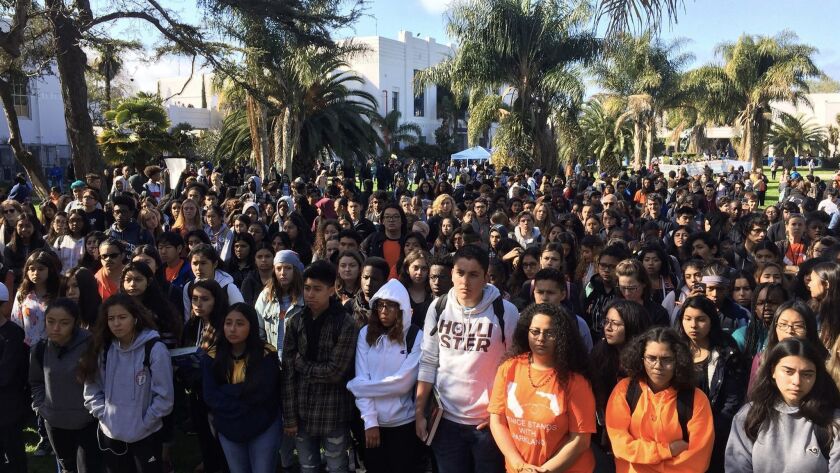 Nothin' but a 5G Thang
Remember when the big concern with wireless technology was "Can you hear me now?" These days, it's an integral part of our lives, and with the advent of 5G, the fifth-generation mobile network, it will play an even bigger role by linking up self-driving cars, internet-connected homes and more. That's a big reason why the Trump administration blocked Singapore-based Broadcom's hostile takeover attempt of Qualcomm, the San Diego maker of 5G chips that will go into any internet-accessible device.
An 'Artists' Museum' or an Artists' Lament?
The Museum of Contemporary Art in downtown L.A. has had a tumultuous history, but it's always prided itself on being founded by artists. Now some are calling into question its identity as an "artists' museum" after the firing of Helen Molesworth, MOCA's highly respected chief curator. She was a key figure in guiding the museum's artistic vision.
MUST-WATCH VIDEO
-- Students in Los Angeles protest gun violence and school shootings.
-- The gorgeous and the grim in Dublin, Ireland, and in the green hills beyond.
CALIFORNIA
-- Environmental and consumer groups urged the city of L.A. to pick a new watchdog to monitor the Los Angeles Department of Water and Power, saying the current "ratepayer advocate" hasn't done his job.
-- A jury has awarded $33.5 million to the parents of a 29-year-old man killed by a San Bernardino County deputy.
-- A UCLA professor accused of sexual harassment has lost his job and any chance of future employment with the University of California under a settlement announced this week.
-- Authorities say a teacher at a Monterey County high school accidentally fired a gun into the ceiling of a classroom during a lecture on "public safety awareness," injuring three students.
HOLLYWOOD AND THE ARTS
-- A brief history of Stephen Hawking's time as a pop culture icon.
-- Faith-based films are no longer a novelty, and that means studios are trying harder to attract audiences.
-- At the South by Southwest Music Festival in Austin, Texas, a sense of outrage is in the air.
-- Frank Gehry has been selected to design a campus extension for the Colburn School, including a 1,100-seat concert hall that will further expand the Grand Avenue arts corridor in downtown L.A.
CLASSIC HOLLYWOOD
On this date in 1945, the Oscar went the way of "Going My Way," which was honored with awards for best picture, lead actor (Bing Crosby), supporting actor (Barry Fitzgerald), direction (Leo McCarey), screenplay (Frank Butler and Frank Cavett), original story (McCarey) and song ("Swinging on a Star").
NATION-WORLD
-- On the same day the student walkouts took place and the Parkland shooting suspect was arraigned, a Senate panel explored why the FBI missed warnings before the school shooting.
-- Iranians are bracing for more turmoil with Trump's nomination of CIA Director Mike Pompeo as secretary of State. One former diplomat called Pompeo "cowboyish in character and eager to start a war."
-- Britain is expelling 23 Russian diplomats in response to the poisoning of a retired Russian double agent and his daughter.
-- Seven years on in Syria, nobody seems willing to stop the bloodshed.
BUSINESS
-- The U.S. Securities and Exchange Commission sued Theranos Inc. and its founder, accusing her and the firm's former president of raising more than $700 million from investors through an elaborate fraud. Columnist Michael Hiltzik says the case indicates there are more companies like Theranos out there.
-- Toys R Us is planning to sell or close all 800 of its U.S. stores, affecting as many as 33,000 jobs.
-- United Airlines is facing new criticism for the death of one dog and a mix-up with two others.
SPORTS
-- March Madness begins today, and by all indications, the college basketball scandal will do little to decrease interest in it.
-- How the NFC West was redone, with the Rams and the 49ers doing a bang-up job.
OPINION
-- Cutting off the public's beach access to appease a billionaire would be unconscionable.
-- Trump should rethink his Federal Reserve picks if he wants to get reelected.
WHAT OUR EDITORS ARE READING
-- What's it like for Jon Huntsman, the U.S. ambassador to Russia? "I've been able to access people who no ambassador in recent years has been able to access." (Foreign Policy)
-- This 98-year-old nun explains what she says in the huddle to Loyola University-Chicago's basketball team. (New York Times)
-- Dagnabbit! Where does that word come from? (Atlas Obscura)
ONLY IN L.A.
You've heard of the "farm-to-table restaurant," but how about a "garden-on-the-neighbor's-front-lawn-to-table restaurant"? That's what chef Kevin Meehan has accomplished at Kali on Melrose Avenue, after knocking on doors in the neighborhood to find someone who'd let him plant a garden to grow ingredients for his eatery. On his sixth try, "The guy who owns it just said, 'Hell, yeah.' He wants no money. He won't even take money for the water," Meehan says. "So I beautified his front yard. Boom."
If you like this newsletter, please share it with friends. Comments or ideas? Email us at headlines@latimes.com.
---