Newsletter: Today: Trump's Double-Negative Defense
Under a barrage of criticism that he failed to stand up to Russian President Vladimir Putin, President Trump said he misspoke. But is it enough to contain the fallout?
TOP STORIES
Trump's Double-Negative Defense
What a difference an "n't" makes? After creating an international furor and generating headlines like "Putin's poodle," President Trump said that what he really meant to say at his Helsinki summit with Vladimir Putin was that he accepts the consensus of American intelligence agencies that Russia interfered in the 2016 election. Addressing his statement 24 hours earlier that "I don't see any reason why it would be" Russia, Trump said at the White House: "The sentence should have been 'I don't see any reason why it wouldn't be' Russia." But he added that the perpetrators "could be other people also," an assertion not supported by known intelligence — and undercutting his do-over.
More Politics
-- "We see the utter loss of shame among political leaders": Without mentioning Trump by name, former President Obama took aim at "strongman politics" in a speech in South Africa.
-- Special counsel Robert S. Mueller III is seeking immunity for five potential witnesses in next week's trial of former Trump campaign chairman Paul Manafort.
-- Rep. Linda T. Sanchez of Whittier has begun her official bid to lead the House Democratic Caucus.
-- Charities in red states could become collateral damage in the GOP's fight against high taxes in California and other blue states.
Can't See the Forest for the Trees?
Environmentalists, loggers and state and U.S. Forest Service officials rarely see eye to eye. But after the Rim fire in 2013 devastated Sierra Nevada forests west of Yosemite National Park, they came together for an ambitious restoration and reforestation plan. Five years later, that coalition is fraying, as preservationists and logging advocates backed by the Trump administration go back and forth.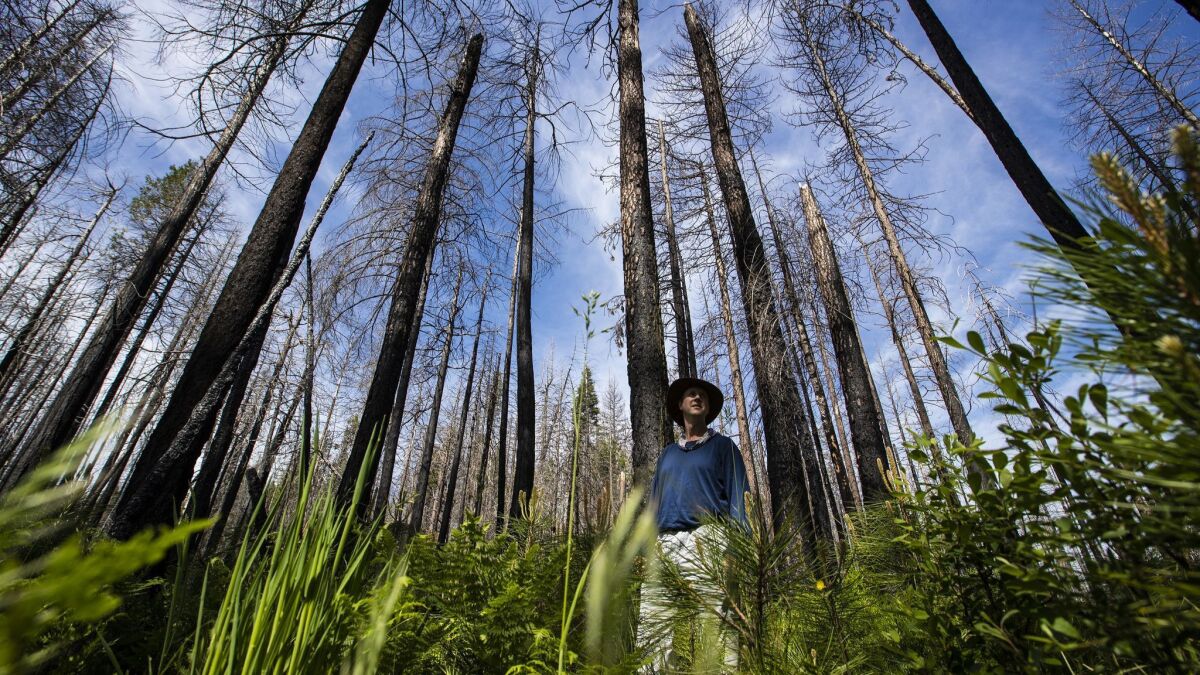 Climate Change Is Real Close By
Outside, your plants are dying. Inside, you're sweating bullets, even with the AC on. That in and of itself isn't proof of global warming, of course. It's summertime in California, and it's supposed to be hot. But as various environmental experts told columnist Steve Lopez, there's something bigger going on, as nighttime temperatures rise significantly and record-setting hot days outnumber record-setting low temperatures by a 5 to 1 ratio.
A Cough That Kills
In San Bernardino County, the death of a baby has provided a tragic reminder that whooping cough can be deadly, especially for infants. Public health officials have been preparing for a possible outbreak of the disease, also known as pertussis, though they say this does not signal that one has begun. But they do point out that expectant mothers should be vaccinated as the first step to preventing tragedy.
The Endless Scroll
A new study of L.A.-area teens has found a modest but intriguing association between digital media use and ADHD symptoms. But as you may have learned in science class, correlation does not imply causation. So, it's not known if all that screen time causes ADHD symptoms such as impulsivity, hyperactivity and difficulty sustaining attention, or if such problems drive teens to go online more.
Sign up to get Today's Headlines delivered to your inbox. »
MUST-WATCH VIDEO
-- Two very different tours of the Los Angeles Times' historic downtown building.
CALIFORNIA
-- Relatives of Anthony Avalos are demanding that prosecutors criminally investigate any social workers connected to the slain 10-year-old, saying they failed to remove him from his mother's home.
-- A special audit team is recommending that law enforcement investigate officials and employees of the Montebello Unified School District for potential fraud as well as misappropriation of funds and assets.
-- A federal judge has lifted an order requiring the Los Angeles Times to remove information in an article about a former Glendale police detective.
-- Remember the underwear-clad rapper who shut down the 110 Freeway during rush hour? His publicity stunt may have big financial consequences.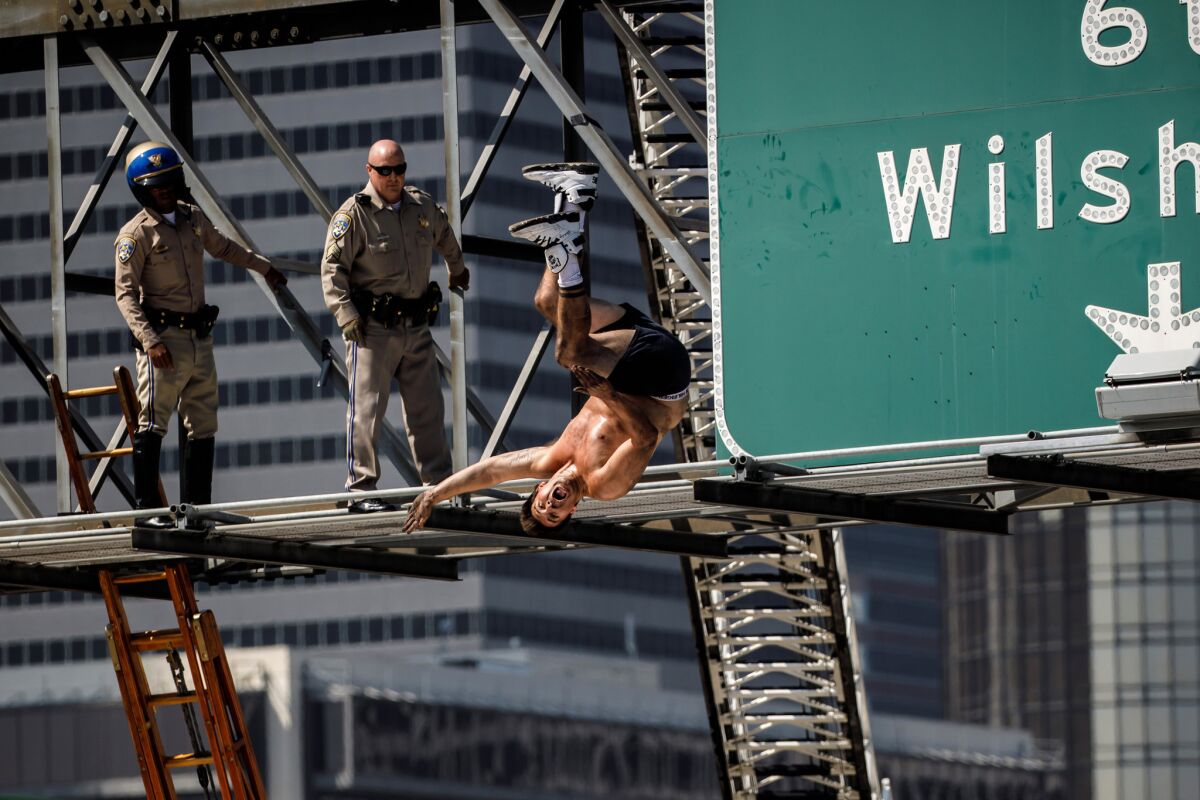 HOLLYWOOD AND THE ARTS
-- San Diego Comic-Con starts with media previews today. Though mainstays such as "Game of Thrones" and Marvel Studios are taking a pass this year, here are some events worth checking out.
-- "Icons of Style: A Century of Fashion Photography, 1911-2011" at the J. Paul Getty Museum left our art critic wanting more — and less.
-- With "Sesame Street" on HBO and endless streaming options for children's TV, broadcasters want the FCC to reexamine the decades-old requirements for educational programming.
-- Lin-Manuel Miranda, the creator of the Broadway hit "Hamilton," will release a book of his Twitter pep talks this fall.
CLASSIC HOLLYWOOD
Laraine Newman was 23 when she became a member of the Not Ready For Prime-Time Players on "Saturday Night Live." Over five years, she played Connie Conehead, Sheri the Valley Girl and even Rosalyn and Amy Carter. Her favorite sketch? Read on.
NATION-WORLD
-- MGM Resorts International is suing survivors of the Las Vegas massacre, claiming a Sept. 11-era terrorism law protects the company from lawsuits.
-- In Nicaragua, national police and armed civilians retook a neighborhood that's become a center of resistance to President Daniel Ortega's government.
-- A migrant aid group has accused Libya's coast guard of abandoning three people in the Mediterranean Sea, including a woman and a toddler who died.
-- Scientists have discovered 12 new moons orbiting Jupiter while hunting for the elusive Planet X.
BUSINESS
-- Hollywood-based digital video studio Brat has secured $30 million to produce online shows for teenagers. Never heard of it? Ask a teen about "Chicken Girls: The Movie."
-- The NAACP has lifted its travel advisory against American Airlines, citing progress in bias training and other changes.
SPORTS
-- The Dodgers are pursuing Baltimore Orioles star shortstop Manny Machado, and columnist Bill Plaschke thinks the team should go for it, despite the risks.
-- For two-time U.S. Open champion golfer Brooks Koepka, the chip on his shoulder is still there entering the British Open.
OPINION
-- The Republican response to Trump and Putin's lovefest was a profile in cowardice, writes Doyle McManus.
-- How California prepares for wildfires and pays for the aftermath should be reexamined. Just don't let utilities off the hook.
WHAT OUR EDITORS ARE READING
-- That "missing" Democratic National Committee server? It's not missing nor is it a single device. Here's how computer intrusion investigations work. (Daily Beast)
-- A deadly superbug yeast has been called "more infectious than Ebola." (Wired)
-- Saudi Arabia's small but thriving art scene was largely built by women. (Artsy)
ONLY IN CALIFORNIA
Location, location, location. In Beverly Hills, $1.4 million will get you a modest condo. But 200 miles north of L.A., it will get you an entire Old West ghost town. An investment group has purchased the 19th century mining town of Cerro Gordo, including a hotel, saloon, museum, chapel, a few single-family homes, an eight-bed bunkhouse and 300 dusty acres. Ghosts included for free.
If you like this newsletter, please share it with friends. Comments or ideas? Email us at headlines@latimes.com.
---