Newsletter: Today: Where There's Heat, There's Fire
Record-breaking heat in California is bringing unprecedented destruction from fires.
TOP STORIES
Where There's Heat, There's Fire
In the past, scientists have been reluctant to cite climate change as a major factor in California's worsening wildfires. Not anymore. Experts in the field say the connection between rising temperatures in California and tinder-dry vegetation is becoming impossible to ignore. "The temperatures have just been almost inexorably warmer all the time," says UCLA climate scientist Daniel Swain, and fires "burn more intensely if the fuels are extremely dry." The death and destruction this month has only added to California's worst wildfire year on record, which has left dozens dead since October and more than 10,000 structures lost. Here is the latest.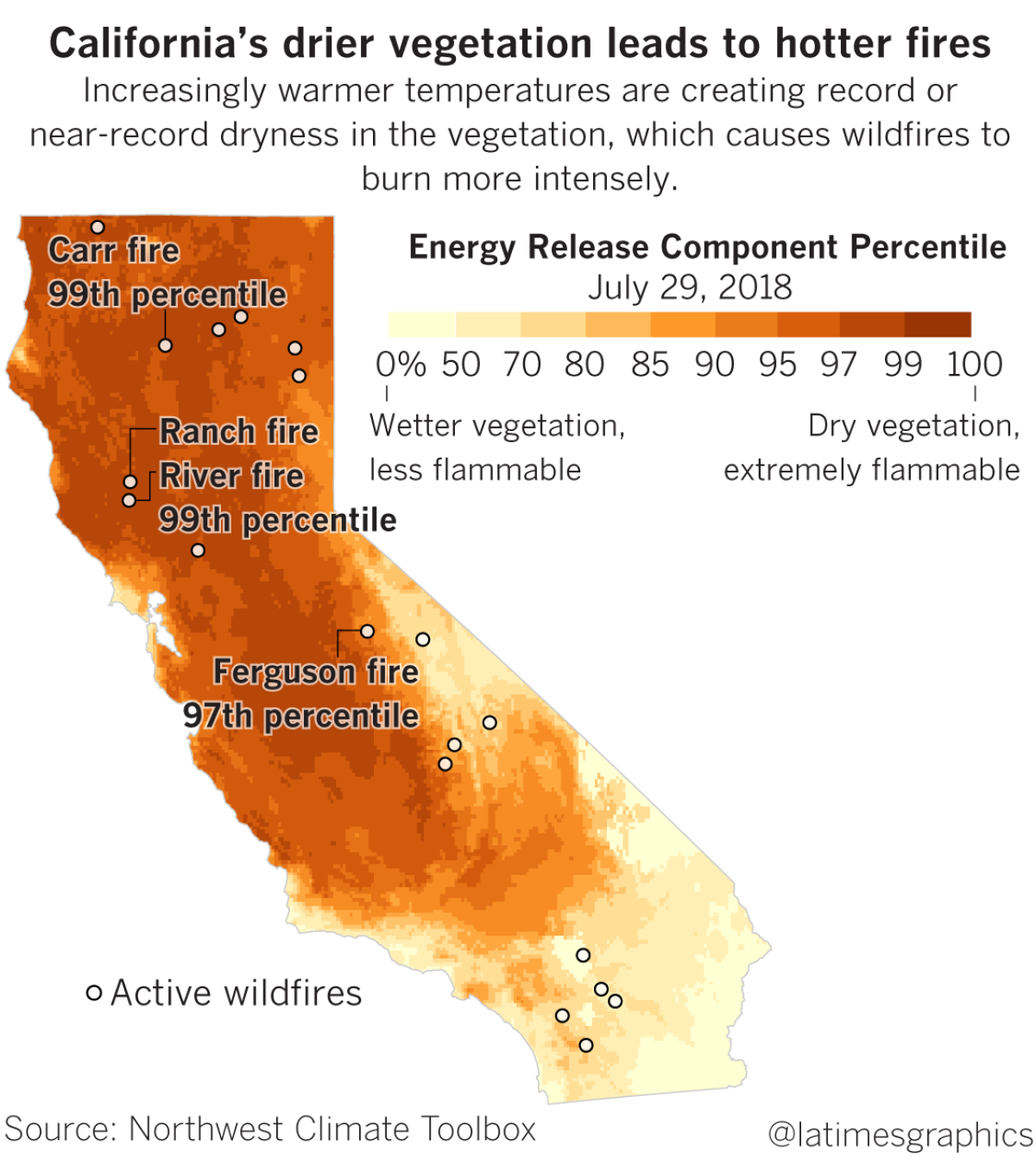 Trump's Base in China Erodes
President Trump preaches "America first," but he's had his fans on social media in the People's Republic of China. Since placing tariffs on Chinese goods and targeting other Beijing-led policies, though, many of those fan accounts have quieted down and the criticism has gotten louder. One of Trump's most popular nicknames on the Chinese version of Twitter is now Chuangpo, which means "to charge in and break things."
More Politics
-- Trump said he would meet with Iranian President Hassan Rouhani, with "no preconditions," if Rouhani were willing, and that he "would have no problem" forcing a government shutdown in October if Congress doesn't give in to his demands on border security.
-- Former Trump campaign chairman Paul Manafort's trial on charges of bank fraud, tax evasion and conspiracy is scheduled to start today. Here's a preview.
-- Trump attorney Rudolph W. Giuliani's latest talking point on the Russia investigation: "Collusion is not a crime," he claims.
-- The next writer to take a close look at the Trump presidency: Bob Woodward, whose book promises a look at the "harrowing life" within the White House.
When #LivingWhileBlack Becomes #TakingAction
Barbecuing. Napping. Using the gym. It seems as if a week doesn't go by without another viral video of white people siccing police on nonwhite people for taking part in everyday activities. (Actor Ving Rhames even recalls police showing up at his door in 2016 after a 911 call reporting a "large black man" burglarizing his home.) Now, some of those seen being berated on camera are using the unwanted attention as an opportunity: to run for office, become activists, form nonprofits or otherwise enter the fray of race, politics and social change.
This … Is CBS
The future of CBS was already in turmoil because of a leadership struggle when a story in the New Yorker hit last week with allegations that Chairman and CEO Leslie Moonves sexually harassed several women more than a decade ago. Now, the board has started an independent investigation into Moonves' conduct — and is coming under fire for not suspending him pending its outcome. Meanwhile, CBS News is facing fallout over its handling of sexual harassment claims.
Sign up to get Today's Headlines delivered to your inbox. »
MUST-WATCH VIDEO
-- The cosplay landscape is changing, and it's tied to something called race bending.
CALIFORNIA
-- A brush fire broke out in Santa Clarita on Monday afternoon, scorching 10 acres as it raced toward homes and burned part of a residential complex, officials said.
-- A courthouse recording that raised concerns about violations of attorney-client confidentiality was made by the L.A. Police Department at the request of a deputy district attorney and with the cooperation of the Sheriff's Department, a court document says.
-- Ron Dellums, an antiwar activist who championed social justice as Northern California's first black congressman, has died at age 82.
HOLLYWOOD AND THE ARTS
-- The Norton Simon Museum in Pasadena will keep two Renaissance masterpieces looted by the Nazis during World War II under a unanimous decision by a federal appeals court.
-- Alex Trebek is contemplating stepping down as the host of "Jeopardy!" once his contract expires in 2020, and he's named two potential successors.
-- "Guardians of the Galaxy" cast members have been speaking in support of director James Gunn, whom Disney fired after old tweets resurfaced featuring him joking about rape, pedophilia, 9/11 and the Holocaust.
-- In the NBC show "Making It," former "Parks and Recreation" costars Amy Poehler and Nick Offerman are back together, this time hosting a crafts-based competition.
CLASSIC HOLLYWOOD
Wesley Snipes was once a film juggernaut. Then personal and financial difficulties hit him hard. But the actor, who turns 56 today, is back on screen with "Cut Throat City," his upcoming film with director and Wu-Tang Clan leader RZA. Though it's not a martial arts film, the two share an affinity for the form. "My love of martial arts started in the '70s with Run Run Shaw and the Golden Harvest films and watching Bruce Lee and 'Five Deadly Venoms,'" Snipes says.
NATION-WORLD
-- Federal air marshals have for years been quietly monitoring small numbers of U.S. air passengers, even if those individuals have no known terrorism links, the Transportation Security Administration said.
-- The White House is turning up the pressure on Nicaraguan President Daniel Ortega in response to his deadly crackdown on opponents.
-- With an election too close to call and a sense of fairness in the air, Zimbabwe is picking a president for the post-Robert Mugabe era.
-- The world's largest solar park is being built 400 miles south of Cairo in Egypt's Western Desert and is set to open next year.
-- Look up! Tonight, Mars will be closer to Earth than it's been in 15 years.
BUSINESS
-- The Trump administration and Republican lawmakers have long viewed the Consumer Financial Protection Bureau as a rogue agency, but a survey says most Americans support its work.
-- Harley-Davidson wants to expand motorcycle ridership and increase global sales with bikes that will be hardly recognizable as Harleys, including electric scooters and small bikes destined for foreign markets.
SPORTS
-- Dodgers fans who are blacked out from watching the games on television missed … a blackout at Dodger Stadium. And a nearby brush fire.
-- Nobe Kawano, the longtime Dodgers clubhouse manager, has died at age 95, not long after his brother Yosh, the longtime clubhouse manager for the Chicago Cubs, passed away at age 97.
OPINION
-- Will the Russians help Democrats this time around? It would make sense if they did, columnist Jonah Goldberg writes.
-- Real ID driver's licenses or identity cards will divide us all into documented and undocumented.
WHAT OUR EDITORS ARE READING
-- Sexism in the courtroom: What female trial lawyers put up with just to do their jobs. (The Atlantic)
-- Photo essay: Black cowboy culture takes center stage at the Bill Pickett Invitational Rodeo. (The Undefeated)
-- Why do some people do evil? Neuroscience is trying to understand. (Aeon)
ONLY IN L.A.
If you want to see a time capsule of comedian Iliza Shlesinger's life, all you need to do is take a peek at the neatly organized office in her Hollywood Hills home. There you'll find a map of where she's been in the world, joke-inspired fan art, a yoga mat for meditation and anti-mermaid memorabilia. Yes, she still doesn't want to hear any more women talk about how they want to be mermaids.
If you like this newsletter, please share it with friends. Comments or ideas? Email us at headlines@latimes.com.
---