Newsletter: Today: On Border Security, 'Let's Make a Deal?'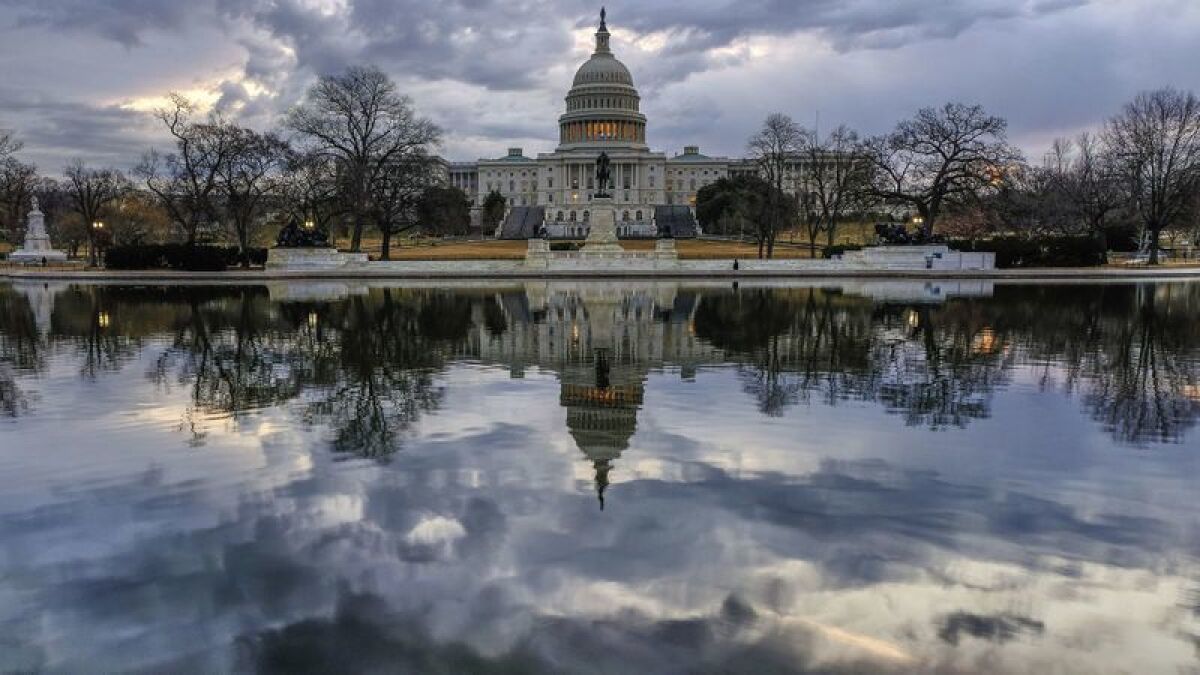 Amid the government shutdown, congressional leaders have been invited to the White House for a "briefing" on border security, as President Trump looks to get money for a wall on the southern border.
TOP STORIES
On Border Security, 'Let's Make a Deal?'
After a flurry of President Trump's tweets over the holidays about his desire for a border wall, the Trump administration has invited the top eight congressional leaders, representing both parties, for a "briefing" today on border security. The meeting would be the first time since before a partial government shutdown began Dec. 22 that lawmakers have been to the White House. It's unclear whether negotiations to end the impasse could take place, though at one point in Trump's tweets, he wrote, "Border Security and the Wall 'thing' and Shutdown is not where Nancy Pelosi wanted to start her tenure as Speaker! Let's make a deal?" Democrats, who regain control of the House of Representatives on Thursday, have promised a quick vote to reopen the government, but their plan does not include money for a wall.
Suing for a Chance to Stay in the U.S.
As the fight over the wall continues in Washington, another battle over the country's immigration laws is playing out. For decades, young undocumented immigrants have been allowed to stay in the U.S. and start on a path to citizenship under a legal classification called Special Immigrant Juvenile Status. It applies if they are under age 21; have been abused, abandoned or neglected by one or both parents; and a state court finds it's against their best interest to be returned to their parents or go back to their home country. But since the beginning of 2018, the Trump administration has been rejecting special status applications from immigrants who are over 18. Now, four young people living in California are suing the administration, alleging their applications were unlawfully denied.
More About Immigration
-- Authorities say about 150 migrants attempted to breach a San Diego border fence on New Year's Eve, and some began throwing rocks at responding U.S. border agents, who deployed pepper spray and tear gas on the crowd.
-- Border officials say more and more Guatemalan families trying to enter the U.S. illegally are avoiding the most popular routes in favor of more dangerous, remote desert crossings.
-- Some young immigrant "Dreamers" made flipping control of the House a personal quest before last year's midterm elections.
The Homeless Hidden Among Us
One lives in a bunker he dug in the middle of the desert; another under the hulls of two boats that have been flipped over. There's the couple in a treehouse in the Sepulveda Basin; and the people who live on a sandbar in the center of the Los Angeles River. How did they get there and what are the stories behind their makeshift homes? Take a closer look.
Almost Everything Came Up Roses
The floats dazzled, the bands played on, and even the government shutdown couldn't stop a group of U.S. Forest Service pack mules from marching. What more could you want from the Rose Parade? As one attendee put it: "You don't see people coming together a lot. This is one event where that happens. It's a wonderful way to start the new year."
Sign up to get Today's Headlines delivered to your inbox. »
FROM THE ARCHIVES
On this date in 1967, Ronald Reagan was sworn in as governor of California, after having defeated the incumbent, Edmund G. "Pat" Brown, by nearly 1 million votes. Reagan's eight years in Sacramento would foreshadow his eight years as president of the United States in the 1980s.
CALIFORNIA
-- The new mental health diversion law, which was slipped inside a massive budget trailer bill, is intended to steer people with mental health conditions into treatment and away from jail or prison. It's drawn strong opposition from law enforcement and prosecutors.
-- Officials say they are closing sections of Sequoia and Kings Canyon National Parks because of the partial shutdown of the federal government. The announcement follows a similar closure for Joshua Tree National Park.
-- The city of Malibu and the county of Los Angeles will begin examining the response to and recovery from the Woolsey fire, the fast-moving and most destructive wildfire in recent Southern California history. "We weren't ready," says one City Council member.
-- Oceanside resident Shelby Jacobs is responsible for one of the most iconic video images of NASA's race to put a man on the moon in the 1960s. Yet Jacobs, who is black, faced near-constant discrimination from his white colleagues and was never paid as well. An exhibition in Downey celebrates his work.
HOLLYWOOD AND THE ARTS
-- How do you make a sex scene sexy while keeping the actors safe? Five intimacy coordinators explain their craft.
-- Director Nadine Labaki's film "Capernaum" has taken her on a journey from Lebanon to Cannes Film Festival and the United Nations.
-- "MythBusters," a show that made science and engineering crazy and hilarious, has a new offspring: "Mythbusters, Jr.," a 10-episode series premiering today on Science Channel.
-- A new Taylor Swift concert special has premiered on Netflix; it's a straightforward re-creation of her shows on the Reputation Stadium Tour.
NATION-WORLD
-- The family of Paul Whelan, a U.S. citizen being detained in Russia on espionage charges, says he is a former U.S. Marine who had traveled to Moscow for a fellow Marine's wedding.
-- The family of Moustafa Kassem, an American citizen on a hunger strike in an Egyptian prison, is urging Secretary of State Michael R. Pompeo to use his upcoming Cairo trip to press for the man's release before it's too late.
-- Former army Capt. Jair Bolsonaro, who has expressed admiration for military dictatorships and insulted women, people of color and the gay community, has been sworn in as president of Brazil. Trump tweeted his good wishes.
-- A man has been arrested in Germany after allegedly plowing his car into a crowd of people, injuring at least five in what appears to have been an attack directed at Syrian and Afghan citizens.
-- Four billion miles from Earth, NASA's New Horizons spacecraft sped past a small, cold Kuiper Belt object known as Ultima Thule, successfully collecting data on the most distant world ever visited by humankind.
BUSINESS
-- In 2019, many workers in California stand to benefit from new laws on pay and working conditions. But many employers say the new measures will be costly and result in more lawsuits.
-- What is Ryuk, the malware believed to have hit the Los Angeles Times and other newspapers?
SPORTS
-- In the Rose Bowl, Ohio State coach Urban Meyer, who's retiring amid controversy, got the best of his Washington counterpart Chris Petersen. The Buckeyes won 28 to 23.
-- UCLA appears better positioned to lure a top basketball coach, thanks to more resources.
OPINION
-- L.A. County needs to seriously rethink the Mira Loma women's jail, the kind of place you'd have created a quarter-century ago.
-- L.A.'s trees are more essential than ever. The city needs to start treating them that way.
WHAT OUR EDITORS ARE READING
-- Mitt Romney writes that Trump "has not risen to the mantle of the office" of president, while Jerry Falwell Jr. can't imagine Trump "doing anything that's not good for the country." (Washington Post)
-- Is the rise of authoritarian nationalism around the world unified in a war against women? (The Atlantic)
-- Chrissy Teigen on traveling with kids. (Condé Nast Traveler)
ONLY IN L.A.
For all its pageantry, this year's Rose Parade had perhaps its most L.A. moment when a traffic jam ensued on the route. It started when a small fire broke out aboard a float depicting the completion of the Transcontinental Railroad. The flames were quickly extinguished but left the float stranded. Then a tow truck tried, and failed, to pull it onto a side street. Then spectators poured into the street, erroneously thinking the parade was over. Then a marching band tried to go around the float, and then … well, read the rest for yourself.
If you like this newsletter, please share it with friends. Comments or ideas? Email us at headlines@latimes.com.
---