Column: Starbucks' racism controversy is a corporate wake-up call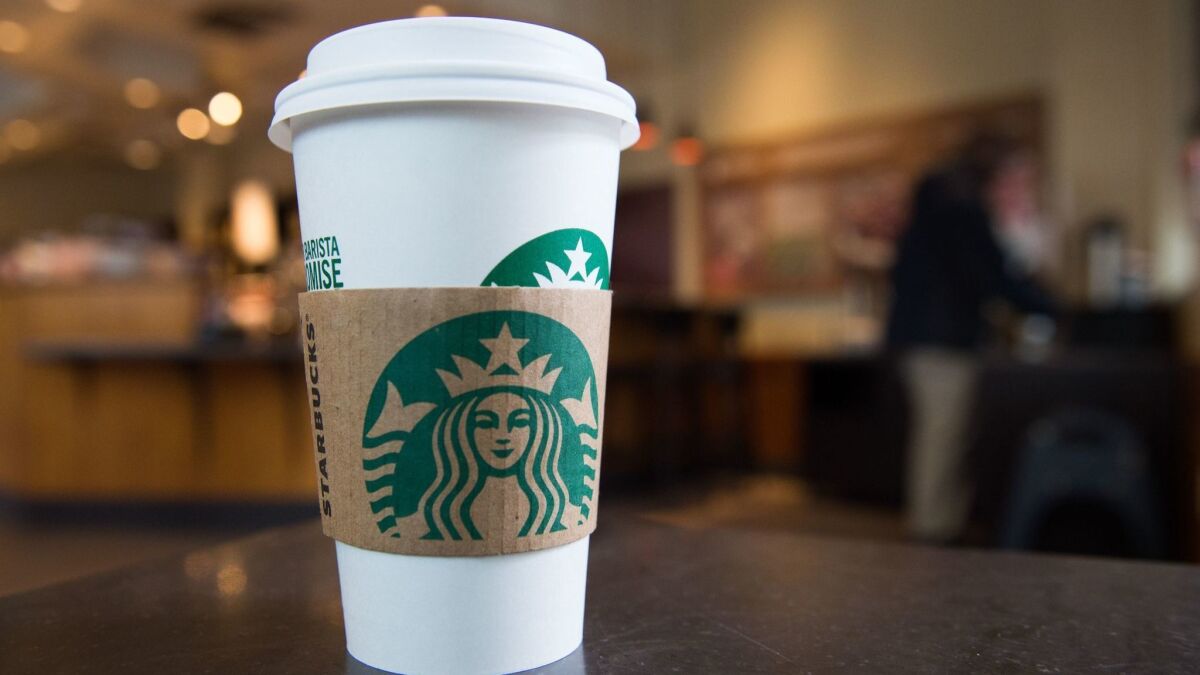 When I interviewed local community advocate Sean Sheppard last year about Game Changer, his program that uses sporting events to bring members of law enforcement and the community together to talk about racism and other thorny issues, we met at Starbucks.
As the coffee giant battles a public-relations meltdown after a controversial encounter between a white employee and two black men in a Philadelphia store, the irony of our interview location is not lost on either of us.
"When this started to unfold, my phone blew up," said Sheppard, who is black. "But I can't tell you how many people, myself included, have met someone at Starbucks, never spent a dime, and nothing happened. I've used the restroom and nothing happened.
"I feel like Starbucks has always been a meeting place, a gathering place and a safe space," said Sheppard, adding that the company has offered the use of local stores for Game Changer meetings and has been supportive of the organization. "It has always been that way to me. I don't feel any differently now."
Starbucks' trustworthy reputation as the place where you can meet anyone for any reason took a big hit last week, when an employee in a downtown Philadelphia store refused the men's request to use the restroom because they hadn't bought anything. The men — who were there to meet a friend — were eventually asked to leave.
When they declined, the employee called 911. The men were arrested on suspicion of trespassing, taken into custody and hauled away. Starbucks did not press charges, and the men were released. But when a video of the encounter went viral, the controversy boiled over like an over-foamed latte.
The encounter happened last Thursday. The company apologized on Twitter two days later. But as the #BoycottStarbucks hashtag started trending and protesters began showing up in Starbucks stores, the company's chief executive, Kevin Johnson, released a long statement calling the situation a "reprehensible outcome" and reassuring customers that the company "stands firmly against discrimination or racial profiling."
The Philadelphia employee who called the police is no longer working at the store. And earlier this week, Starbucks announced that it will close more than 8,000 stores on May 29 to conduct racial-bias training for nearly 175,000 employees.
How much can a company do to tackle the wildly diverse mindsets and experiences of 175,000 employees in one day? Not much, probably. But is this just a bunch of corporate air? Given that Starbucks became a corporate powerhouse by virtue of its ability to be the office, living room and community square for the masses, it better not be.
"They need to focus not just on customer service, but on people care. How do we care for people from the minute they walk in the door, whether they buy anything or not?" said Daniel DelCastillo, a managing partner for the San Diego-based Best Human Resources Consultants and an adjunct professor at SDSU's Fowler College of Business Administration.
"They need to measure the diversity of their clientele and get feedback from customers about how they have been treated. And they need to bring accountability to diversity management. When you make the diversity element part of (the employees') performance, people pay attention."
When I think about Starbucks, I always go back to 2014. That was the year I spent many weekends in the Inland Empire, shuttling from the Rancho Cucamonga memory-care facility where my mom was living to the family home that I was helping my brother clear out to the nursing home 9 miles away where my dad lived.
In between, I would stop at one of the many local Starbucks for whatever sustenance I needed at the moment. Sometimes it was a cake pop for my mom. Sometimes it was coffee to get my brother and me through another emotional round of de-cluttering. Sometimes it was a sandwich to eat in the car on the way back to San Diego. Sometimes it was just a place to sit and gather my exhausted thoughts before moving on to the next thing.
Access to a small creature comfort can be a big deal, and Starbucks needs to do its best to ensure that everyone has access to the comforts this ubiquitous company is uniquely positioned to provide.
It's big. Now it has to be better.
"Starbucks is one of the few places that we all go to. They are a magnet for all races," Sheppard said. "I can't tell them how to run their business, but I know there is an opportunity for them to play a leadership role in bringing people together on a regular basis."
Twitter: @karla_peterson
The stories shaping California
Get up to speed with our Essential California newsletter, sent six days a week.
You may occasionally receive promotional content from the Los Angeles Times.