BLD's hot fudge brownie sundae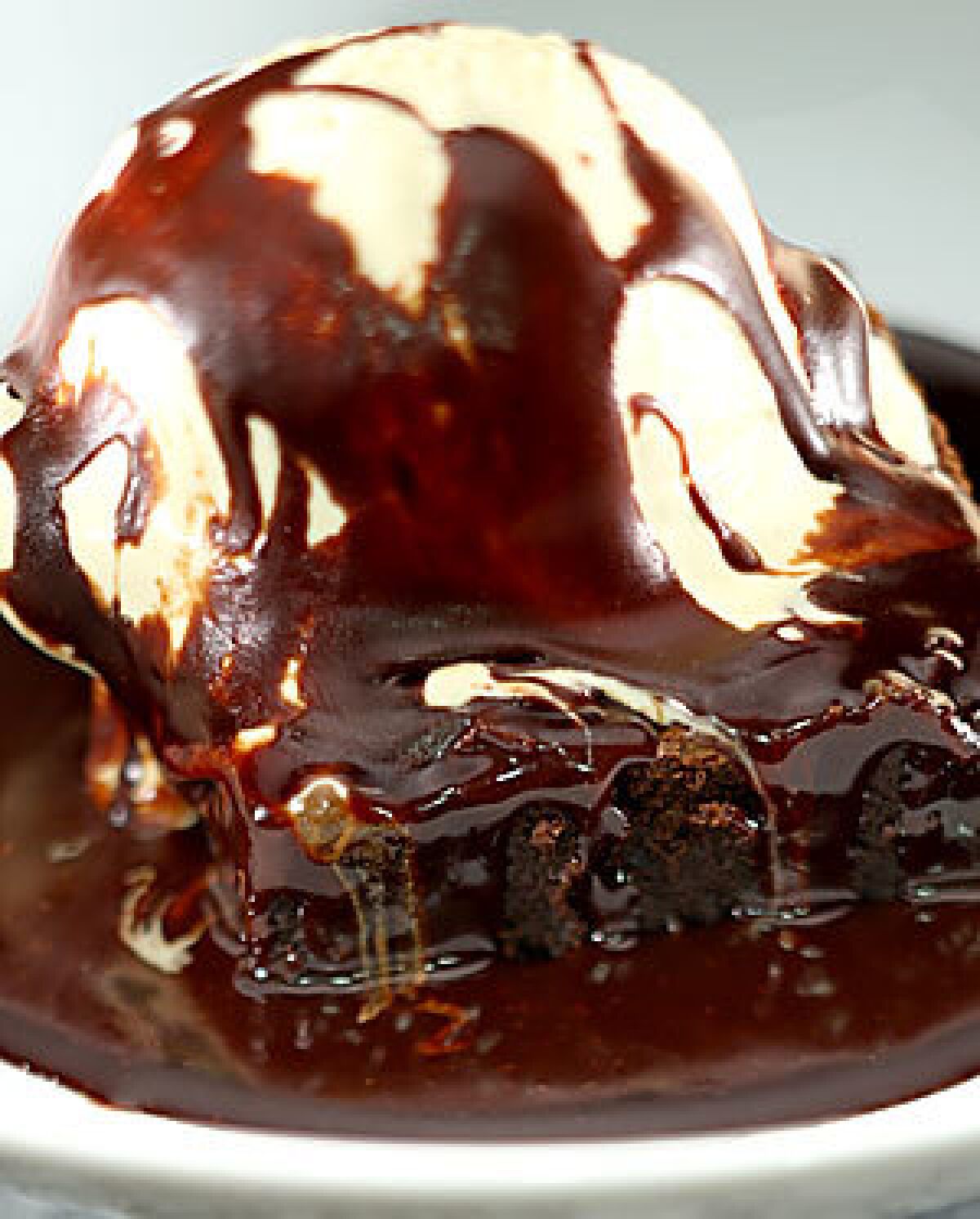 Dear SOS: BLD's brownie sundae is the BEST brownie EVER! Please get the recipe!
Lynn Frankel West Los Angeles
Dear Lynn: Yeah, we were at a loss for words when we first tried this sundae, too (actually, we just couldn't stop eating it). The fudge-like brownies are super-rich and not too sweet, perfectly topped with creamy homemade coffee ice cream and hot fudge sauce. The components are each great on their own, but together they might just leave you speechless.
BLD's hot fudge brownie sundae
Total time: 1 hour and 45 minutes, plus chilling and freezing time
Servings: 12
Note: Adapted from BLD. An ice cream maker is needed.
Coffee ice cream
1 1/3 cups sugar
2 cups half-and-half
1 1/3 cups cream
Heaping 1/4 teaspoon salt
1/2 cup whole coffee beans
12 egg yolks
1/4 cup plus 2 tablespoons brewed espresso, cooled
1. In a large, heavy-bottom saucepan, combine the sugar, half-and-half, cream, salt and coffee beans. Bring to a simmer over high heat, stirring to make sure the sugar is completely dissolved in the liquid. Remove from heat and steep for 1 hour.
2. Whisk together the egg yolks in a medium bowl. Bring the cream mixture back to a simmer over medium heat. Whisk one cup of the cream mixture into the yolks to temper them, then pour the yolks into the pan with the cream. Stirring constantly, cook the custard until it thickens enough to coat the back of a wooden spoon, 1 to 2 minutes. Be careful not to overcook the mixture or the eggs will scramble.
3. Strain the custard into a bowl set over an ice bath (this stops the cooking immediately; otherwise, the eggs might still scramble). Stir the mixture until it is cold, then stir in the espresso. Cover and chill the mixture, preferably overnight.
4. Freeze the custard according to your ice cream maker's instructions. Cover and freeze the fresh ice cream for at least 4 hours to allow it to harden before serving. This makes about 1 1/2 quarts ice cream.
Fudge brownies
1 1/2 cups (3 sticks) butter
2 cups plus 2 tablespoons (13 ounces) chocolate chips
1/4 cup cocoa powder
5 eggs, room temperature
3 cups light brown sugar
1 1/2 teaspoons ground espresso
1 1/2 teaspoons vanilla extract
1/8 teaspoon salt
1 1/2 cups flour
1. Heat the oven to 325 degrees.
2. In a large bowl set over a pot of simmering water, melt together the butter, chocolate and cocoa powder, stirring until completely combined.
3. In a medium bowl, whisk together the eggs and sugar. Whisk in the espresso, vanilla and salt. Whisk in the melted chocolate mixture, then the flour until thoroughly combined. Pour the brownie mix into a greased 13-inch-by-9-inch baking dish.
4. Bake the brownies on the center rack until set on top and a toothpick inserted in the center comes out mostly clean (it should have moist crumbs stuck to it, but the filling should not be doughy), 35 to 45 minutes. Remove the brownies and cool the pan on a rack to room temperature.
5. Cover the brownies and chill overnight. Remove the brownies several hours before serving and allow to come to room temperature. Cut the brownies into 12 squares.
Hot fudge sauce and assembly
5 tablespoons butter
9 ounces bittersweet chocolate, chopped
1/2 cup cream
1/2 cup sugar
1/2 cup corn syrup
2 tablespoons vanilla
2 tablespoons whiskey, such as Jack Daniel's
Fudge brownies
Coffee ice cream
1. Combine the butter and chocolate in a medium bowl set over a pot of simmering water. Gently melt, stirring frequently, until combined. Remove from heat.
2. While the butter and chocolate melt, combine the cream, sugar and corn syrup in a small saucepan. Bring to a boil over high heat, stirring to combine. Remove from heat and stir the cream mixture into the melted chocolate.
3. Place the melted-chocolate bowl back over the pot of simmering water and cook, stirring constantly, until the mixture becomes thick and shiny, 3 to 5 minutes. Remove from heat. Stir in the vanilla and whiskey. Use immediately or chill. This makes 2 1/2 cups sauce.
4. To serve, warm the brownies in a 325-degree oven until soft and warm. Place each brownie in the center of a dessert bowl and top with a scoop of coffee ice cream. Drizzle the hot fudge over the ice cream and into the bottom of bowl.
Each serving: 1,198 calories; 12 grams protein; 142 grams carbohydrates; 4 grams fiber; 71 grams fat; 41 grams saturated fat; 430 mg. cholesterol; 187 mg. sodium.
Send S.O.S. requests to noelle.carter@latimes.com or Culinary SOS, Food, Los Angeles Times, 202 W. 1st St., Los Angeles, CA 90012. Please include your name and phone number and the restaurant's phone number.
---