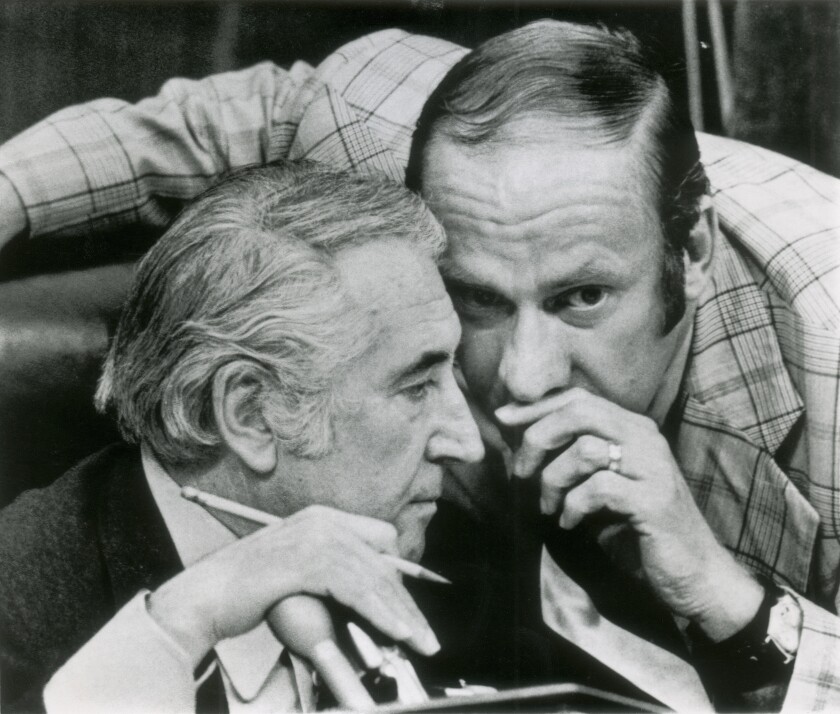 Thomas Railsback, the veteran Republican congressman who broke with his party and helped draw up the articles of impeachment against President Richard Nixon in 1974, has died at 87.
Railsback died Monday in Mesa, Ariz., where he lived in a nursing home in recent years, former Republican congressman and U.S. Transportation Secretary Ray LaHood said Tuesday.
Railsback represented Illinois' 19th Congressional District for 16 years and was the second ranking member on the House Judiciary Committee when it was conducting the impeachment inquiry into Nixon. The inquiry was prompted by Nixon's actions in the wake of the break-in of the Democratic National Committee headquarters at the Watergate office building in 1972.
Railsback credited Nixon with getting him elected to Congress in 1966 by campaigning for him in western Illinois.
"I feel badly about what happened to Nixon," Railsback told the Idaho Statesman in 2012. "On the other hand, after listening to the [White House] tapes and seeing all the evidence, it was something we had to do because the evidence was there."
Railsback, a graduate of Grinnell College in Iowa who earned his law degree at Northwestern University, served in the Illinois House of Representatives before defeating freshman Democrat Gale Schisler for 19th District House seat.
Railsback said he believed he lost in the 1982 Republican primary to state Sen. Kenneth G. McMillan, described by LaHood as "very conservative," in part due to his impeachment vote. McMillan went on to lose in the general election to Lane Evans, who held the seat for 20 years.
LaHood worked for Railsback from 1977 to 1982 and said the veteran congressman brought him into politics.
"He taught me the good things about politics and public service," LaHood said Tuesday. "The way to be a good public servant is to work for the people."
LaHood said Railsback talked to him about his decision to support the impeachment of Nixon, one of only a few Republicans to do so.
"He said he looked at all the evidence," LaHood said. "He felt an obligation to the Constitution and to do what is right."
Some of those who have died this year.
(Los Angeles Times)
Ski industry pioneer Dave McCoy transformed a remote Sierra peak into the storied Mammoth Mountain Ski Area. Over six decades, it grew from a downhill depot for friends to a profitable operation of 3,000 workers and 4,000 acres of ski trails and lifts, a mecca for generations of skiers and boarders. He was 104.
(Genaro Molina / Los Angeles Times)
Veteran TV personality Orson Bean brought his wit to "What's My Line?" and "To Tell the Truth," guest-starred on variety shows and bantered with talk show hosts such as Johnny Carson and Mike Douglas. Later in his career, he starred in "Dr. Quinn, Medicine Woman" and "Desperate Housewives" while becoming a mainstay of Los Angeles' small theater scene. He was 91.
( Sean Smith)
Screen icon
Kirk Douglas
brought a clenched-jawed intensity to an array of heroes and heels, receiving Oscar nominations for his performances as an opportunistic movie mogul in the 1952 drama "The Bad and the Beautiful" and as Vincent van Gogh in the 1956 drama "Lust for Life." As executive producer of "Spartacus," Douglas helped end the Hollywood blacklist by giving writer Dalton Trumbo screen credit under his own name. He was 103.
(Annie Wells / Los Angeles Times)
"Queen of Suspense"
Mary Higgins Clark
became a perennial best-seller, writing or co-writing "A Stranger Is Watching," "Daddy's Little Girl" and more than 50 other favorites. Her sales topped 100 million copies, and many of her books, including "A Stranger is Watching" and "Lucky Day," were adapted for movies and television. She was 92.
(Associated Press)
Fred Silverman
was the head of programming at CBS, where he championed a string of hits including "The Mary Tyler Moore Show," "All in the Family," "MASH" and "The Jeffersons." Later at ABC, he programmed "Laverne & Shirley," "The Love Boat," "Happy Days" and the 12-hour epic saga "Roots." He was 82.
(Associated Press)
Kobe Bryant
was just 18 when he started playing for the Lakers, but by the end of his 20-year career — all of it as a Laker — the Black Mamba was a five-time world champion, two-time Olympic gold medalist and 18-time All-Star. His post-basketball career included an Oscar for the animated short "Dear Basketball" and a series of children's books that became New York Times bestsellers. He was 41.
(Andrew D. Bernstein / NBAE / Getty Images)
Former California
Rep. Fortney "Pete" Stark Jr.
represented the East Bay in Congress for 40 years. The influential Democrat helped craft the Affordable Care Act, the signature healthcare achievement of the Obama administration, and also created the 1986 law best known as COBRA, which allows workers to stay on their employer's health insurance plan after they leave a job. He was 88.
(Associated Press)
News anchor
Jim Lehrer
appeared 12 times as a presidential debate moderator and helped build "PBS NewsHour" into an authoritative voice of public broadcasting. The program, first called "The Robert MacNeil Report" and then "The MacNeil-Lehrer Report," became the nation's first one-hour TV news broadcast in 1983. Lehrer was 85.
(David McNew / Getty Images)
Terry Jones
was a founding member of the Monty Python troupe who wrote and performed for their early '70s TV series and films including "Monty Python and the Holy Grail" in 1975 and "Monty Python's Life of Brian" in 1979. After the Pythons largely disbanded in the 1980s, Jones wrote books on medieval and ancient history, presented documentaries, wrote poetry and directed films. He was 77.
(Associated Press)
Rush drummer
Neil Peart
was one of the most accomplished instrumentalists in rock history. Peart often cited swing-era drummers Gene Krupa and Buddy Rich among his primary inspirations, although he also credited Keith Moon, Ginger Baker and John Bonham as major influences. He was 67.
(Andrew MacNaughtan)
According to LaHood, Railsback was saddened by the current state of affairs in Washington and the unwillingness of people to compromise. He called Railsback's death "the end of an era in politics."
Railsback was one of four Republicans and three conservative Democrats who drafted two of the three impeachment articles against Nixon, which were adopted by the House. Nixon resigned before a trial in the Senate.
In a 2012 New York Times op-ed, Railsback noted the Democrats won a landslide in the 1974 congressional elections. That landslide brought in "a group of brash" legislators, he said, who helped create an atmosphere of "division and unease," and that by the time of the Clinton impeachment inquiry, the Judiciary Committee was much more partisan and the climate in Congress in 2014 "appeared even more fractured."
Railsback moved to Arizona from Idaho and retired after holding several jobs, including as an executive with the Motion Picture Assn. of America. He is survived by his second wife, Joye, and four daughters.

---