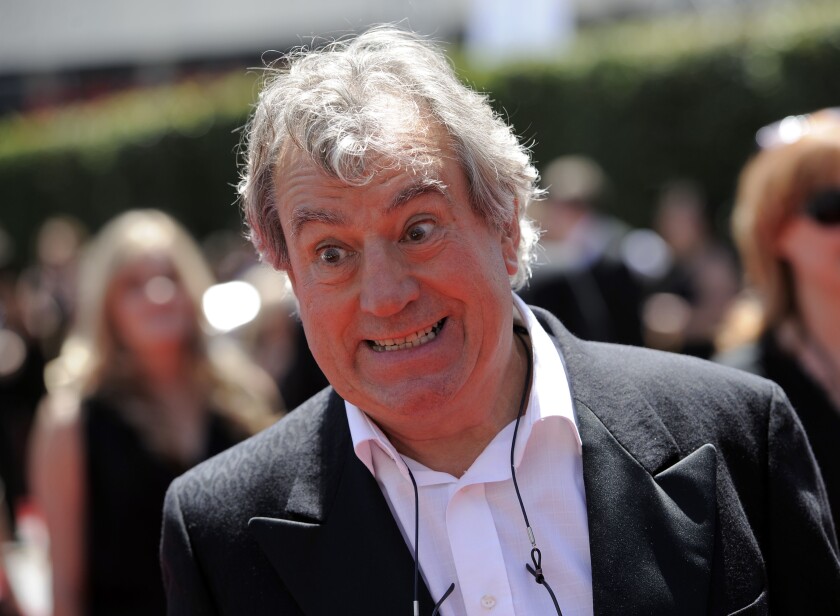 LONDON —
Terry Jones, a founding member of the anarchic Monty Python troupe who was hailed by colleagues as "the complete Renaissance comedian" and "a man of endless enthusiasms," has died at age 77 after suffering from dementia.
Jones' family said he died Tuesday evening at his home in London "after a long, extremely brave but always good-humored battle with a rare form of dementia."
"We have all lost a kind, funny, warm, creative and truly loving man whose uncompromising individuality, relentless intellect and extraordinary humor has given pleasure to countless millions across six decades," Jones' wife, Anna Soderstrom, and children Bill, Sally and Siri, said in a statement.
Born in Wales in 1942, Jones attended Oxford University, where he began writing and performing with fellow student Michael Palin.
After leaving university, he wrote for seminal 1960s comedy series, including "The Frost Report" and "Do Not Adjust Your Set." At the end of the decade he and Palin, along with Eric Idle, John Cleese, Graham Chapman and Terry Gilliam, formed the Monty Python troupe, whose "Monty Python's Flying Circus" TV show's irreverent humor — a blend of satire, surrealism and silliness — helped revolutionize British comedy.
"Terry was one of my closest, most valued friends. He was kind, generous, supportive and passionate about living life to the full," Palin said in a statement.
"He was far more than one of the funniest writer-performers of his generation. He was the complete Renaissance comedian — writer, director, presenter, historian, brilliant children's author, and the warmest, most wonderful company you could wish to have," Palin said.
Jones wrote and performed for the troupe's early '70s TV series and films including "Monty Python and the Holy Grail" in 1975 and "Monty Python's Life of Brian" in 1979.
Playing the mother of Brian, a hapless young man who is mistaken for Jesus, he delivered one of the Pythons' most famous lines: "He's not the Messiah. He's a very naughty boy!"
A more understated presence than the 6-foot-5 Cleese or the energetic Idle, Jones was a deft comic performer who played many of the Pythons' female characters. He was also, among many other characters, a grinning nude organist, Spanish inquisitor Cardinal Biggles and the explosively gluttonous restaurant patron Mr. Creosote.
Cleese tweeted: "It feels strange that a man of so many talents and such endless enthusiasm, should have faded so gently away…"
He added: "Two down, four to go," a reference to the six members of the troupe. Chapman died of cancer in 1989.
As well as performing, Jones co-directed "Holy Grail" with Gilliam, and directed "Life of Brian" and the 1983 Python film "The Meaning of Life."
During the 1970s, Jones also created the show "Ripping Yarns" with Palin and wrote sketches for comedy duo the Two Ronnies.
Some of those who have died this year.
(Los Angeles Times)
Ski industry pioneer Dave McCoy transformed a remote Sierra peak into the storied Mammoth Mountain Ski Area. Over six decades, it grew from a downhill depot for friends to a profitable operation of 3,000 workers and 4,000 acres of ski trails and lifts, a mecca for generations of skiers and boarders. He was 104.
(Genaro Molina / Los Angeles Times)
Veteran TV personality Orson Bean brought his wit to "What's My Line?" and "To Tell the Truth," guest-starred on variety shows and bantered with talk show hosts such as Johnny Carson and Mike Douglas. Later in his career, he starred in "Dr. Quinn, Medicine Woman" and "Desperate Housewives" while becoming a mainstay of Los Angeles' small theater scene. He was 91.
( Sean Smith)
Screen icon
Kirk Douglas
brought a clenched-jawed intensity to an array of heroes and heels, receiving Oscar nominations for his performances as an opportunistic movie mogul in the 1952 drama "The Bad and the Beautiful" and as Vincent van Gogh in the 1956 drama "Lust for Life." As executive producer of "Spartacus," Douglas helped end the Hollywood blacklist by giving writer Dalton Trumbo screen credit under his own name. He was 103.
(Annie Wells / Los Angeles Times)
"Queen of Suspense"
Mary Higgins Clark
became a perennial best-seller, writing or co-writing "A Stranger Is Watching," "Daddy's Little Girl" and more than 50 other favorites. Her sales topped 100 million copies, and many of her books, including "A Stranger is Watching" and "Lucky Day," were adapted for movies and television. She was 92.
(Associated Press)
Fred Silverman
was the head of programming at CBS, where he championed a string of hits including "The Mary Tyler Moore Show," "All in the Family," "MASH" and "The Jeffersons." Later at ABC, he programmed "Laverne & Shirley," "The Love Boat," "Happy Days" and the 12-hour epic saga "Roots." He was 82.
(Associated Press)
Kobe Bryant
was just 18 when he started playing for the Lakers, but by the end of his 20-year career — all of it as a Laker — the Black Mamba was a five-time world champion, two-time Olympic gold medalist and 18-time All-Star. His post-basketball career included an Oscar for the animated short "Dear Basketball" and a series of children's books that became New York Times bestsellers. He was 41.
(Andrew D. Bernstein / NBAE / Getty Images)
Former California
Rep. Fortney "Pete" Stark Jr.
represented the East Bay in Congress for 40 years. The influential Democrat helped craft the Affordable Care Act, the signature healthcare achievement of the Obama administration, and also created the 1986 law best known as COBRA, which allows workers to stay on their employer's health insurance plan after they leave a job. He was 88.
(Associated Press)
News anchor
Jim Lehrer
appeared 12 times as a presidential debate moderator and helped build "PBS NewsHour" into an authoritative voice of public broadcasting. The program, first called "The Robert MacNeil Report" and then "The MacNeil-Lehrer Report," became the nation's first one-hour TV news broadcast in 1983. Lehrer was 85.
(David McNew / Getty Images)
Terry Jones
was a founding member of the Monty Python troupe who wrote and performed for their early '70s TV series and films including "Monty Python and the Holy Grail" in 1975 and "Monty Python's Life of Brian" in 1979. After the Pythons largely disbanded in the 1980s, Jones wrote books on medieval and ancient history, presented documentaries, wrote poetry and directed films. He was 77.
(Associated Press)
Rush drummer
Neil Peart
was one of the most accomplished instrumentalists in rock history. Peart often cited swing-era drummers Gene Krupa and Buddy Rich among his primary inspirations, although he also credited Keith Moon, Ginger Baker and John Bonham as major influences. He was 67.
(Andrew MacNaughtan)
After the Pythons largely disbanded in the 1980s, Jones wrote books on medieval and ancient history, presented documentaries, wrote poetry and directed films, including "Personal Services," about a suburban brothel madam, and the comedy adventure "Erik the Viking." He also scripted the Jim Henson-directed fantasy film "Labyrinth," which starred David Bowie.
In 2014, more than three decades after their last live performance, the five surviving Pythons reunited for a string of stage shows that revived their old skits for adoring audiences.
Palin would recall that during the stage run, Jones struggled for the first time with remembering lines. Two years later, Jones' family announced he had been diagnosed with frontotemporal dementia, which gradually robbed him of the ability to write and speak.
"It is a cruel and sad thing," surviving troupe member Idle tweeted Wednesday. "But let's remember just what joy he brought to all of us.
"So many laughs, moments of total hilarity onstage and off, we have all shared with him. It's too sad if you knew him, but if you didn't you will always smile at the many wonderfully funny moments he gave us."
Jones is survived by his wife; ex-wife Alison Telfer; and three children.
---