Eddie Lopez, L.A.'s curator of all things salsa and famed DJ of KXLU's 'Alma del Barrio,' dies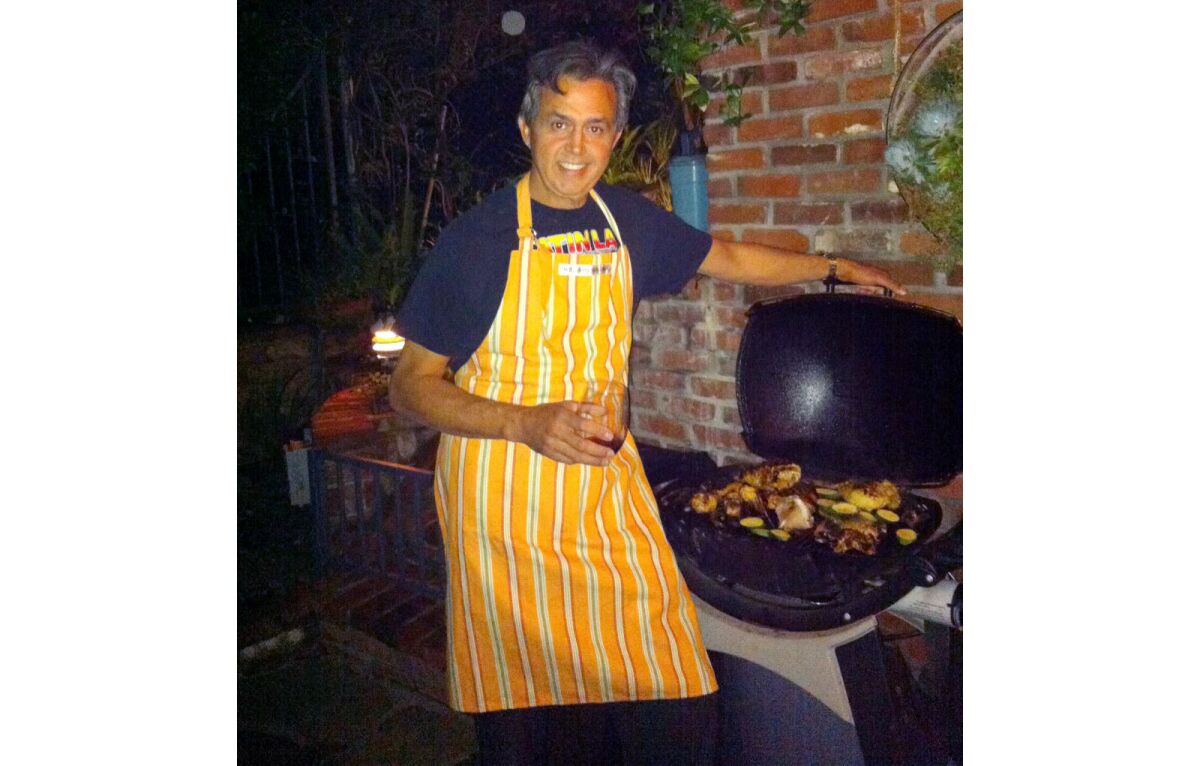 From the time he was a boy growing up in Koreatown, Eddie Lopez was fascinated with radio.
He tinkered with a Craig Tape recorder, interviewing family and friends to splice together his own radio program. He stayed up past his bedtime to tune into stations in Rosarito, Mexico. Then one day in high school, he heard Latin jazz star Leandro "Gato" Barbieri's wild, high-pitched saxophone.
"He just loved that, and it really drew him" into the world of tropical music, said his wife, Vanessa Salum. "The salsa music of the '70s some of it was political and he liked the messages and the African rhythms, the drums, the horns, the ability to dance to it."
Lopez took his love of the music to Pepperdine University's radio station before he transferred to Loyola Marymount University in the 1970s. There, he began to volunteer for a weekend radio show called "Alma del Barrio," which was in its third year and unique in the Southern California Latino radio landscape by focusing on Afro-Caribbean music and presenting it with DJs who spoke in English and Spanish.
"Alma del Barrio" became one of the most celebrated radio shows of its kind in the United States, and Lopez was among its most celebrated voices. For years, Lopez hosted every other Sunday from 2 p.m. to 6 p.m. until the COVID-19 pandemic interrupted his schedule. He began prerecording shows until the fall of 2022.
He spent hours researching music history at local libraries, or asked artists about certain songs at local clubs to properly inform his listeners. Before he played a track on air, he took time to contextualize the artist's lyrics, explaining to listeners why the saxophone evoked a feeling of pain or the vocalist shrieked in anguish.
And since it was all for college radio, Lopez always did his work for free.
"The best thing is there are plenty of students willing to volunteer and keep the flame going for many years to come," Lopez wrote to a friend on Facebook after they called him a "true keeper of the flame."
"He understood the importance of this little college radio show that had such an inroad into the community," said Alan Geik, a longtime friend and former colleague who hosted "Latin Dimensions" on KCRW after Lopez urged him to take over and later at KXLU for about 25 years. "He was deeply involved in the politics of what was going on, more than anybody else at the station. Because he lived it 24/7, he brought a perspective that I certainty didn't have that gave us a united view."
A mentor to many, Lopez died Jan. 8, said Salum. He was 66. No cause was given.
"Eddie was a tireless champion of this life-giving genre of music, the quintessential radio professional on air, a seasoned curator of all things Salsa, and someone who cared deeply for the radio station," wrote LMU's radio director Lydia Ammossow in tribute of her colleague.
Across social media, avid fans shared stories of listening to Lopez on weekends while cruising Los Angeles.
For Eric Wiig, a 30-year-old Koreatown resident who is originally from Minnesota, Lopez's show served as a "cultural exchange."
"It felt like a way to learn about the city of Los Angeles and learn about some of the people in it through this music," he said. "He just made you feel like you had to care for it because he cared about it so much."
"Alma del Barrio" quickly became part of the fabric of Los Angeles under Lopez's leadership.
He scouted up-and-coming college students as DJs, and encouraged his young team to act as if they were professionals at commercial radio stations. If newbies queued pop or rock hits, Lopez was quick to call them during their set and remind them of the station's mission, said Nelson Rodriguez, who joined "Alma del Barrio" in 2007 and still hosts today.
"He's one of our stars here of L.A. when it comes to our music," Rodriguez said. "Some people think it's just musicians and it's not people, but sometimes it's the people behind the scenes."
Anabel Marquez joined "Alma del Barrio" when she was a 22-year-old student at LMU. She was interested in a career in communications and loved dancing salsa. A friend introduced her to Lopez and he instantly invited her to be his guest on air.
"My guess is it was sort of feeling me out and also making sure that I was a good fit," she said. "The chemistry was there. We talked in Spanglish ... we shared some laughs but it was more like an interview but a very friendly sort of welcome interview without necessarily having sort of hired me."
Lopez later offered her the 6 a.m. to 9 a.m. Sunday slot, which she held until she graduated. Sometimes, Marquez said, he'd call in during her slot to compliment her segment.
"He was just a very classy, elegant sort of mentor and he just always, really just encouraged us to do it for the love of music more for any other personal agenda," she said.
Friends say Lopez always made sure to marry his passion for politics and music. He embedded Afro-Caribbean music into news packages in his day job as an editor for KVEA-TV Channel 52 Telemundo, where he honed his nose for news to produce award-winning work. In 1980, listeners called into KXLU to accuse staff of being communists for airing Cuban music. Lopez, Geik recalled, reminded his team to remain compassionate to callers because some may have that attitude because of the trauma they experienced in Cuba.
"The view had to be given that we have a right to play this and you have a right to listen to," Geik said. "If you don't want to contribute to us, we understand and we're sorry for your personal pain. I never said that because I have a little harsher view."
Listeners also used "Alma del Barrio" to collectively grieve. In 1985 when an 8.0 magnitude earthquake devastated Mexico City, listeners shared stories about their family experiencing the natural disaster while also providing local resources and plugging mom and pop restaurants.
In his personal life, the "Alma del Barrio" ethos continued. At his Pasadena home, parties often led to jam sessions with local musicians who grabbed some of the many instruments he collected or spun some of his many records. Sometimes Lopez would briefly slam away on his conga drums before leaving it to the professionals. He loved to zip around his neighborhood in his classic 1973 canary yellow Volkswagen Karmann Ghia along with his wife and their westie, Winston. He also kept a kite on hand just in case the wind was perfect for flying.
"He was pretty much all over the place," Sulam said. "And he would always say 'I don't have enough time to do all the things I love to do!'"
Lopez is survived by his wife and their 25-year-old daughter, Nina. "Alma del Barrio" plans to honor Lopez at its annual salsa festival this summer, when it will celebrate its 50th anniversary.
"It's hard to believe I have been with the show and KXLU for over 40 years," Lopez wrote in his KXLU biography. "It doesn't seem possible so please keep it to yourself! lol It's been one of the most satisfying experiences of my life."
Must-read stories from the L.A. Times
Get the day's top news with our Today's Headlines newsletter, sent every weekday morning.
You may occasionally receive promotional content from the Los Angeles Times.