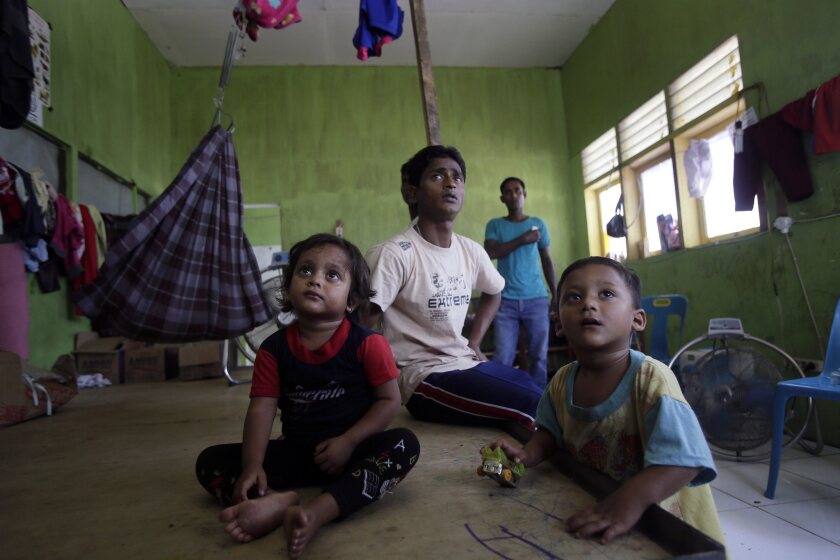 The Rohingya Muslim population in Myanmar has long been deemed one of the world's most persecuted minorities, its plight called a "most urgent matter" by President Obama. Episodes of sectarian violence drove the Rohingya from their homes, leaving more than 100,000 in squalid camps for the displaced. Restricted in how they travel and denied educational opportunities, they are the outcasts in majority-Buddhist Myanmar, also known as Burma. Many Rohingya families have lived in Myanmar for generations, yet they are considered illegal immigrants from Bangladesh and West Bengal. And most in effect have been denied citizenship because they can't meet the nearly impossible standard set by law.
Myanmar has made a stunning transition from military rule to the newly elected government led, in effect, by Nobel Peace Prize winner Aung San Suu Kyi. Human rights advocates have hoped that she and her ruling National League for Democracy party would dismantle the repressive measures against the Rohingya. Suu Kyi, who was disturbingly noncommittal on the issue during the election, has now spoken up — but, woefully, only to endorse the previous government's discriminatory practice of refusing to recognize the Rohingya as one of the country's more than 130 officially sanctioned ethnic groups. Instead, her government has advised foreign embassies to stop using the word "Rohingya." Many Buddhists in Myanmar refer to them as Bengalis — a designation that casts them as outsiders with no claim to citizenship. It's unconscionable on the part of Suu Kyi to support this and a disappointing start for a new government rooted in democracy.
To be sure, Myanmar is a fragile democracy in which civilian officials must share power with the military. Forging this new government requires Suu Kyi and her party to move the country toward democracy while also maintaining the military leaders' cooperation. To the new government's credit, it moved quickly to release almost 200 political prisoners and other detainees.
But given the new government's refusal to call the Rohingya by their name — and Suu Kyi's reported advice to the new U.S. ambassador to do the same — oppression of the Rohingya seems likely to remain official government policy for the foreseeable future. As such, the U.S. government should keep in place at least some of the rules for investors and the sanctions against Myanmar that are set to expire later this month, particularly the ones that require American companies working in Myanmar to report on their efforts to ensure that human and labor rights are maintained, and to not do business with specially designated nationals with ties to human rights abuses. Myanmar's march to democracy shouldn't leave the Rohingya behind.
Follow the Opinion section on Twitter @latimesopinion and Facebook
---