Editorial: Santa Monica, take note: A minimum wage with no exceptions is best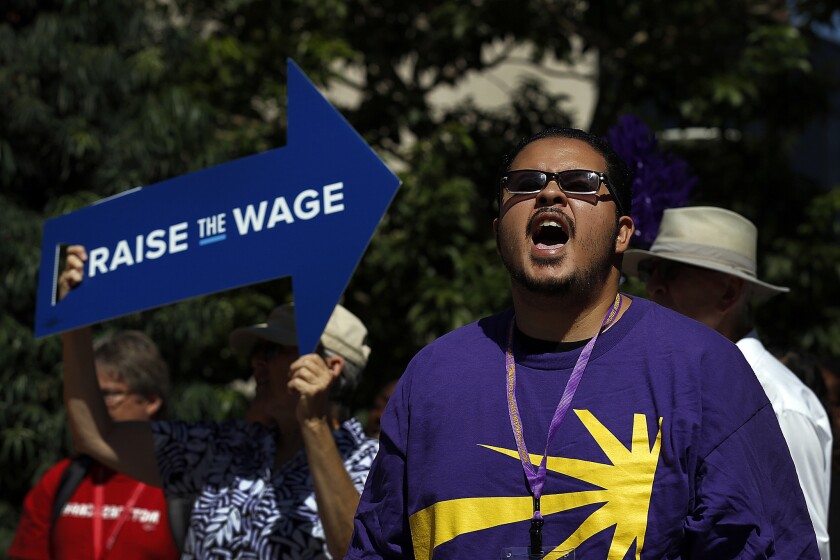 It's the bad idea that keeps coming back. In the final days before the Los Angeles City Council approved the region's first $15-an-hour minimum wage, the County Federation of Labor tried to slip in an exemption for employers with unionized workers. It was a galling display of hypocrisy by labor leaders who had publicly fought efforts to exempt restaurant workers, nonprofits and small businesses from the new minimum wage, yet quietly lobbied for companies to have the right to pay union workers a sub-minimum wage. Los Angeles leaders removed the union exemption from the ordinance after business groups and some activists cried foul.
But now the same bad idea has surfaced in Santa Monica. The City Council there is expected to vote Tuesday night to match Los Angeles' $15-by-2020 minimum wage, but members directed staff to include an exemption for unionized employers in the proposed ordinance.
Labor leaders have argued that businesses and employees should have the freedom under collective bargaining agreements to negotiate lower pay in exchange for other priorities, such as better benefits or improved working conditions. And several other cities throughout the state have passed minimum wage laws that exempt organized labor. A more skeptical view is that labor leaders have pushed the exemption because a lower wage could help persuade reluctant companies to accept unionization efforts, boosting the rolls of dues-paying members.
The rationale given by Santa Monica officials is that the city's current living wage law for city contractors includes a carve-out for labor contracts. But there's a big difference between requiring that municipal contractors pay a higher wage and establishing a new minimum wage, which becomes the pay floor for all workers in the city. If Santa Monica leaders believe $15 an hour is the bare minimum needed for workers to afford living in the region, then how can they justify allowing a select group of employers to pay less?
Really, there's no good justification for a sub-minimum wage. It's not right for restaurant employees. It's not right for nonprofit employees. That's why the idea is still shelved at L.A. City Hall (and will hopefully remain so) and why the Board of Supervisors never even considered a union exemption when it passed the $15 minimum wage for the unincorporated communities of Los Angeles County. Santa Monica should also pass the minimum wage with no exceptions.
Follow the Opinion section on Twitter @latimesopinion and Facebook
---
A cure for the common opinion
Get thought-provoking perspectives with our weekly newsletter.
You may occasionally receive promotional content from the Los Angeles Times.