Editorial: Legalize Airbnb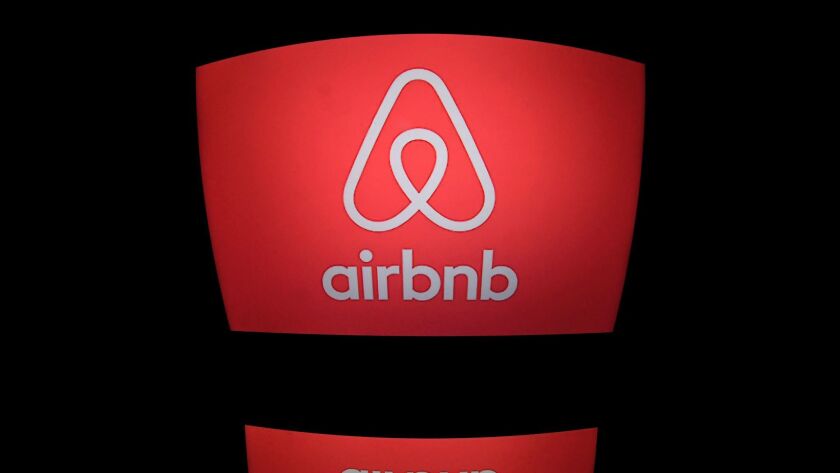 When the city of Los Angeles started to look into ways to regulate the "sharing economy" several years ago, the number of dwellings for rent on Airbnb, the leading short-term rental website, was in the low thousands. Today, there are about 23,000, with many more on VRBO, TripAdvisor and other vacation rental sites. And the city is still trying to figure out how to balance the benefits and problems created when people turn their homes into hotels.
This week the City Council will begin considering a proposed ordinance that would legalize and regulate home sharing. That's right — despite the popularity and proliferation of short-term rentals, they are illegal in Los Angeles' residential neighborhoods. It's just been extraordinarily difficult to enforce the prohibition.
As the number of short-term rentals has grown, so have the nuisance complaints from neighbors frustrated with parties, noise and the churn of guests. There is also concern among city officials and housing advocates that short-term rentals (those less than 30 days) are taking long-term rentals off the market, worsening the city's housing crisis. Landlords in touristy neighborhoods may be able to make more money by converting apartments they used to lease to long-term tenants into short-term vacation rentals, and some have evicted families to do so.
The industry appears to be warming to the idea that regulations can provide legitimacy and stability, and, ultimately, increase their market share.
Facing similar concerns, some cities have chosen to ban short-term rentals outright. But Los Angeles Mayor Eric Garcetti and members of the City Council have wisely recognized that responsible, controlled home sharing can be a boon for homeowners, visitors and the city's budget. The city could collect between $13 million and $37 million a year in occupancy taxes paid by short-term rental hosts, depending on the number and frequency of rentals allowed. The big question now is how to let people take advantage of the sharing economy without burdening their neighbors or taking needed housing off the market.
The city's planning department, which drafted the proposed rules, struck a reasonable balance overall. The draft ordinance would allow people to rent their primary residences for part of the year as long as they register with the city, display a valid registration number on their advertisements and pay the same 14% occupancy tax the city imposes on hotels.
Staff initially recommended limiting rentals to no more than 90 days a year per dwelling. Then they bumped it up to 120 days. The Planning Commission increased the cap to 180 days after hosts pleaded for more. But at 180 days, residents are essentially operating small-scale hotels for nearly half the year, most often in residential neighborhoods where such activity has traditionally been prohibited. What's more, data from Airbnb show that the typical listing is rented for only around 71 nights per year — well below the 90 or 120 cap proposed by staff. The City Council ought to lower the cap to 120 days or fewer.
The proposed law would prohibit short-term rentals of second homes or investment properties, and would bar home sharing in rent-stabilized units, which make up about 85% of the rental housing stock. This would significantly reduce the number of legal short-term rentals in L.A., which is why rental websites and property owners are lobbying hard to block this provision. The council should not back down, however, because the strictures would help reduce the incentive for landlords to take long-term rental units off the market while also preserving the rent-controlled units that provide affordable housing in L.A.'s increasingly expensive rental market.
The experience of other cities shows that even the most well-intentioned regulations won't work without funding for strong enforcement and cooperation from the rental websites. Most sites hide the hosts' names and addresses until the rental has been booked, which makes it hard for cities to crack down on illegal listings. In the past, rental websites have balked at the idea that the government could compel them to turn over data on who is hosting and how often, or that sites could be penalized for allowing illegal listings.
But the industry appears to be warming to the idea that regulations can provide legitimacy and stability, and, ultimately, increase their market share in the overall hospitality business. Airbnb, for example, has agreed in some cities to directly register hosts to help them comply with local rules as well as to remove scofflaw hosts or those who exceed rental caps. This is a good approach that the company and its competitors should bring to Los Angeles. Online platforms made the sharing economy possible, even when it wasn't legal. Now they can help their users earn money — legally.
Follow the Opinion section on Twitter @latimesopinion and Facebook
---
A cure for the common opinion
Get thought-provoking perspectives with our weekly newsletter.
You may occasionally receive promotional content from the Los Angeles Times.