Endorsement: Xavier Becerra for attorney general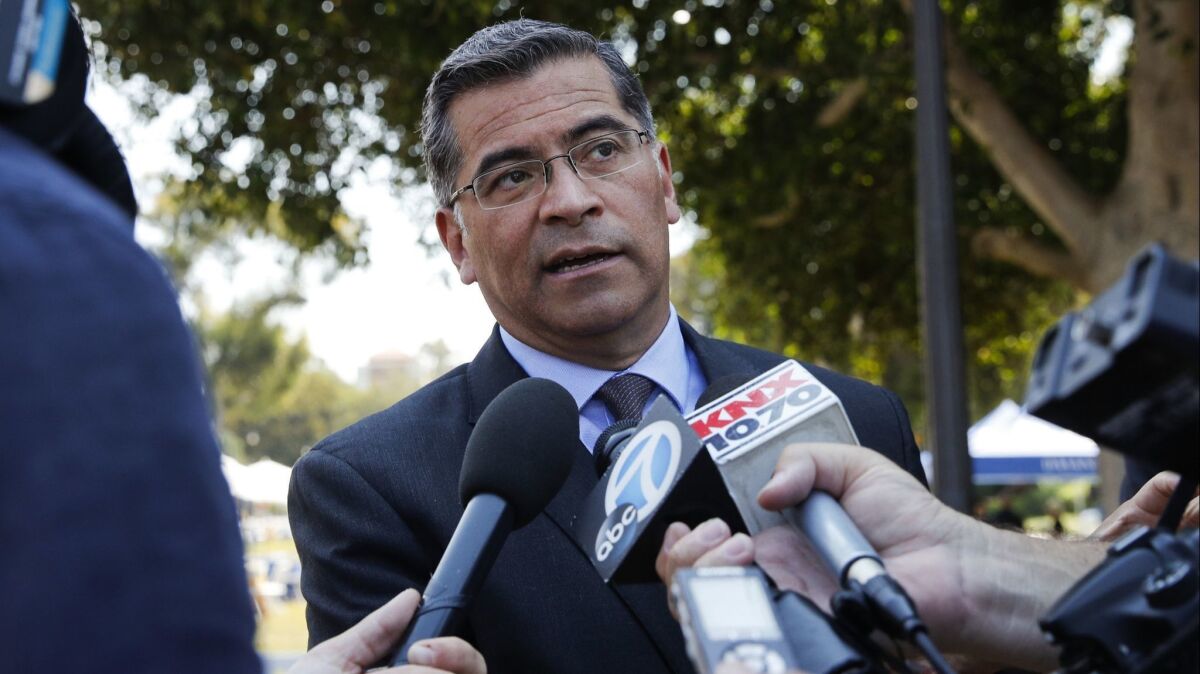 Xavier Becerra is California's incumbent attorney general, having been appointed two years ago to fill a vacancy at the top of the state Department of Justice. In that period Becerra has drawn on the knowledge and experience he gained in 24 years in the U.S. House of Representatives to help shape legal strategies to protect the state's interests and values from a series of onslaughts by the Trump administration. He has helped to stop, stall or at least snag the administration's attacks on public safety funding, clean car standards, affordable healthcare, immigration protections, net neutrality and many other subjects. He meanwhile has stepped up the department's work on consumer protection, and has offered badly needed oversight of law enforcement agencies facing public backlash over fatal shootings and other uses of force.
Becerra's opponent in the Nov. 6 election, Steven Bailey, is a former criminal defense lawyer and an ex-judge of the El Dorado County Superior Court who is currently facing ethics charges in the state Commission on Judicial Performance. He is challenging Becerra on a platform that includes reversing California's recent law to eliminate money bail, reversing a voter initiative to make drug possession and small property crimes misdemeanors instead of felonies, reversing or modifying laws that reduce prison crowding, and standing down in the state's defense against the Trump administration.
This is a monumentally easy call. Becerra has set a good direction, and voters would be wise to give him a full four-year term. Bailey is the wrong person for the job.
The position opened up after Kamala Harris was elected to the U.S. Senate, then took her seat in early 2017. The job of filling the vacancy fell to Gov. Jerry Brown, who has been around the political block more than a few times and in fact preceded Harris in that office. The selection may have seemed a bit surprising at the time — Becerra had kept a low profile outside Washington and his Northeast L.A.-downtown-Koreatown district — but Brown knew what he was doing. In Becerra, the governor got a lawyer with experience in the ranks of the state justice department, good political networks in D.C. and a keen understanding — having negotiated numerous bills with Democratic allies and Republican rivals — of the types of initiatives that the Trump White House could be expected to pursue.
Becerra has set a good direction, and voters would be wise to give him a full four-year term. Bailey is the wrong person for the job.
Brown (and California) also got an attorney general who knows how to go to court to defend the state's interests, and he's not shy about touting his more than 40 lawsuits against the Trump administration; yet there is something about his image and his manner — soft-spoken, perhaps a bit nerdy — that keeps him from becoming a polarizing frontman for the so-called Resistance.
It helps that he and Brown are on virtually the same page in each of those lawsuits, and that Brown is a lawyer, a former attorney general and a savvy politician. Becerra, 60, appears comfortable with his role as junior partner to the governor, who is now 80.
Enter the Fray: First takes on the news of the minute from L.A. Times Opinion »
But Brown's tenure as California's field general and sage is drawing to a close. Becerra, if elected to a full term, will serve alongside either Republican John Cox, an attorney (among other occupations) with starkly different political positions and connections than Becerra's and Brown's, or Democrat Gavin Newsom, a non-lawyer with none of Becerra's experience in Washington and a fraction of Brown's decades of accumulated political wisdom. In either event, the relationship that Becerra forges with the new governor will be interesting to watch. He must find the right level of leadership to assert. As attorney general his client is not merely the governor, but the entire state and all of its people.
The office has never been sufficiently funded or sized to do everything that should be done within the purview of the state's lawyer. The attorney general is often (and incorrectly) called the "top cop," but it's not a law enforcement position. He rarely prosecutes criminal cases, although he does represent the state in criminal appeals. As the top justice official, though, he is the person best positioned to monitor California's continuing criminal justice reforms, measure their progress and advise of changes needed. That task, which Becerra has not made a high priority, will become increasingly important in the post-Brown era.
Follow the Opinion section on Twitter @latimesopinion and Facebook
Life is stressful. Our weekly mental wellness newsletter can help.
You may occasionally receive promotional content from the Los Angeles Times.