Editorial: We're in the money, California! Now let's not spend our budget surplus like drunken sailors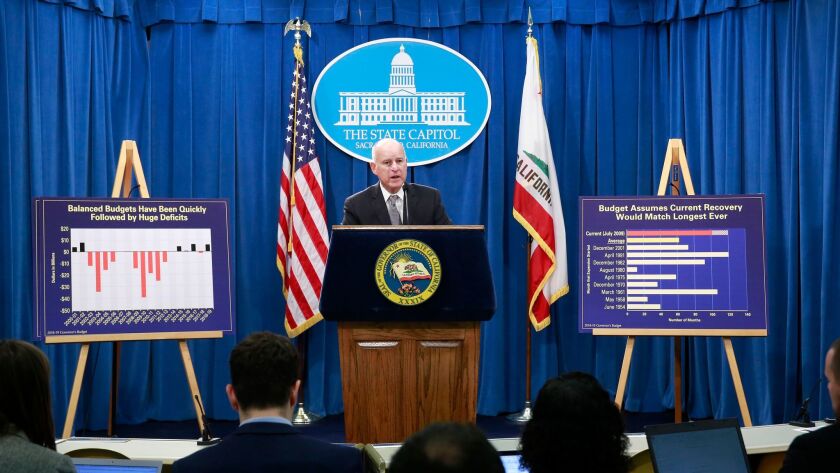 When California Gov. Jerry Brown proposed the first state budget of his third term in 2011, it was a gloomy affair. The recession lingered over the nation's economy like a nasty head cold, and California was $27 billion in the hole. Brown's message at the time was, appropriately, one of belt tightening.
Seven years later, the state's fortunes have flipped, thanks to one of the longest economic expansions in modern history and to voters' decision to pass the Proposition 30 tax hikes in 2012. California is now rolling in dough, with a $7.5-billion general fund surplus expected in the next fiscal year.
Woo hoo! Great news! But rather than revert instantly to the profligate ways of the past, this is a time for Sacramento, if it can, to be cautious, rational and mindful of the future. As the state's lead penny-pincher, Brown must continue to hold firm even as he prepares to pass leadership to a new governor.
To his credit, Brown unveiled another budget proposal Wednesday morning, his last as governor, that seeks only modest spending increases. His $190.3-billion plan for 2018-2019 puts some of the one-time windfall in the state's new rainy day fund, bringing it up to a healthy $13.5 billion, and fully funds the Local Control Funding Formula for public schools two years early. His budget also proposes paying down state debt and investing in infrastructure projects.
But the governor's proposal is only the opening move in a months-long political game, and there will be plenty of pressure on him from his fellow Democrats to spend more. "This is just the beginning of the dance," said state Sen. Holly J. Mitchell (D-Los Angeles), the chairwoman of the Senate's budget committee, hinting that she and her colleagues will be pushing for deeper investment in program funding.
For their part, Republicans in the Legislature see this as an opportunity to push the message that Californians are overtaxed — and to ask that the surplus to be refunded to taxpayers. The GOP may also wield the surplus as a weapon in their wrong-headed attempt to repeal the gas tax.
Brown should resist giving in to the spenders or the rebaters. Delivering a final, frugal, fiscally responsible budget would be a parting gift to Californians who elected him governor — not once, not twice, but four times — and to the next California governor as well. No matter who that person is, he or she will probably not be lucky as Brown as to have two terms of uninterrupted economic growth.
Follow the Opinion section on Twitter @latimesopinion and Facebook
---
A cure for the common opinion
Get thought-provoking perspectives with our weekly newsletter.
You may occasionally receive promotional content from the Los Angeles Times.