Editorial: The Boy Scouts' gay gap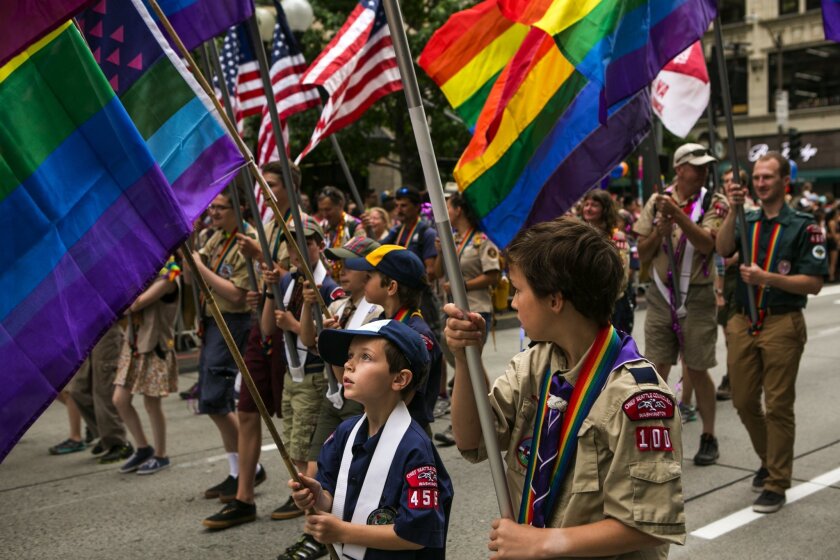 The Boy Scouts of America didn't go as far as it ought to have with its new recommendation on gay Scout leaders, but it did make reluctant headway. This wasn't the leap of an organization that now views sexual orientation with more tolerant eyes, but rather a shuffling step by a tradition-bound group that has been prodded by dramatic changes in societal views of sexual orientation, as well as the financial realities of needing to woo back corporate donors such as Walt Disney Co. that are reluctant to sponsor an organization that discriminates against gay people.
The resolution approved last week by the Scouts' national executive committee puts an end to the organization's official ban on gay Scout leaders and volunteers. But rather than banning such discrimination entirely, it leaves the decision up to individual troops and units. (The new policy is expected to be ratified by the executive board July 27.) Some of those troops already have shown interest in welcoming all interested and qualified adults, regardless of sexual orientation; many others are expected to keep a ban in place.
Compare that with the way the Girl Scouts recently made news: A Scouting council in western Washington rejected a $100,000 donation that came with the stipulation that it not be used to support transgender Scouts. That's in line with the organization's history. The Girl Scouts also became racially integrated much earlier than the Boy Scouts, and had little problem accepting atheist members.
Why is the Boy Scouts so locked in the past? That's a more complicated question than it might seem. The group is rooted in conservative concepts of traditional manliness and patriotism; the Girl Scouts, an entirely separate organization, was founded on the philosophy that although girls should learn homemaking skills, they also should engage in the nontraditional pursuits of athletics and outdoors activities. The two groups diverged early when the Boy Scouts aligned with religious organizations.
The Boy Scouts is now being pulled from two directions: growing support for gay rights around the country, and a conservative, religious base that threatens to leave the organization if it joins that larger movement. At times, changes in Scouting tradition have cost the group dearly. In the 1970s, about a third of its Scouts decamped after a switch in emphasis from outdoors skills to skills such as family finances. It switched back.
But many religious groups are more open-minded on this matter than people think; even the Mormon Church welcomed a 2013 decision to admit gay Scouts, an important statement because close to 40% of Boy Scout troops are based in Mormon churches. If the organization wants to remain relevant, it must learn to reflect these more accepting times.
Follow the Opinion section on Twitter @latimesopinion and Facebook
---
A cure for the common opinion
Get thought-provoking perspectives with our weekly newsletter.
You may occasionally receive promotional content from the Los Angeles Times.