Editorial: Brown and Newsom know the death penalty is wrong. They should work together to do something about it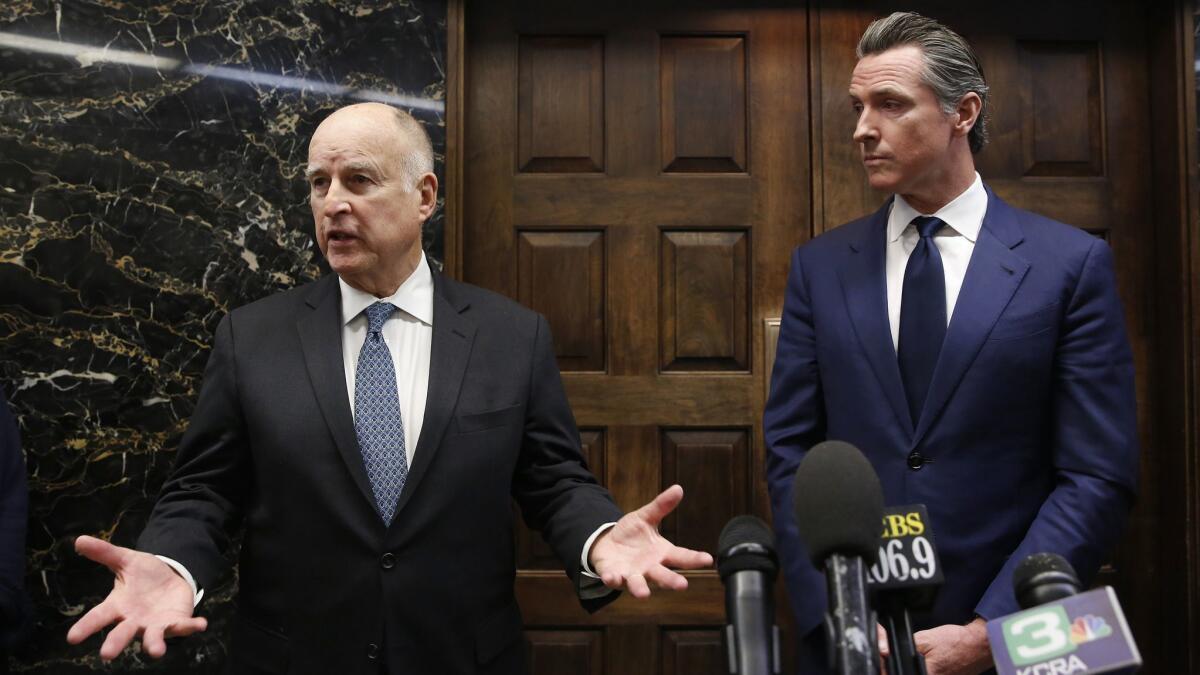 Earlier this month, two inmates on San Quentin's death row were found dead— but their lives did not end the way the state had intended them to.
One was found in his cell and the other in a special unit for inmates with behavioral problems. If an investigation confirms initial suspicions that they took their own lives, they will be the 26th and 27th condemned California prisoners to have beaten the executioner to the punch by committing suicide since California reinstated capital punishment 40 years ago. Over that same time span, another 79 condemned inmates have died of natural causes — mostly of old age and illnesses after decades of incarceration.
The fact is, California has found it nearly impossible to carry out executions for decades, despite the law calling for it. Of the 971 California death sentences recorded by the Death Penalty Information Center since 1978, only 13 condemned inmates have been executed here, while Californians have paid more than $5 billion to maintain the system. That isn't much bang for the bureaucratic buck; one report estimated the state would save $170 million each year by converting all death sentences to life without parole.
The death penalty is impracticable and unusable. But it's also unfair and immoral.
So the death penalty is impracticable and unusable. But it's also unfair and immoral. Death sentences disproportionately fall on minorities and the poor, and whether a murder merits the death penalty generally hinges on a decision by the local district attorney, which means that what might be considered a capital offense in one county isn't necessarily so in the neighboring county. It's hard to get more arbitrary than that.
Further, there is credible evidence that innocent people have been executed, often as a result of convictions gained through prosecutorial misconduct or perjury. One study published by the Proceedings of the National Academy of Sciences conservatively estimates that at least 4% — a minimum of 100 people — of the more than 2,700 people on death row nationwide are innocent of the murders for which they have been condemned. Since 1973, 164 condemned prisoners nationwide, including five in California, have been freed from death row after they were found to have been wrongfully convicted. When an innocent person is executed, that's not an error that can be remedied. It is a moral transgression that we, as a body politic, allow to happen in our names.
Gov. Jerry Brown knows all this. So does Gov.-elect Gavin Newsom. Both oppose capital punishment, though Brown has chosen not to fight for this position during his current two terms as governor. Instead, he oversaw the drafting of a new single-drug lethal-injection protocol — currently under legal challenge — and sat out the 2016 initiative fight in which voters rejected ending the death penalty and voted instead to speed up the appeal process.
Brown was wrong to stay silent. He should have spoken up on principle, and used his popularity to sway voters away from the injustice of Proposition 66. He can try to make up for some of his reticence now, but the calendar is running out. This would be a good issue on which to spend some of the healthy stash of political capital he has built up before he bows out in two months. Newsom, for his part, has long opposed the death penalty and was a vocal proponent of propositions in 2012 and 2016 to end it. He doesn't really need fact-finding on this issue.
Enter the Fray: First takes on the news of the minute from L.A. Times Opinion »
Brown and Newsom ought to work together in the coming weeks to revive the abolition movement here in California. As an act of grace before he leaves office — in addition to taking whatever executive actions he can to help Kevin Cooper and others on death row who may have been wrongly convicted — Brown should make a forceful statement that reflects what he has said is in his heart: The death penalty is wrong. Brown, who has generally been generous with commutations, can take further steps as well; he could, for instance, begin the process of commuting the death sentences of people whose crimes were committed when they were young, before their brains, their judgment and their impulse control were fully developed.
When Newsom takes office he should work with the new Democratic supermajority in the state Legislature to place a fresh anti-death penalty initiative on a future ballot, then use his bully pulpit to persuade Californians that it is not only fiscally but morally necessary to abandon the barbaric system.
American public opinion already is shifting in that direction. While a small majority of people tell pollsters they still support capital punishment, that percentage is at its lowest since the U.S. Supreme Court reinstated the practice in 1976. (No California polls have been conducted since Proposition 66's passage.) And fewer juries are imposing death sentences even as states that still rely on capital punishment are executing fewer and fewer people. Our national evolving standard of decency is moving away from the brutal and immoral practice of killing people for their crimes. California should evolve as well.
Follow the Opinion section on Twitter @latimesopinion or Facebook
A cure for the common opinion
Get thought-provoking perspectives with our weekly newsletter.
You may occasionally receive promotional content from the Los Angeles Times.