Editorial: Ignore Cruz and Trump — scapegoating Muslims is an un-American response to the Brussels attacks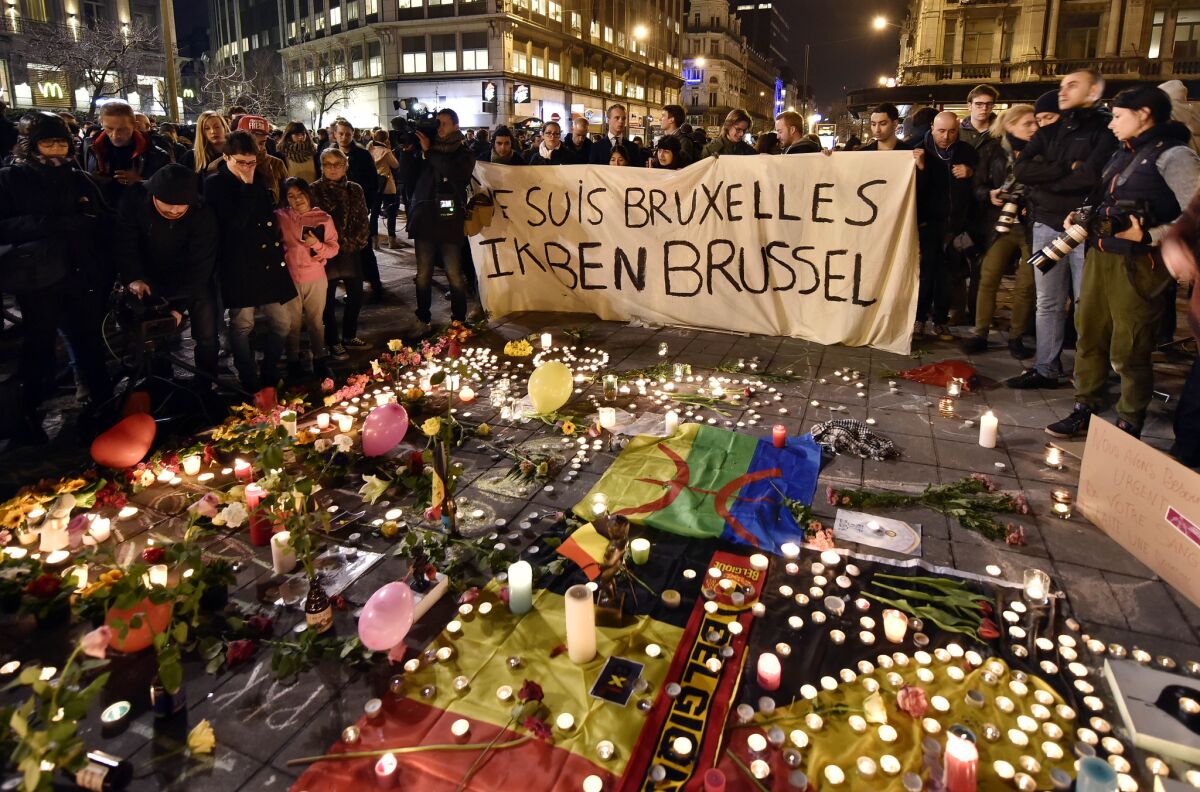 It has been clear at least since the massacre in Paris last November that jihadist terrorists are embedded in Europe, difficult to detect and determined to engage in spectacular acts of violence. So while Tuesday's carnage in Brussels was horrific, it also was achingly familiar. This time more than 30 people were killed and hundreds injured in separate attacks at the Brussels airport and at a downtown subway close to the headquarters of the European Union. Islamic State claimed responsibility for the attacks.
While condemnations come easy, a strategy for preventing such outrages is elusive. It does seem that Belgian intelligence and law enforcement have been overmatched. It was only last Friday that authorities captured Salah Abdeslam, a suspect in the Paris attacks who was living in Brussels and reportedly planning further attacks. Obviously European governments need to cooperate more on identifying and uprooting terrorists in their countries.
This attack also demonstrates the importance of the multinational military effort to, in President Obama's words, "degrade and ultimately destroy" Islamic State in Syria and Iraq — a campaign in which Obama has overcome his aversion to military action in the Middle East. That attempts to defeat Islamic State will inspire retaliation is no reason to abandon the effort, but it underlines the importance of adequate intelligence and information-sharing not just in Europe, but between European governments and the U.S.
Obama vowed Tuesday to "do whatever is necessary to support our friend and ally Belgium in bringing to justice those who are responsible."
Some of those who would succeed Obama have other ideas about how the U.S. should respond to this and other terrorist attacks — ugly ideas. Donald Trump, who has proposed a moratorium on Muslims entering the U.S., said Tuesday that "at this point we cannot allow these people to come into the country." Sen. Ted Cruz said the U.S. should "immediately halt the flow of refugees from countries with a significant Al Qaeda or ISIS presence," adding: "We need to empower law enforcement to patrol and secure Muslim neighborhoods before they become radicalized."
As the attack in San Bernardino — and 9/11 before it — demonstrated, America isn't immune to terrorist attacks. But Muslims in the U.S. are more integrated into the larger society than they are in some European communities, where segregation and alienation has played into the hands of terrorist recruiters. Indiscriminate bans on Muslim immigration or "patrols" of Muslim neighborhoods send the message that Muslims are strangers to this country — the same message that Islamic State is propagating.
Follow the Opinion section on Twitter @latimesopinion and Facebook
---
Life is stressful. Our weekly mental wellness newsletter can help.
You may occasionally receive promotional content from the Los Angeles Times.