Editorial: John Conyers must step aside — at least for now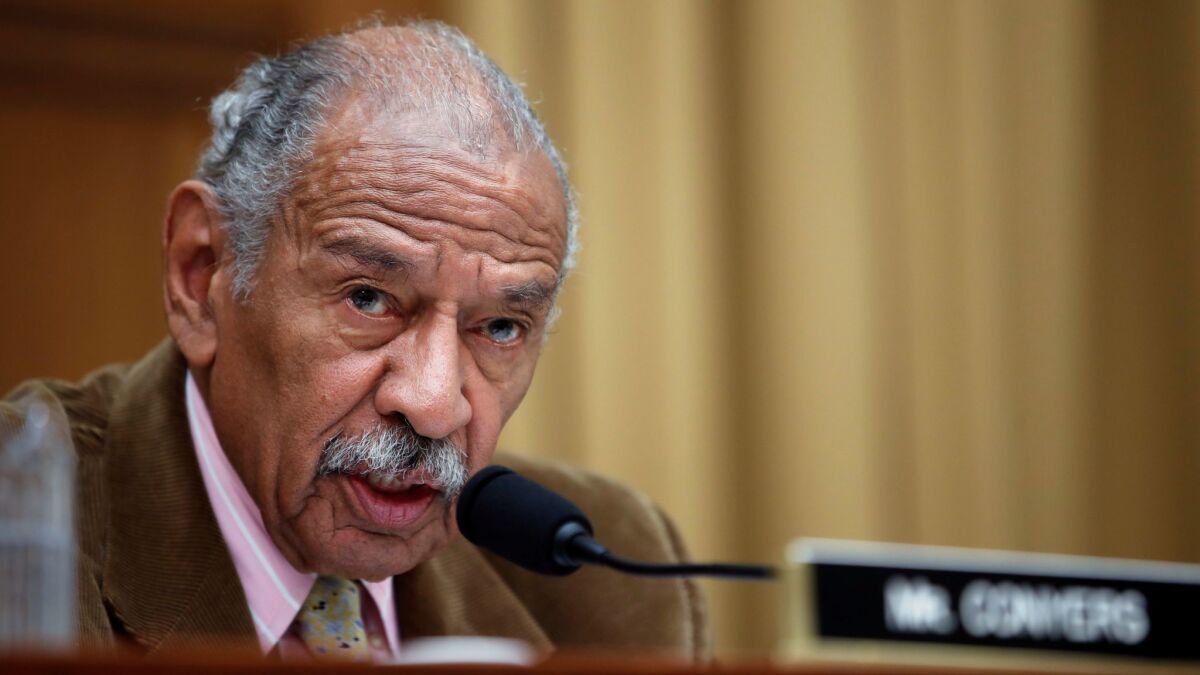 It's time for Rep. John Conyers Jr. (D-Mich.) to step aside — at least until the House Ethics Committee concludes its investigation into allegations that he sexually harassed and verbally abused a number of subordinates. The multiple women who've come forward with similar accusations suggest a pattern of Conyers' abusing his power as a supervisor. Given that, he shouldn't be supervising anyone at the moment.
The stress of the allegations apparently put the 88-year-old Conyers, the most senior member of the House, in the hospital Wednesday. Still, he denies the charges and appears defiant as the calls for him to resign mount; the latest and most damning came Thursday from House Minority Leader Nancy Pelosi and assistant Democratic leader James Clyburn of South Carolina, both of whom had defended Conyers or his right to due process just days before.
Conyers' lawyer told reporters Thursday that "It's not up to Nancy Pelosi," and that "She sure as hell won't be the one to tell the congressman to leave." No, that would be up to the full House, which can censure, suspend or expel a fellow member with a two-thirds vote for official misconduct or acts likely to bring the House into disrepute. If Conyers won't willingly take leave, Pelosi and House Speaker Paul D. Ryan should move to have the House suspend him during the investigation.
If Conyers won't willingly take leave, Pelosi and House Speaker Paul D. Ryan should move to have the House suspend him during the investigation.
The natural next question is, what about Sen. Al Franken? Six women have accused the Minnesota Democrat of inappropriate touching, and the Senate Select Committee on Ethics is investigating. There's a crucial difference between the Conyers and Franken cases, however. The allegations against Conyers concern his role as a supervisor, and the House has a duty to protect the workers in its employ — which means promptly removing suspected predators from the workplace. By contrast, the allegations against Franken involve women not in his employ, either as a senator or as a private citizen. Yes, the behavior that Franken is accused of is still completely unacceptable, but not an apparent abuse of power.
That said, it is entirely appropriate for the ethics committee to investigate the current allegations against Franken and any related ones that arise. In the meantime, Franken alone decides whether he'll stay on the job or step aside — there is no provision in the Senate for suspending members, just censuring or expelling them.
Pelosi and other Democrats have been accused of hypocritically protecting their party's misbehaving members as they denounce Republican Senate candidate Roy Moore. But, as much as Republicans would like to believe it, there's no moral equivalence between Franken's or Conyers' alleged bad behavior and what Moore is alleged to have done as a young district attorney in Alabama. Moore is accused of sexually molesting underage girls — a crime. Considering that Moore was wielding the power of government in the name of law enforcement at the time, the allegations are all the more egregious.
We've argued before that Congress isn't policing itself for alleged sexual harassment as aggressively as it should, and that the Byzantine process for handling complaints seems designed to protect the accused, not deter bad behavior. And elected officials in general have moved far more slowly to address the current wave of sexual harassment complaints than other industries have done. But justice necessarily moves at a more deliberate pace among the ranks of elected officials — in part because of the constraints imposed by their rules, in part because of the nature of their jobs. It shouldn't be easy for lawmakers to fire other lawmakers. The public hires them and, except in extreme cases, should fire them as well. But the House can and should suspend those who pose a potential threat to congressional staff. Immediately.
Follow the Opinion section on Twitter @latimesopinion and Facebook
Life is stressful. Our weekly mental wellness newsletter can help.
You may occasionally receive promotional content from the Los Angeles Times.