Editorial: Sorry, South Bay, you don't need a one-seat Green Line ride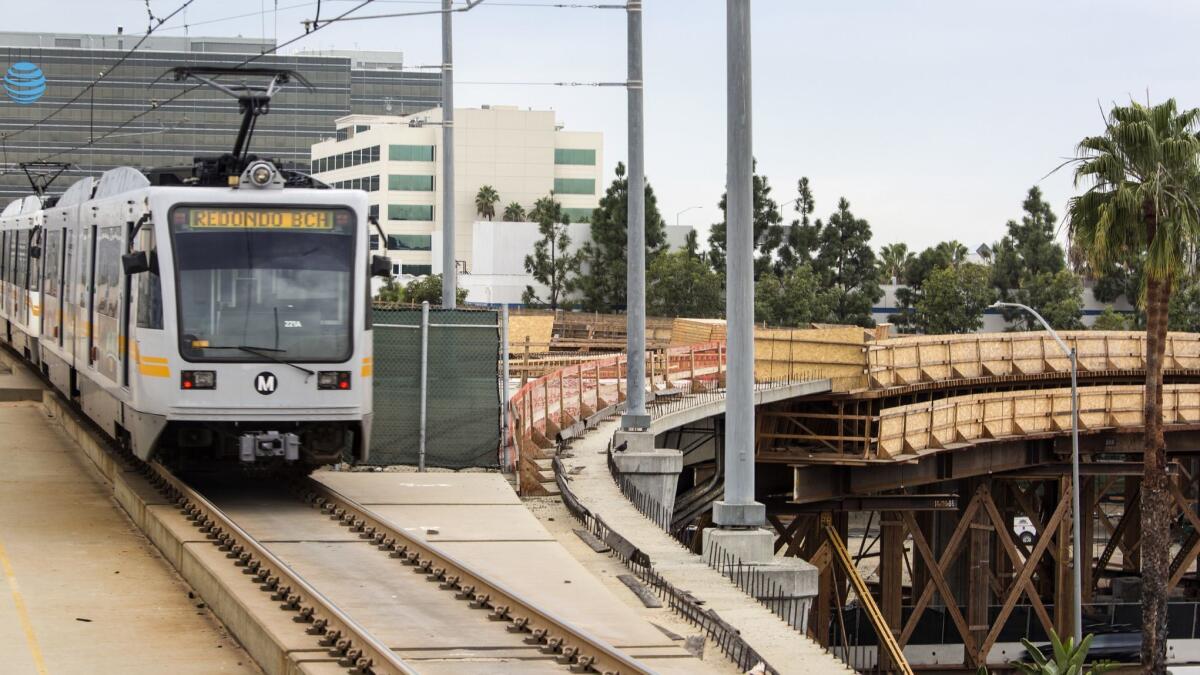 When the Los Angeles County Metropolitan Transportation Agency opens the Crenshaw Line in mid-2020, the new light-rail route will greatly expand fast, reliable public transit for people traveling north and south through central Los Angeles.
But like any higher power, Metro giveth and taketh away. In this case, as public transit gets better for many, it will get worse for a smaller group of riders: those who currently take the Green Line light rail to and from the South Bay communities of Redondo Beach and El Segundo. That's because Metro is proposing to truncate the Green Line to allow for smoother travel between the heart of L.A. and points south and east.
Under a plan proposed by staff, the vast majority of the Green Line would be merged with the Crenshaw Line. Trains would leave Norwalk and travel west along the 105 Freeway to the edge of Los Angeles International Airport and then veer onto Crenshaw Line tracks and continue north to connect with the Exposition Line. Riders of these trains would have a rare opportunity, as Times reporter Laura Nelson detailed, for a transfer-free 22-mile trip on the Metro system.
But to create that seamless ride, Green Line riders heading to or from the South Bay would be penalized. The Green Line would become a four mile stub between the Redondo Beach station and the new LAX station on Century Boulevard, and travelers going any farther would have to transfer trains, creating a slower, less convenient ride.
That has infuriated Los Angeles County Supervisor Janice Hahn and many residents of South Bay cities. They warn that the change would slash ridership from their communities and hurt loyal Green Line riders who have relied on the service to travel between the South Bay and downtown.
Hahn, along with several other Metro Board members, proposed an alternative plan: In addition to the 22-mile route between Norwalk and Mid-City, run the Green Line trains 11 miles between Redondo Beach and the Rosa Parks/Willowbrook station. That would enable South Bay riders to take a single train to connect to the Blue Line train or Silver Line bus.
Metro staff, however, says that option could hurt overall ridership. That's because the Green Line, which was built in 1995, wasn't designed to accommodate the three-car trains that will run on the Crenshaw Line. To make the alternative plan work, Metro would need to run two-car trains on the Crenshaw Line for the foreseeable future, which could lead to inadequate service and crowded trains, particularly when the new football stadium opens in Inglewood.
Also, the alternative plan would not provide direct service from the South Bay to the new LAX station. Metro analyzed cellphone location data that showed the most common travel pattern of South Bay residents is north and south along the 405 Freeway corridor. It makes more sense, staff says, to route the Green Line north to the new LAX-adjacent station so residents can connect to bus service that can take them to Playa Vista, Santa Monica and other jobs centers on the Westside. When the new LAX people mover opens in 2023, riders can travel directly from the station into the airport.
Enter the Fray: First takes on the news of the minute from L.A. Times Opinion »
Complicated, right? This is a dilemma that Metro is likely to face again and again as the agency vastly expands its network of public transit lines. Which users can take a single train to their destination and which have to transfer? Does the agency put a priority on protecting existing riders or attracting new ones?
In fact, Metro is already grappling with similar questions with its "NextGen" bus study, which is an attempt to overhaul the region's bus service to increase ridership. The study, which should be completed next year, is analyzing market demand, travel patterns and riders' preferences, in particular whether they would rather have faster trips with fewer routes and stops, or slower service but more routes and stops closer to where riders live and work.
None of these are easy decisions because some riders are going to like the changes and others aren't. But ultimately, Metro board members should pick the plan that serves the greatest good, as is the case with the staff's proposal for truncating the Green Line. And going forward, that means designing a transportation system that moves the maximum number of riders as fast as possible to get the most people out of polluting, road-clogging cars and onto public transit.
Follow the Opinion section on Twitter @latimesopinion and Facebook
A cure for the common opinion
Get thought-provoking perspectives with our weekly newsletter.
You may occasionally receive promotional content from the Los Angeles Times.